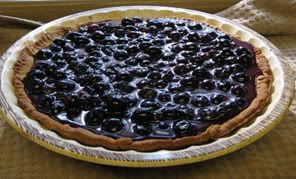 You may noticed that I have changed some of the images and links to the right. One of my favorite bloggers is Patry Francis. I mentioned the Fawnskin Cookbook project after eating a small sliver of Lola's home made chocolate cake. This is a cake of generations, when a pinch, a handful, and a glob the size of an egg were the measurements you used.
Many will never know the true goodness of really baking from scratch. We have become a fast paced society that throws away the old and doesn't think twice. One of the reasons I like to visit the Moose Lodge for the WOTM dinners is just because the food is home cooked. Neighbors help serve and clean up. You sit with other folks from around town just like years of old.
Patry's first book is due out soon and she is reaping the benefits of her hard work. She has slaved as a waitress for many years and I hope her writer's dream will be as good as she believes it will be.
Anyway, she shared this receipe for "Literary Pie" it is meant to thank the muse but I thought everyone should share in the celebration of her book. Here in Fawnskin two local authors will have new books on the market next year so get cookin' to celebrate.
THE OFFICIAL LITERARY BLUES PIE
A one crust pie shell (Use pate brisee if feeling ambitious or if you have a particularly demanding muse.)
3/4 cup plus 2 tsp sugar
3 tablespoons corn starch
1/8 tsp salt
1 tablespoon lemon juice
4 cups blueberries, rinsed
1 tablespoon unsalted butter
1 cup well chilled heavy cream
1/4 tsp vanilla
Roll out the dough. Line with foil and fill the foil with rice. Bake in the lower third of a preheated 425 degree oven for 10 minutes. Remove foil and rice and bake
10 – 15 minutes more. Cool on rack.
In saucepan combine 3/4 c. sugar, cornstarch, salt, lemon juice and 1 1/2 c. berries. Cook over moderate heat, stirring for 4 -5 minutes. until it is thickened. Remove the pan from heat, stir in butter and the remaining 2 1/2 c. blueberries. Let mix cool to room temperature. Chill for 15 minutes and stir gently.
Whip the cream until it holds soft peaks, add remaining 2 tsp. sugar and vanilla. Beat until it holds stiff peak. Spread whipped cream in pie shell with a spatula. top it with the blueberry mixture. Chll the pie for 1 -12 hours.
And oh yes, don't forget the most important ingredients of all: Eat it with good company and make sure you discuss something literary while you're enjoying your pie. Then sit back and wait for the magic. I expect a full report.
In addition to the link to the right, Patry has another blog here.
Thank you for reading this post. You can now
Read Comment (1)
or
Leave A Trackback.
Read More
Related Reading: