Wow, I am amazed at how different every day is. Although many people think I have the same view, it changes by the hour. It is one of those things you could miss easily if you were not paying attention.
Today, before sunrise the ice blue of Grout Bay and snow covered trees below the ridge line took my breath away. Now, two bald eagles are soaring high above the ridge and the iced sentries have greens ones as a backdrop–you see the wind knocked all the snow off the trees towering above the ridge line.
This is in direct contrast to yesterday. Man was it windy! Now things are calm and it is just cold.
Other than a whole lot of snow removal, I can't really tell you what I accomplished yesterday. Some days seem more productive than others—even though I am working like crazy!
I hope you like these pictures because I took a stroll during the storm to snoop out the situation. The snow plowing efforts in a heavy storm are focused on keeping the main roads clear—which means the side streets don't get cleared right away.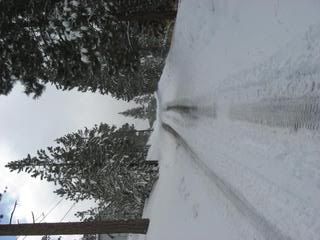 That was certainly the case throughout Fawnskin…although the vehicle traffic packed a few of the main travel roads down the rest were a mess. When vehicle traffic packs the snow down, it makes the road pretty slick.
I stopped by the Fawnskin Market to see if Mike was awake and he looked like he needed a nap. On the way home, I stopped to chat with Bob, since Robin was back at work already. (They just got back from the honeymoon.) Up the road I got to assist Cliff as he needed to get some leverage on his snow blower.
This storm was pretty wet which makes it hard to shovel and tough on the snow blowers. My snow blower was actually dwarfed by the depth and it took a while to clear my parking pad because of that. Plus, I had to dig into the storage shed AND watch I didn't get snow blasted by the little pellets since the wind kept kicking up.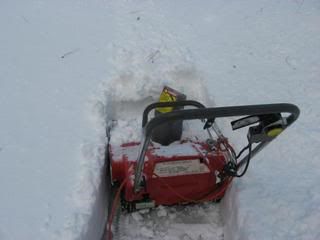 I'd like to have done more but when you work from home you have to balance things.
Shadow had her nose pressed to the glass when she saw me helping Cliff, so I stopped by and visited with her and brought her outside for a short while. However, the winds were howling and the snow was still falling so I opted to not take her on a jaunt.
BTW: Thanks to Fawnskin resident Deb for leaving a tip! It is very exciting to get that support and motivation to keep on keeping on.
Speaking of snow, I received another question…
Which is better, snow tire chains or snow tire cables?
Actually, in most cases the type of tire traction device is dictated by the make and model of your vehicle. When in doubt, follow your manufacturer's recommendations. There are some wheel wells that don't have enough room for chains—and so cables may be your only choice.
Now that the storm has moved through the area it is cold and clear–a balmy 15 degrees according to my thermometer. This is the weather that can stress your pipes which is why our local plumbing experts are busy after it clears once we have had a snow storm. BTW: I believe the weather feed is fixed…check it out and let me know via the link on the navigation bar.
It was quiet yesterday but I believe today things will be bustling again now that the storm is over. Jerry was heading up Brookside in his Kabota and I am sure many people will be breaking down their berms today. I managed to get out and do most of the clearing on my parking pad and stairs but I lucked out when HM dropped by and helped me by tackling the berm. TY2UHM!
So, here are a few snaps from the storm for your enjoyment. All were taken in Fawnskin…now I have to go get Shadow and take a walk!

This is a cute little cabin down the road.

Nice blue house…also down the road.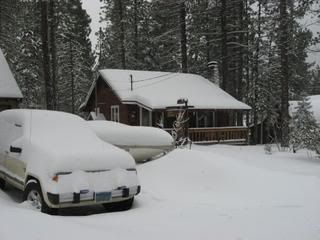 Here is a pile of s…now.

If you look at the ridge, you can see how the wind has knocked the snow off of the ridge line trees.
I hope you can access this okay today I've had a tough time accessing. I wrote this post early in the am…now it is after 1pm!
BTW: Do me a favor and let me know who you use for snow plowing in the valley. Just leave a comment below.
Thank you for reading this post. You can now
Leave A Comment (0)
or
Leave A Trackback.
Read More
Related Reading: