Few full-time residents in Fawnskin have not met Buddy. This dog of Fawnskin is a big stropping guy with the best personality around.
Although he is now 10 years old and has slowed down, he used to roam around town and can still be seen with Dog Man on jaunts to the Fawnskin Post Office.
Buddy weighs in between 100 and 110 pounds–so he is a big boy. Many newcomers have been intimidated by this guy but he is very good natured.
Shadow, my hiking partner, is his offspring and she has his gentle, good natured temperament.
This is in direct contrast to some of her siblings who seem to have inherited their mom's tendency to be vocal and distrustful.
On another note, I am now remotely hosting the pictures. If you cannot view them, you'll have to check your security settings.
Because the temperatures stayed low all day, I didn't head out for an amble until the afternoon yesterday. We found the roads to be extremely icy. In some areas with direct sun, there was a slight melt–which means there will be an abundance of black ice.
Currently, I own three sets of snow boots but short of having spikes on your boots, no matter what you do, the ice is too slick–so you have to use care during these conditions.
I tend to stick to ambling near the side of any roads (in case you don't live around these parts, we do not have sidewalks so ambling is done by walking down the road) where the snow has not been packed down by vehicular traffic. Usually this area supplies better footing.
Black ice is caused by snow melt, it freezes transparent, which makes it hard to see. The name seems to have originated from the fact that the ice surface usually covers asphalt. Black ice usually forms in areas where the shade and temperature drops freeze the runoff.
Around town, Grout Creek was flowing nicely on one side of the bridge but still had a nice covering of ice on the other.
Which brings me to this mornings musings. Whoever lets their big black lab roam free–he was out on the ice this am. In fact, a whole lot was going on out there today.
The wildlife is venturing onto the ice to access a liquid water source. A coyote also ventured out into (or onto) the middle of Grout Creek and when the Labrador finally saw him, he gave chase. Fortunately, he wised up and seemed to head back home.
I didn't see any other coyotes with my binoculars, but just a reminder that they are trying to lure even the big Fawnskin dogs out into the woods. The send a decoy and then pack up and attack them once they get the animal within range. If you are not adhering to the animal control regulations of keeping your dog in, maybe this additional risk will motivate you to do so.
Buddy and his pack (there are two other dogs he lives with plus many other dogs go and visit Dog Man on a regular basis) have actually teamed up to drive the bear and mountain lion away from Mohawk.
And Debbie, who lives on Mohawk, reported seeing a bobcat while on her way to town yesterday (near Holcomb Valley Road) early in the am. Sightings of predators have increased–please use care when driving because you don't want to injure wildlife.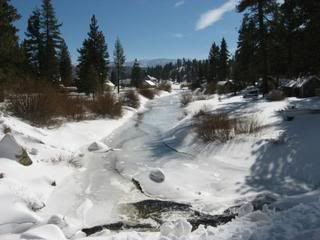 Although my neighbors informed me that the roads were pretty good yesterday, I found this to be false.
Because the temperatures have remained low, the North Shore is pretty icy. Also, we have some really nasty pot holes so use caution as you drive.
I did venture into town and found some bad spots on the South Shore, too. What I find disconcerting is that many people still drive too fast.
Visitors slam into others because they are turning too quickly, braking on ice as they exit driveways, and because they fail to anticipate problems.
There is still a lot of snow on the roads–despite the snow plow efforts and I hope you were not stuck in the bumper to bumper adventure on Arctic Circle.
Here in Fawnskin, we found people racing by us at inappropriate speeds. In some areas, passing pedestrians showers them with that slush–so slow down. Also, if you are going too fast and lose control–it puts people walking (like us) at risk.
Thank you for reading this post. You can now
Read Comments (2)
or
Leave A Trackback.
Read More
Related Reading: