Well I WAS going to write about something else, but the rain storm flooding the area has changed all that. I was hoping we'd luck out and the forecast would be wrong—rats.
So are those of you who were complaining about the cold happy now? Gone is the road muck–the streets are clear. If we do begin to get snow it should make for some really great black ice!
Down where the Prowler used to be, it is flooded and I am wondering about Mohawk because the guys plowing bermed up the street by blocking the drainage channel that moves the water off and adjacent to the road.
Shadow and I took to the streets yesterday and found lots of interesting things happening. In anticipation of the storm, most everyone was out in their snow cats and snow plows.
Snow removal is in high demand this time of year, especially right before a rain storm is predicted after a storm.
Herb was out in his old contraption clearing out the Triangle. Get this, the road supervisor told him eight years ago that it was his and he was responsible for maintaining it.
When Herb said he was going to close it, or charge a toll, they said he couldn't!
Technically the place is Rim of the World Drive, even though it t-bones the street by the same name. The right name should be Mohawk—or Triangle—since that is what it forms down there. The old fire house guys decided on the name.
Geezuhs, ever wonder how some of these county people get their jobs…funny when you hear about all the past antics. Don't get me started on the parcel map mess that began way back…
So Herb's road has been operational since 1922 with significant changes (paving) made around 1969. It has a significant dip so that it pools up if the berms are not broken down or if the place is not plowed.
Yep, our own community swimming pool over here in Fawnskin. Don't you love it? We didn't have to vote on it or allocate funds either. The only problem is that it floods Herb's place—but what is a little ice water in the winter?
Oh yeah, Herb already replaced his carpet and furniture from the last time it flooded—guess we wouldn't want it to happen again.
BTW: Herb said they don't maintain the street at all. When they sealed the adjacent streets they ignored it—and we know they don't plow it despite the picture I took of a CalTrans vehicle making a pass.
Now it is scheduled for a survey. We mountain folk get tired of all the flatlander red tape—someone doesn't want to deal with it now so the solution is to say that it is a private road—up to Herb?
I think not, Herb had a marker on the edge of the property AND with the easement the guy who told him that was just full of hooey.
In case you are wondering, Herb said his place was originally built because the guy who ran the Chevron Station (now defunct and long gone) didn't want to fall under all their rules and regulations of running a repair shop. The old station used to be where the cat house (snow cats, people…I know you miss that brothel) now sits.
So, enough on that. HM and I ventured out into the wilds of Big Bear last night. I had to explain to him about why people had chains and cables on their tires—someone probably didn't update the masses on the road conditions.
I saw CalTrans flip the chain requirement sign in the morning—but the word doesn't get passed out other places. Our favorite sight was the guys with the cardboard signs at one of the gas stations—they were uninstalling and installing chains for people.
Yes, free enterprise is still at work around these parts. They used a nice orange spray paint to make those signs. Wish I had taken a snap.
This brings me to CalTrans again, Landon—the guy that oversees the chain installers– says that the going rate is about $40 this year to install chains but that the installers set their own prices.
I think I mentioned that they charge a nice fee to certify the people who do that and despite that, take no responsibility for any problems. The office says, "Get the badge number when you use them" because they are independent contractors.
So, they said there are 32 chain installers assigned to SR330, 14 assigned to SR18, and 8 assigned to SR38. They are stationed were ever chain control is established and work when chains are required.
Anyway, Big Bear Lake was packed with visitors up for the snow. Being locals and all, we knew where we could go for a meal and miss everyone—worked out great as we wanted to catch Sweeny Todd.
On my way down the street, I did a double take. As I called out, the gentleman ran into the shop—and I followed. And oh my goodness! It was Reinhardt and Margaret Tiefenthaler.
The two have returned to Big Bear. This was a shock since they were so sick of living in the valley but it seems that they could not sell their home. The duo was part of the original partnership that owned the Book & Bean (now owned by Tamara and Jonathan). Reinhardt has been back since November and Margaret arrived last week.
After a brief hello, we hit the movie theater. If you have not seen Sweeny Todd, the film/musical is pretty darn good—except for the over kill (Hmm, pun intended?) with throat slashing and blood gushing.
After, since the night was still young, we headed over to the East Side Book Café for life music. East Side, as it is affectionately called by locals, is the local artisan hang out. In addition to having the best java on the mountain, they have a great staff and eclectic patronage of all types.
Hobo Jazz from Redlands was the guest. The group released their first CD in October of 2007 titled, Old Lester's Speakeasy.
The album was a project for band members Matt Coleman, Marquis Howell and Joe Perez for the past four years. (Joe was not here—I am slipping here as I didn't get the scoop.)
I have uploaded video for you—but it might take a while to appear. Still fiddling with new software…but it was a blast.
The gang coerced me to tell you that Alex (formerly of Serenity Place Gallery) said she was on the verge of slitting her wrists over the fact the valley never has great live music—and that she owes her life to Hobo Jazz for making the trip.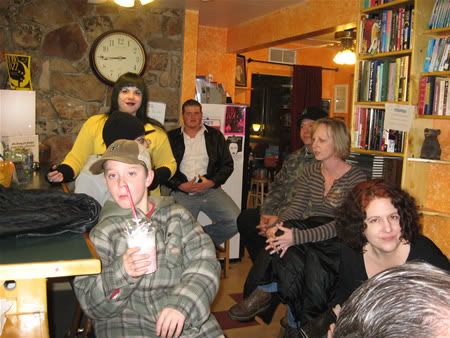 Okay, okay, so maybe I am exaggerating a bit—but she did tell me to say that she was figuratively on the edge of killing herself due to the lack of good music up around these parts. Guess East Side is attempting to solve that problem–don't forget to go out and support these venues–we want more, more, more!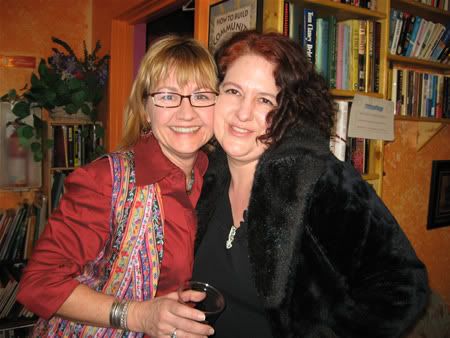 Above: Gail (owner of East Side) with Alex (who won't slit her wrists now)
Thank you for reading this post. You can now
Leave A Comment (0)
or
Leave A Trackback.
Read More
Related Reading: