What visitors do in snow storms never ceases to amaze me, you would think I'd get used to it–but no, I don't.
The picture above shows a truck stopped in the middle of Highway 38. The guy is fiddling with his snow chains right smack in the middle. (Look hard you can see him at the rear tire.)
The three guys were all dressed in camouflage and managed to create problems for our mail truck and other traffic–the only good thing is that they didn't stop on the curve…and they didn't get smushed. (In case you are wondering, this is my word and it isn't found in the dictionary–more descriptive than smashed or run over–don't ya think?)
People, pull off to the side of the road to deal with issues during storms or drive slowly until you find a place to do so. If these guys had gone a little further they could have safely pulled over and not posed a risk to themselves or other drivers.
The big question of the week is, where can I rent snow chains?

My answer: Are you dreaming? You can buy snow chains not rent them. If you buy them and don't use them, you might be able to return the unopened box depending on the policy of the place where you buy them (always ask) but that is about the closest thing you can get to "renting" tire chains or cables. The other option is to rent a car that includes tire cables or tire chains.
Although I love snow, it means shoveling. In some cases you can use a snow blower–but with 44 stairs the snow shovel is the tool of choice.
Just a note here, see all the snow on the railings? Knock the snow off railings first (as I have started with the one railing on the right) that way you don't have to deal with the stuff dropping down on the stairs you just finished shoveling later.
Now, I talked about snow shoveling earlier this month–but it is an art and something I will revisit when I discuss the pros and cons of different snow shovels and blowers…but right now I am tired and you just get to hear my ramblings.
Shadow and I took a short jaunt down to the Post Office yesterday during the snow storm. She was pretty happy to be out and since I spent way too much time on the computer, I was glad to have a break. People in their right mind are not out during the snow fall, so most of the walk was quiet.
Uhh, err..does that mean I am not in my right mind?
Shadow thought it was great and got especially excited that I flushed a bird for her…
because birds and other small creatures are of special interest to her. I didn't tell her it wasn't planned…she thinks I am the best person living in Fawnskin.
Shadow's other favorite thing to do is to eat snow and ice. Now, that would not be too much of a problem–and isn't to her–but I prefer that she snack on fresh snow and ice and not the yucky stuff that stays around for a while. Thank goodness we had fresh snow!
Dogs are a good example of how to live life to the fullest–be in the moment and all that.
So, she likes when I bomb her with fresh snowballs but hasn't really figured out how to catch them. Still, she makes me laugh and I have fun finding new ways to entertain her–and myself.

One of the things I like about meandering around town is that you discover "big" excitement in town. For instance, Gail and her husband were shoveling their driveway over on Arapahoe and I discovered that they are putting it up for rent. Beverly LaRocque is handling the rental if you are interested.
Doggie drama is something I encounter periodically and some idiot over on the side road past one of my favorite cabins…
was too busy blowing snow to monitor their German shepherd–who charged us twice. I've never had problems with animals since I was a child. The secret for me in dealing with the local doggie delinquents is to scold them, so I yelled at the dog and said, "Git home!"
You have to use, "Git!" not "Get" don't ask me why…
This confused the dog because who the heck was I? But it stopped in its tracks. I finally had to order (yes, order) the person to call their dog off after the second charge. People just don't get it sometimes. Uh, your dog is trying to chase and bite us–why wouldn't you get the dog under control on your own?
So, using my better judgement, Shadow and I turned around to head back. Then my sixth sense felt the dog–and sure enough it was charging us as we headed down Brookside.
I spun around and shouted. "NO! Git home!" In confusion, the dog but stopped, hackles raised, but it ultimately decided it was best to heed my orders–especially since it was more vulnerable so far down the street away from the owner and its house.
Why the owner didn't catch watch the dog or deal with it right away I still don't know…and am shaking my head in disbelief and disgust.
New neighbor Josh (well, actually he has been there for about six months) suggested we call animal control. Ha!
With one officer (I hear there are two but I only ever see Jamie) on the mountain and with the snow storm I didn't figure it was worth the breath. However, if I see the dog again and it is not under control, I will get the address and file a complaint…after all, I promised Shadow that when she is with me nothing will happen to her.
Which she still doesn't believe…and which brings me to this little tidbit for her mom. (I know you are reading this!)
Wayland–the big shepherd that lives off Rim of the World–scares Shadow. But yesterday I greeted him and let him approach. The two sniffed each other–which is the doggie version of a handshake.
He was thinking about being bad but knows better. This could be because I always threaten the dogs with puppy-butt-kicking and they take those threats seriously. It also helps that he has known me since he was a goofy adolescent.
Shadow is an angel dog but comes from a litter of delinquents that you can see running into all around town. After I dropped her off, I ran into her mom and sister getting ready to have a feast out of Bobbie's trash can. I am not sure why the trash truck hadn't picked his trash up yet, but it was in the street.
They responded to the "leave it" command and when I called the duo to me and they came at full speed–but then got a bit nervous when they didn't recognize me under the layers of jacket, head band, hood, and gloves.
Ultimately were told to "Knock it off!" and "Git home!" when they growled at me…and of course, they promptly headed in the direction of home.
Okay, so maybe my dog adventures are not super exciting to you, but as someone who is spending hours and hours at the computer keyboard they were pretty fun for me!
During my amble I took a few snaps of some of the cabins around town. There is nothing like fresh fallen snow to spruce everything up. The storm is supposed to break this afternoon and resume tomorrow.
As for me, I'll be out dealing with the snow berm today–more than likely.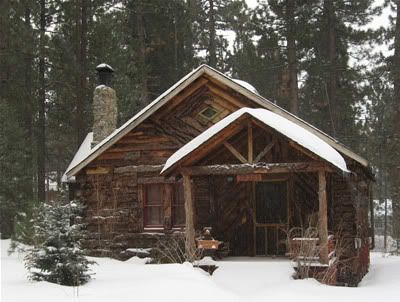 Great old cabin on Mohawk…
Cute cabin on Brookside…
Don't YOU wish you lived in Fawnskin? We even have trash pickup–some of the mountain doesn't.
By the way, the guy on the snowmobile just drove down the highway–honestly, small town living in the mountains is grand!
Thank you for reading this post. You can now
Read Comments (7)
or
Leave A Trackback.
Read More
Related Reading: