My favorite time to hike is after a fresh snow. I love early mornings but my work prevented from getting out until after 1pm and THEN I had to shovel out part of the nice new berm the snow cat operator left for me.
On my amble, neighbors told me today that the South shore was a mess. If you want to know my rule of thumb (or even if you don't here it is…) I wait a good 24 hours before venturing out for adventures after a storm in a vehicle. Usually, that gives the operators enough time to clear the roads, the slickness is reduced, and the sun and vehicular traffic warm up the main roads so that they are clear.
Here in Fawnskin the plow came through about 3:30am and so most of the roads are passable but they are slick and I was slippin' n' slidin' just ambling around. It should get really cold tonight and the berms will morph into hard ice walls that will need jack hammers to get through. The good news is that the storm predicted for tomorrow is not supposed to hit us–only good news because another storm is heading this way and should hit on the weekend.

But the downside to snow storms and snow plows? More berm shoveling. Check out the size of the latest berm left for me. Ugh.
Living in paradise has its price and I guess tackling berms is it. I haven't contracted anyone to plow this year since many times they are so busy I can be done before they get to me.
Bobby down the road said he complains regularly about everything…but that he doesn't mean it. His example was that he complains about the hot, sticky, thunderstorms in the summer and now that it winter…well, he has complains about that too but smiles and admits he just loves it up here. Below you can see him here recovering from driving in a white out on Monday and chiseling out his berm.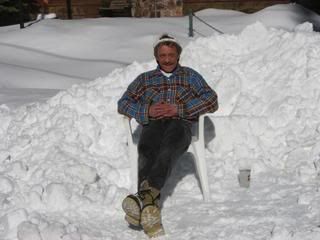 Bobby who has lived up here since the mid-1970s.
Now the savvy locals who have businesses up here pray, chant, and do whatever magic they can to get mother nature to send the storms early in the week. See, it is good for business and the roads are clear if we get an early storm so it reduces the TCs (traffic collisions). But we wouldn't want the local Fire Departments or Emergency Room personnel to be bored…plus it brings in good revenue.
Oh dear, did it again. You know me, say what I think…
Okay, back to the big breaking news…here is your first hint:
Big action in Fawnskin! The big pile is some of the luggage dropped off by the buses bringing kids up to Camp Whittle. They were not going to make it and so multiple trips were being made with kids and luggage.
Up the road a semi slid back. One of his chains broke but he wasn't chained up sufficiently for the road AND his tire treads were pretty non-existent. This is why CHP gets on the truckers for chains in the mountains. The guys were still there when I hiked back down from Camp Whittle a couple of hours later.
Road slush and mush is part of the whole snow cycle. Below is a picture of runoff on Rim of the World Drive where the snow plow operator bermed up the drainage ditches at the side of the road. There are many such culverts…and the runoff destroys the road as a result. Plus traffic makes it worse because it is not paved.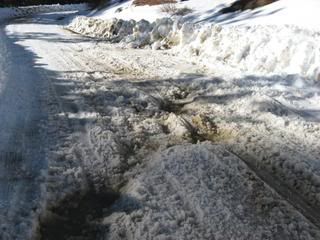 Personally, I like to let Shadow run and we both spent too little time out on Monday and got carried away–all the way to Camp Whittle. People were shocked we hiked that far but it didn't seem like an effort. We had lots of amusing adventures along the way. First, the semi and then the beefy boys…

Shadow is allowed to lead the way if she stays within a certain range.
I got to speak with the guys in the picture. They were from Orange County and were heading back–but they couldn't resist stopping and putting snow on their van, wrestling in the snow, and laughing so hard that they could barely get back out of the snow. The driver had to get out to clear the windshield about the time I caught up with them.
Laughing he said, "Hi, we are from Orange County and don't have snow there."
"I see…you know we locals usually want to take snow OFF our vehicles–not place the darn stuff on them."
Laughs some more. "Yes, yes…"
Lots of people put snow on the tops of their vehicles from the drive home. They don't think about how it smacks into the windshield of any vehicles behind them. But, if it makes them happy…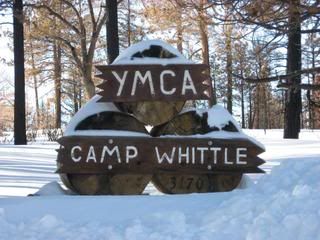 Shadow believes that the snow falls specifically so she can have fresh snow cones. Well, I guess you wouldn't call them snow cones officially, but last storm I indulged with her–and the stuff was light and fluffy and tasty. She grabs snow all the time and occasionally stops to change from grabbing snow off the ground and eats the slush that has begun to form in the melt. Can you say, eewwwhhhh?
Try as I might, I just can't seem to dissuade her from the natural version of slushies, this is something I won't share with her–maybe she gets additional minerals from the habit.

Shadow chomping down some snow in her Halti.
Shadow is not vehicle smart so we have been working on that. When I hear a car and we are on the snow road, her rule is that she has to come and sit with me. For some reason Shadow was panicked over the vehicles and I put her on lead for safety reasons for part of the hike.
People tend to mistake her Halti head control device for a muzzle but it is just like a horse halter and much more humane than a choke chain or pinch collar–plus it gives me two finger control over this massive mutt.
I told Bradly and Kathy that I'd find my video to show the advantages–but I haven't found it (or rather dug it out of storage) but you can view a similar device and the training for it here.
On the last leg of our journey, I had to let her off to go visit dog man and the clan once we got back into town. He was heading over to Diane's to help shovel her out. Diane is an older woman and HM delivered her dog food to her on his way over here the other day because she could not get her car out.
Turns out that Shadow is more like a third generation Fawnskin dog–at least on her dad's side. Buddy (her dad and who just turned 10 this week) is the big red dog on Mohawk who weighs in at about 110. He is a sweetie and Shadow has inherited his temperament. So, we had a dog party on the lower part of Rim of the World Drive. In case you are not aware, it is alway good to have a dog party!
Finally, after 7,671 steps I arrived home and started a fire.
How did I know just how many steps I took on my walk? I wore a pedometer that counted. Now I KNOW your are just itching to know just how many steps are in a mile…estimates are that there are between 2000 to 2500 steps per mile depending on your stride.
Anyway, I arrived back home and started a fire. I thought that the temperature would plummet–and a fire is always great to add atmosphere and warmth!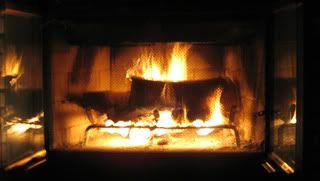 Thank you for reading this post. You can now
Read Comments (2)
or
Leave A Trackback.
Read More
Related Reading: