So, I can't see the other side of Grout Bay today because of snow. This is the perfect weather for me. As a writer, I find fewer distractions when we have inclement weather. Don't get me wrong, I am very disciplined but living up here makes me want to head out for outdoor adventures when the weather is nice and even with the wind yesterday, I actually took most of the day off and so must get back to the long hours again today.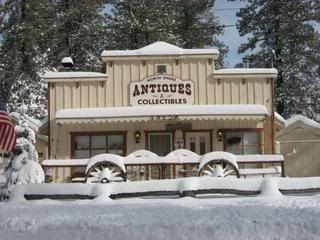 However, those are the times when I get the best dirt info to share with you. Snoop Sister Deb and I got together for a social amble and I learned that my walking buddy Andi will be working for Carol at the North Shore Antiques. Ernie and Carol have not had a real vacation for three years or more.
In the past, I met one of her buddies who came up to run the place while they took off. So I am sure it will be nice to have someone local to call on. One of the difficulties in being self-employed in a small business up here is that it is tough to find good help. Andi is very personable and has a lot of retail experience.
I've been walking later in the day and so haven't seen Andi in about a week–and I only glimpsed her and Dennis briefly as they ambled up the road twice this weekend when I was over at Shadow's house.
Also, I heard more scuttlebutt on the North Shore Tavern, apparently a couple will be running the place and I heard that they were from Vermont–or relocating from Vermont to do so. Now I hear that it is going to be a restaurant…see how those rumors fly? Sports Bar or restaurant–probably both. I doubt it will be open by February 1st as speculated.
Over at Fawnskin Realty, we couldn't find our self-described local real estate mogul (Andy Campbell) but we did spy a great big new snowblower sitting all alone on the parking pad. Andy is a gadget guy and so this one has all the bells and whistles. (Stay tuned for the snow blower and snow shovel review post.) We don't worry about theft too much around these parts because neighbors look out for one another…still, not sure I would have left the thing there unattended for so long.
Our original plan was to head down to Amangela's to get out of the house and have a hot drink. Let me just go on record to say that they must have the best hot chocolate I have ever had in my life! I ordered the "gourmet" cocoa and it was out of this world and, more importantly, I finally got the snap of the infamous couch cover.
Okay, so it is now old news. Those of you who read about it before will remember that the manly men in town were disturbed by the color–so the gals got a black cover to sooth the mountain men–so they can now go into the place and not panic.
Pretty funny if you ask me.
Amangela's also now has customized mugs for sale. The gals always decorate for the holidays and so we found ourselves playing with the musical Valentine's electronics they have on the counter. Yes, it is a wild time over here in Fawnskin for sure.
The gals were very amiable to the tourists and let them use their restrooms–but soon found out how naughty those visitors are and how much damage they can do. If you missed the Fawnskin Flyer toilet t-issue on the matter, read it here.
Of course, we had to head over to North Shore Trading Company across the street. It remains one of my favorite stores in the valley. Snoopy found a really nice, warm hat on sale…all the clothing is currently on special with discounts from 20-40% off. I heard they had some new boots and so took a look–they also have a nice selection of toboggans and snow shoes.
Which brings me to the moccasin making…
Moccasin Workshop, Monday, February 18; 10am-2pm
Get a chance to design your own moccasins. Participants will leave the workshop with the skills and materials to finish their own moccasins. Sign ups must be received by February 11, and participation is limited to 8. Previous sewing or leather working experience is recommended. Reservations required. To reserve your spot, please call the Big Bear Discovery Center at (909) 382-2794. Fee: $50
You know, GG doesn't rate much attention–even with about 5, 000 readers specifically interested in gossip Fawnskin and Big Bear…
Oh! Before I forget–Special thanks to Hope down in Valley Center (North County San Diego) for leaving a tip and helping support this blog. I am thinking of putting up links and names of those who support the blog that way, so stay tuned.
…so my point is that Equada Outfitters is sponsoring a snowshoeing event but didn't bother to let me know. Anyway, I thought you might be interested in the event so here are those details–if you call Equada Outfitters at (909) 866-6186 for more info–tell them I am whining about being ignored.
Big Bear Snow Shoe Event

Friday, February 8, 2008
8:00 p.m. – 11:00 p.m.
Athlete Check-In and Pre-Event Social
Nottingham's Restaurant @ the Robinhood Resort
40797 Lakeview Drive, Big Bear Lake Ca. 92315
Located on the corner of Lakeview Drive and Bartlett Avenue

Saturday, February 9, 2008
7:00 a.m. – 9:00 a.m.
Athlete Check-In and Same Day Registration
Equada Outfitters
663 Pine Knot Avenue, Big Bear Lake Ca. 92315
Located on the corner of Lakeview Drive and Bartlett Avenue

10:00 a.m. – 10k Race START (The Village at Big Bear Lake)
10:15 a.m. – 5k Race START (The Village at Big Bear Lake)
1:00 p.m. – 2:00 p.m. – Raffle and Race Awards
Okay, I have a breaking news video I am working on…just learning this stuff so be patient!
Thank you for reading this post. You can now
Leave A Comment (0)
or
Leave A Trackback.
Read More
Related Reading: