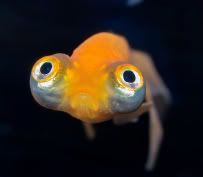 I discovered a funny thing about the term, "crying your eyes out." You end up looking like one of those bug-eyed goldfish.
Yep, get a good look. The picture to the left is me on Valentine's Day. Not exactly the image I wanted to present to HM but that is how it goes sometimes.
The odd thing was that I mentioned to a pal that I thought a storm was coming in–but it was not in the forecast the last time I checked. Then, when I arose–there it was–snow. Imagine that!
The nice thing about this storm is that it wasn't too heavy. It will be good for attracting weekend visitors and for the local events planned for here in Fawnskin–but the roads should be nice and clear which will be a blessing especially since it was "slip n' slide" and "ice slide bumper car derby" time on the roads Valentine's Day morning.
By the end of the day the snow stopped, and I did look a bit more normal–so HM made me go out as planned. The Moose Lodge was packed with people. Mike Haskins played and wouldn't you know, the prime rib sandwiches were out of this world.
Mike is a long-time mountain resident who has turned desert rat. He has an interesting history which we got to hear during one of the breaks where he joined us. That is the thing I love about up here, there are so many really interesting people with unique stories.
Mike Haskins is a Vietnam Veteran and active in many of the groups up here. He got into entertainment after he had surgery to correct damage due to Agent Orange and his time spent in recovery morphed his interest into music.
Now don't dismiss his talent–he has quite an interesting history–plays the clarinet and also played in a special US Army unit (which was by invitation only)–HM probably remembers the specifics but I forgot already.
I caught him on video but not the song I should have. Mike, if you read this–better invite me to another set so you can sing the Jack Jones song, Wives and Lovers.
Thank you for reading this post. You can now
Read Comments (3)
or
Leave A Trackback.
Read More
Related Reading: