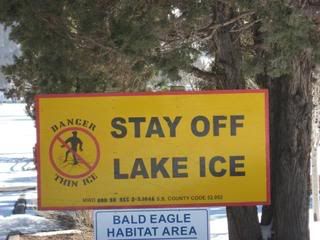 Did you hear any sirens yesterday? I sure didn't but HM told me the big excitement was the dog rescue. I hope is is not our neighbor's dog that went missing this week–sources tell me it was a golden retriever or yellow lab and ambled onto the ice–viewers were on Stanfield Cutoff watching the rescue.
The good news is that Lake Patrol was able to launch and sail through the ice so the ice rescue team saved the dog. The pooch is over at animal control. Dogs can't read (at least not that I know of) and I wonder if the dog owners will be liable for the rescue costs. Anyone know about this?
So it seems that there will be more going on in town than Mardi Gras this weekend. It never ceases to amaze me how GG doesn't rate around these parts…never mind that I have been out of town…
The Fawnskin Chamber is holding a Winter Fest, someone told me it was a winter Fawnskin Festival–it isn't. There will be several contests in town during the day (Saturday, February 16th) and then the Moose Lodge Mardi Gras party starts at 5pm–so technically you could spend the whole day here enjoying the good life.
All entrants into the events will receive a free drink gift certificate good at any of the Fawnskin's restaurants. The first event is a firewood carrying and stacking contest which begins at 10:30am and is hosted at the North Shore Trading Company.
Holy Cow–is anyone around here sick of moving wood or snow? (Seriously, some people will love the event and it is a good idea to lure unsuspecting participants visitors over to this side of the lake.)
Next, across the street at Amangela's you can join a snowman building contest at 11:30am. (If all the snow doesn't melt in this sweltering heat).
The third and final event of the Winter Fest events will be a snowball throwing contest at North Shore Antiques at 12:30pm. (Yikes! It might be more like ice ball throwing with this melt!)
Anyway, I think the event is a good idea but I won't be in town. However everyone in the valley is invited to attend Fawnskin's Winter Fest on Saturday. Since town is just over a block long, you can't get lost but if you do, stop at the Fire Station Triangle, or call the Fawnskin Chamber of Commerce directly at 866-3414.
I think another event should be added–something like a "break the berm" or "clear the ice" contest to get rid some of those massive walls and make the place less hazardous to pedestrians. Then we could accomplish something that CalTrans and the County don't helps the whole town out.
Finally, remember Cobi from the Cancer Project Cooking class held here at Old Miller Park last summer? She is coming into town every week now as a private chef. So, if you want someone to shop and cook vegan for you–she is available. I don't have a number for you yet but let me know if you are interested and I'll get one.
Thank you for reading this post. You can now
Read Comments (3)
or
Leave A Trackback.
Read More
Related Reading: