So, I am pretty chipper about the road work I saw yesterday…that nasty bunch of potholes on North Shore Drive are now under cover–literally. The road crew cut the road and placed steel plates where the mess was and have the asphalt and gravel ready to go–but not before the storm hit.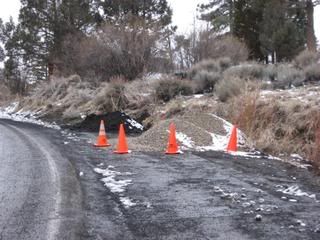 I decided I had better head into town yesterday instead of on Friday. Now I am snuggled in for the duration–I hope. HM says I am going to participate in the politic scene–but we shall see.
In other news, I mentioned that one of the locals has the vegetarian chef up cooking a storm (get it, storm…cooking…joke) if you want a personal chef–Cobi is cooking locally and you can contact her now.
For the people who commented, if it is too off topic or doesn't contribute much to the post I am probably not going to take the time to post the comment and respond–don't be shy–I know most of you have something to say.
Nobody put in their two cents about the squirrel hut…I know at least one of you know where it is!
Thank you for reading this post. You can now
Read Comments (2)
or
Leave A Trackback.
Read More
Related Reading: