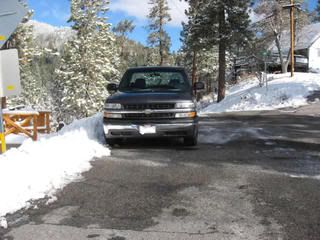 Although the above picture doesn't show the current road conditions (snow and ice) the idiot (am I too strong here?) has parked in a very bad location–never mind the vehicle is parked illegally. Drivers cannot see the vehicle below the hilltop and it is at the juncture where three roads intersect.
In this case, the place has a driveway–they just don't use it. Never mind that in snow and ice conditions that someone could barrel into the vehicle…
The following is courtesy of San Bernardino County Department of Public Works and Risk Management Division:

Do not park your vehicle where it will block snowplows or where snow, ice or cinders can be thrown or pushed against it by the snowplow or equipment.

San Bernardino county code provides that any vehicle interfering with snow removal or cinder spreading operations will be cited with a maximum fine of $250.

This code also prohibits parking on state or county roadways which would interfere with snow removal or cinder spreading operations. Vehicles found in violation will be cited and/or towed away.

If you must leave your vehicle near the edge of the roadway where it will be near snow removal or cinder spreading operations, park it off the road as far as possible. It will help if you are able to dig an area to get your car further back off the road – even half a vehicle width helps.

Flag your vehicle using a broomstick, colored flag or any other device that would help snowplow drivers spot a snow-covered vehicle. Flagging helps protect your vehicle, but you are still subject to citation and/or towing of your vehicle should your vehicle impede snow removal operations.
We had a Lexus blocking a whole lane just before a curve last week. I believe the CHP cited them–and rightly so. I witnessed two cars just lucky enough to spot each others headlights as they almost met at the curve–the uphill driver was in the wrong lane and crossed over the double yellow line because the Lexus had blocked his entire lane.
And now, for last night's adventures…
Usually I don't venture out during snow storms when there is a heavy load of visitors in the valley. Yesterday was an exception as we drove over to Chuck & Cheryl's for Super Bowl XLII. When we arrived, I noticed that the wind was creating a large ridge on the street entrance.
HM apparently didn't notice it because when we attempted to leave several hours later…we got stuck.
Now as a mountain mama, I drive a truck. Trucks have a higher clearance than Subarus (although now that I am seeking a new vehicle, the Subaru Forest has made the short list). Anyway, I also carry chains and a shovel during the winter.
HM did not have a shovel.
So there we were, winds blowing heavily, snow blasting the car, stuck.
HM sure does know how to show a gal a good time…
HM was already in hot water and let's just say this little adventure didn't gain him any brownie points.
In fact, I was shocked he even attempted to barrel through the high pile of snow–I saw we weren't going to make it–didn't he? Probably not, he needs new wiper blades.
You know I change mine every winter…and I know he has some, I saw them a few months back. The Car Quest guys turned me on to these big ol' blades that work well in the inclement weather.
Anyway, he did not have a shovel and asked me if I wanted to hike back to the house.
Let's see, do I want to slush through the muck and snow in the torrential winds while at the same time getting pelted by snow?
No, I did not AND I can't believe he even asked.
While he was gone, I got to see a pack of very large coyotes using the road for travel.
Next, I watch multiple cars race by. ALL of them were going too fast. Were they locals? Doubt it, although Nonny Mouse left her scary local driving maniac comment–so maybe they were. But most locals would have stopped to see if they could help…
Anyway, because the Super Bowl game was only recently over, they probably had been drinking. Not good.
But the good news is that soon I saw the white knight arriving in the plow. Cheryl had seen that the car was at the corner for longer than normal and told Chuck he had better suit up.
Chuck tends to be a gadget man and has all the toys and tools you might ever need–this includes a big ol' snow plow attachment on the front of his truck which, since it was snow covered, made him the white knight for real.
Locals on foot stopped–I pondered just why they would be walking in this snowstorm–although I've been known to do it too. Figured they were on their way to Liquor Junction since it was easier to walk than drive in a snowstorm. Then, another couple of locals stopped to see if we could use their help, too. Thanks!
Anyway, just as the guys arrived–I watched a 4×4 go into a spin and figured it was not going to be good. They were headed right for the car–the saving grace was the snow drift–no way were they going to get through it–which is why the car was stuck in the first place.
What boggled my mind was that the cars traveling behind them didn't even slow down! I was certainly glad both HM and Chuck were not out of the truck yet as they would have been at risk.
So, I backed the car up while the boys pushed and we finally got it onto clearer ground–and soon we were on our way after Mr. Knight plowed a path through the mess.
Now, I am sitting here watching the snow pound the ground and am really not looking forward to another day of shoveling out. Yep, up those stairs to the parking pad, and then the infamous berm.
Know you know, I like the snow but I am certainly getting tired of all the snow clearing. It is a good thing the county guys and CalTrans worked so hard to clear the streets–and that we had a warm break between the storms.
I am missing Shadow, too. Haven't walked with her in a few days and this week I'll be going on a short jaunt and so won't even be in Fawnskin to torment her.
So, what can you expect this week? I have a three part series on grocery store shopping strategies for the area–along with a long list of places to do it. You might be surprised.
If you have anything to add to my snow adventures or snow plow blocking story, feel free. I will be busy moving my other websites over to a new host this week so the series will have to keep you busy until my schedule lightens up.
Thank you for reading this post. You can now
Leave A Comment (0)
or
Leave A Trackback.
Read More
Related Reading: