Now I understand that the local stores need to do maintenance work but I get really tired of fighting to get in to shop. Yesterday, I did my main grocery shopping and meandered between stores to do it.
I was surprised to find the Stater Bros North access blocked by the shopping cart corral. Looks like they had some sort of spill because they had tiny granules spread all around.
Anyway, despite that inconvenience, I timed the trip nicely because I didn't have to navigate the crowds AND (don't faint here) did not have to wait in line!
Because they didn't have all the things I needed, I ventured over to Vons. This is not a pleasurable tip as it once was.
First, they allow those potholes to remain in the asphalt and I don't like navigating around them. I am not sure about the liability here because the lot is privately owned–which falls under different jurisdiction (I believe). I'd think they would maintain the parking lot a bit better–and while I am complaining about that who in the heck redesigned it? IMHO They certainly had no idea what they were doing.
If that wasn't bad enough, another hazard is that the MARTA drivers park in areas that block the visibility and the main lane. Turns into the main lane or into side lanes are precarious while they are there.
Another part of the problem is that people use the lot as a mini race track–what happened to slowing down in parking lots? Because the layout is so bad, people criss-cross any which way making it especially hazardous…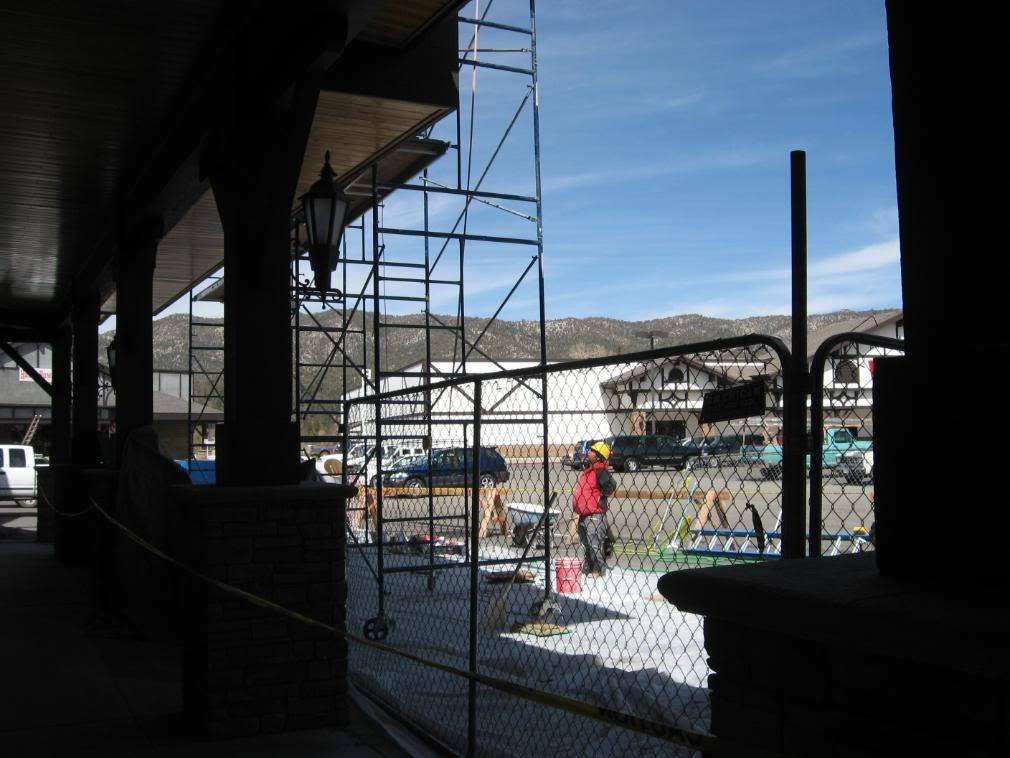 and then there is the lovely construction. Once again, they use daylight business hours to do the work and inconvenience both the businesses and shoppers.
Yes, I know maintenance needs to be done but there are other ways to do it and help out the merchants–not too mention those of us who happen to patronize them!
*sigh*
On a happier note, I saw CalTrans is still hard at work on the pothole on North Shore Drive. Geez, they have been working on it for days. I hope they located the underground water channel–they have gone very deep so I suspect it is more than just fixing the asphalt.
I've been sequestered away working on projects–soon to finish the one I've had on my plate since January–so I am a little behind on some of the scoop–but there has been another addition and news about Fawn Park–can you believe more fundraising?
Also, regarding the NS Tavern. Last word I got was that a local couple was submitting a pitch to run it. I'll be out in town today so maybe I can get a better earful.
Thank you for reading this post. You can now
Leave A Comment (0)
or
Leave A Trackback.
Read More
Related Reading: