Now I don't have a digital scope or other fancy equipment for taking photos but yesterday I wish I had one in my mitts. Springtime often comes with bird drama–and yesterday included two hawks in some sort of altercation.
At first I thought is was a mating ritual but then I had to think again. In birds of prey, the females are usually larger than the males of the species.
Other than an educated guess, it is hard to differentiate between the sexes–well, not for the birds–obviously.
Anyway, the more aggressive bird moved from flight onto a precarious perch on the electrical cable before moving into a tree. While the other one dove down and perched under some lower branches for cover–and kept a watchful eye on the other.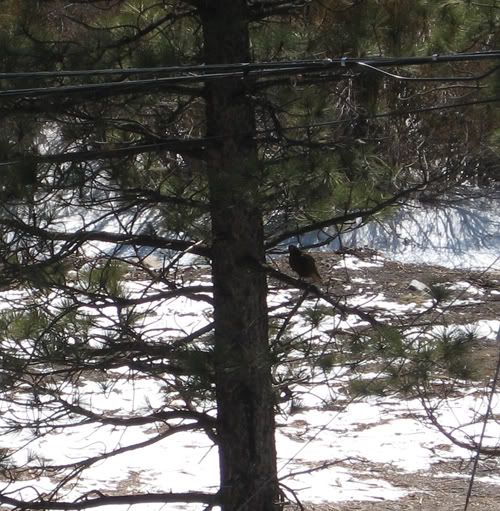 They both checked me out briefly but dismissed me as another avid wildlife watcher and quickly went back to their antics.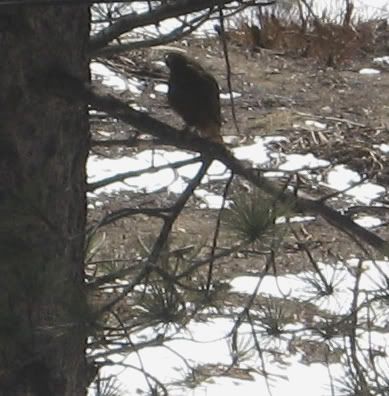 There are some people who dismiss the wildlife around here as common. Growing up in So. Cal on the cliffs above the ocean and across from a wildlife refuge–we saw all kinds of critters.
A few years ago I used to accompany the local naturalist on some of his tours. We had a group of science teachers following us to eagle perches when I spied a Red-Tailed Hawk. I told him to stop and he said something like, "Oh, it is just a red-tail…" and I insisted.
Turns out that the science teachers had NEVER seen a hawk and were absolutely thrilled with the experience. They took lots of photos and whispered excitedly.
The nice thing about living adjacent to the wilderness is that there is ample opportunity to view wildlife. Soon my nest boxes will be filled with birds of all types. I'll get to be amused by the nuthatchers moving upside down, chase away the flicker who shows up every year to try peck holes into the side of the building, and see my Steller jay admirer–who actually just showed up a day or two ago. He peers into the house to see if he can find me–using the rocking chair–and if the door is open he gets on the shed to get a better vantage point.
PLUS, if I get my hammock out, the birds will amuse me with their birdie dramas as I enjoy the sun and relax.
Hey, I hear the hawks again…better go check it out.
Thank you for reading this post. You can now
Leave A Comment (0)
or
Leave A Trackback.
Read More
Related Reading: