I mentioned that I was just down in Sierra Madre—and the air was filled with the fragrance of the blossoms.
If you are looking for a day trip, this Sunday is the annual Wisteria Festival in Sierra Madre. The event has roots back to 1918 when an estimated 12,000 people attended the first public Wisteria Festival.
The world's largest wisteria vine is a lavender Chinese variety planted in 1894 by William and Alice Brugman. You can read more of the history of this famous Sierra Madre Wisteria Vine here.
Today thousands of people flock to see the estimated 1.5 million lavender blossoms on display weighing in at 250 tons and covering more than an acre. It is estimated that the famous plant contains 500 feet of branches with approximately 40 blossoms per square foot.
The local plant is listed in the Guinness Book of World Records as the largest blossoming plant in the world and is also know as one of the seven horticultural wonders of the world.
Former Big Bear resident, Chris McCormick is one of the vendors who will be on location for the 2008 Wisteria Festival. Know in art circles simply as Cristobal (listed incorrectly at the event as Cristobar Designs). He is up and coming artisan in the Los Angeles arts community.
I recently had the opportunity to interview him…
Chris McCormick was born in Lynwood California and grew up in Downey, California. His family spent time in Carlsbad and in Big Bear Lake where he and his mother (Gloria McCormick) were very active in the arts community.
Today he resides in the quaint town of Sierra Madre, California which is near Pasadena and nestled into the mountains. Many artisans fill the town which has kept its identity and unique flavor despite the rapid growth taking place all around southern California.
Cristobal grew up thinking he would be an artist once he became an adult. He said, "Unfortunately life gets in the way and we take different paths than what was laid in front of us."
After many years of not being an artist and failing to create anything McCormick realized just how important the act of creating art was to his personal well being. Today he says, "I cannot go more than a couple days without getting antsy."
McCormick's return to art took off again when he moved into the Big Bear Valley. He said, "I draw inspiration from life. From my surroundings, the people I meet and places I go on this journey…and I work best when I have been able to be in nature, at the beach or exploring the mountains."
Cristobal is a man of many talents but his medium of choice is clay and when asked why he simply states, "I love playing in the mud!"
Recently he did a series called, "Water Pods." While these hand thrown bowls were still on the wheel he would smash them with drift wood found at the beach or on hikes in the local mountains.
"I didn't pick up just any piece of wood, they had to speak to me, the had to be interesting. The "Water Pod" series meant a lot to me because they became very personal. Several people have recently asked me to return to the "Water Pods" which I am considering."
Although Cristobal is a natural talent, he has taken a few courses and has studied with a few artists. He has taken ceramic workshops with Tom & Elaine Coleman and also John Hopkins & Steven Horn (both instructors at Riverside Community College).
Cristobal also traveled to Pensacola, Florida to study with Peter King and Xinia Marin of Stonehaus Ceramics and says he can see his work heading into a similar area as theirs.
When asked about career influences he cites Paulus Berensohn, Suzette Munnik, and Vincent Van Gogh.
When asked about his work, Cristobal says that the common thread dates back to his high school years–and is water.
"There is a flow to most of my work, particularly in ceramics. It represents water, or even life itself. Take my "Water Pod" series–after firing the piece I reattached the wood so the pot became sculpture. I had concocted a story to tell people who expect artists to have deep philosophical meanings to their work—that said the "Water Pods" represented man's search for water and the beauty that it holds within. All of the "Water Pods" are glazed only on the inside in deep blues, leaving the raw clay on the exterior."
When asked if he has any rituals for his creativity, Cristobal said, "I really don't think that I do. You know they say that the more you nurture, the more you create. I see people that come to the studio with something all drawn out on a grid that they are going to make, either hand building or wheel thrown and I just can't understand that. I almost never go in with a preconceived piece to work on. I may have an idea in my head, but I let the clay dictate what it wants to be and so I do my best to make that happen."
When asked about his biggest challenge, McCormick says it is allowing himself to be an artist
His biggest influences? "My mother has always nurtured the artist in me and again I would have to say Suzette Munnik who has pointed me in different directions as a ceramist, and has always had inspiring words for me…"
Cristobal's plans for the future? "To continue my artistic journey, wherever that may take me."
That journey includes the 2008 Wisteria Festival in Sierra Madre on March 30, 2008. Vine viewing 9:00 a.m. to 4:00 p.m. and Art & Garden Faire 9:00 a.m. to 5:00 p.m. For more information on the festival call (626) 355-5111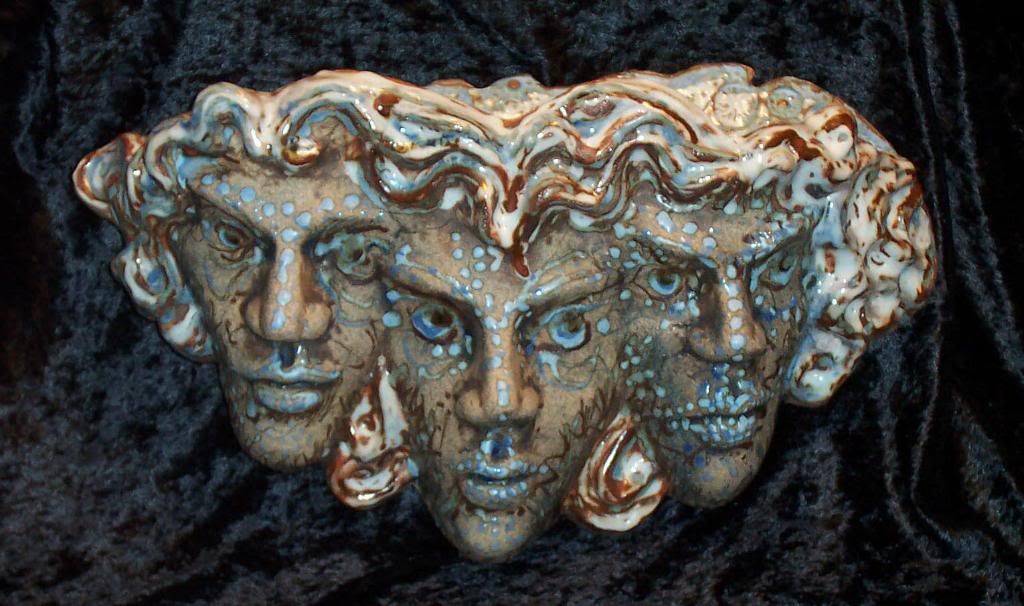 You can also see his work at The Pottery in Yucca Valley, California or visit his websites at http://www.cristobaldesign.com or http://www.chrismccormick.com.

When asked for final thoughts he said, "Always be true to yourself, live your life, don't try to be what you think other people want you to be."
You can read one of his blogs on pottery at http://www.socalpotters.com. Cristobal (aka Chris McCormick) is a faculty member of the Xiem Clay Center–the gallery and studio is a great place to visit or to take classes if you are so inclined.
Thank you for reading this post. You can now
Read Comments (3)
or
Leave A Trackback.
Read More
Related Reading: