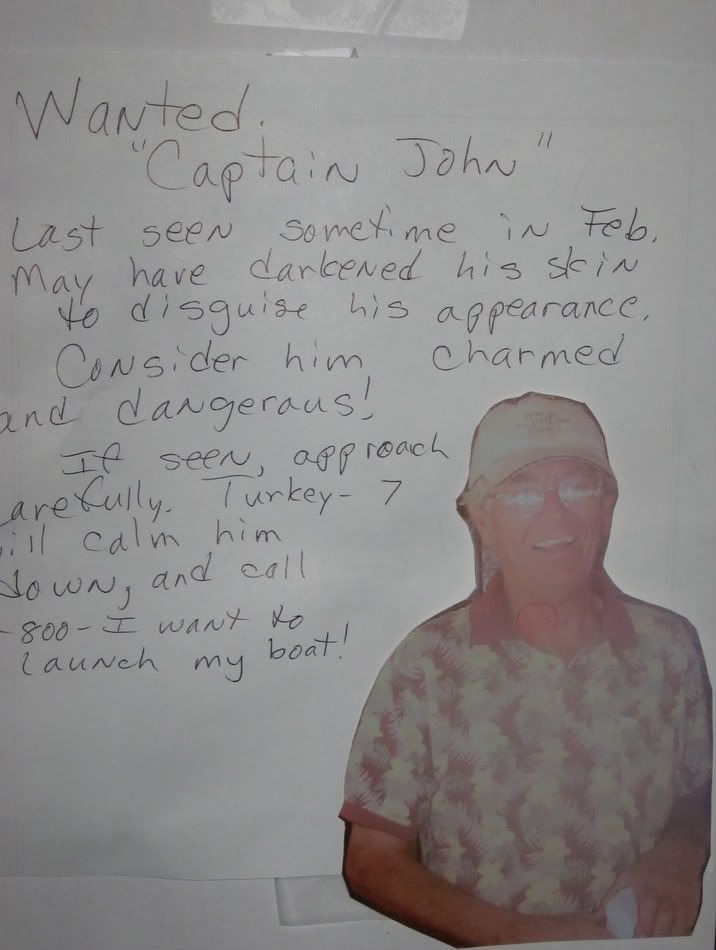 If you haven't made it down to the Post Office lately you would have missed the above "Wanted" poster. I just had to share it.
The tongue in cheek announcement was put up because Capt. John did his annual jump over to Hawaii and people were getting antsy and whining while they asked, "Just when is Captain John getting back?"
"Charmed and dangerous" and call "1-800-LAUNCH-MY-BOAT" are just examples of the smart mouth commentaries we Fawnskin Folk are known for.
I am sure Captain John will find it nice to know he is missed but I suspect many people are just wanting to get their slips–or wanting to launch their boats. Remember, you can always send your check to Fawn Harbor at PO Box 350, Fawnskin, CA 92333 to reserve the slip.
More importantly–remember that it is still only March!
March is one of the three biggest snow months around these parts. Those of us long time residents know that we can still get a bunch of snow and so Fawn Harbor and Fawnskin Marina will not open until after April 1st. If you are so inclined, you can get the weather history here or snow fall history here.
I think Alan Sharp at Big Bear Marina on the South Shore plans to open this weekend but since GG doesn't rate he has not emailed me back nor called…
A series of storms is in the forecast for next week and we don't know if we are going to get snow or rain yet.
Remember that sailboat that sunk from the snow load a year or tow back? Well, maybe you don't–but a picture is somewhere in the archives…
Now knowing storms are coming in I just have to say that Thursday night was the first night I left the heat off and didn't regret it in the morning. In fact, once this storm passes I'll probably take down my faux double-panes and put the screens back up.
Finally, Captain John & Cynthia invite you to party with them at Captain John's home in Erwin Lake. The luau starts at Noon and who knows when it will end? The occasion is a welcome home for Captain John and Cynthia Crane's __ birthday. (I'd tell you how old but I don't want to get yelled at!)
Captain John's place is in Hamilton Estates off State Lane. Look for the boat in the yard. Otherwise catch Cynthia in town for directions.
Thank you for reading this post. You can now
Leave A Comment (0)
or
Leave A Trackback.
Read More
Related Reading: