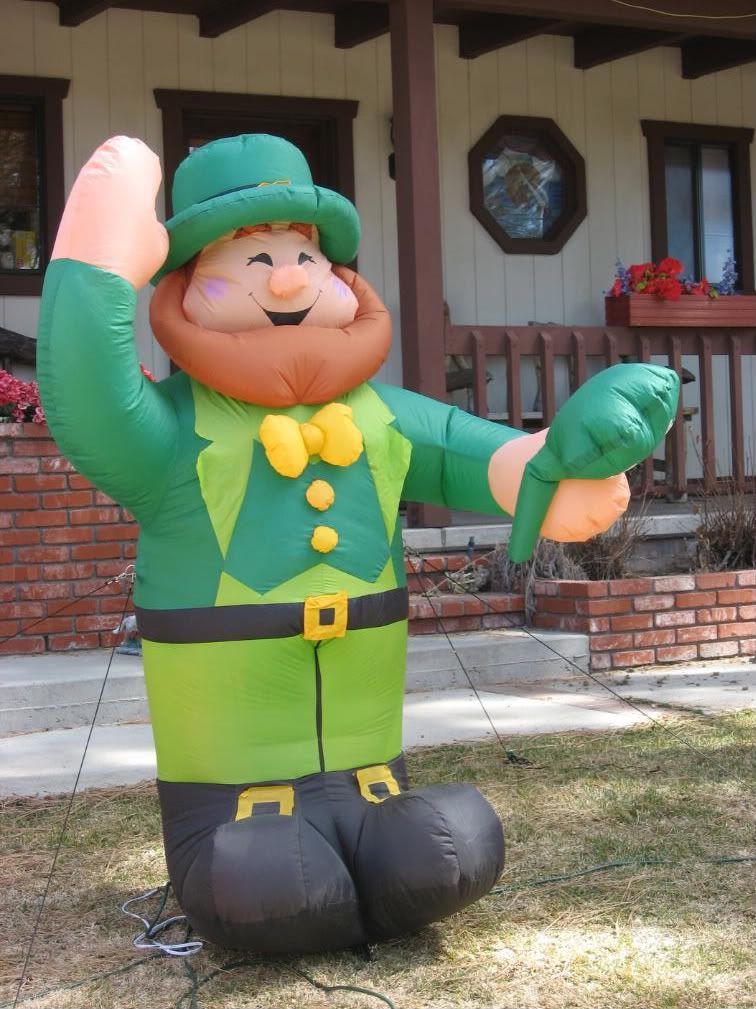 So, we celebrated St Patrick's Day two days in a row! Tom was busy decorating and blended St Patrick's decor with Easter decor in their front yard. Smart…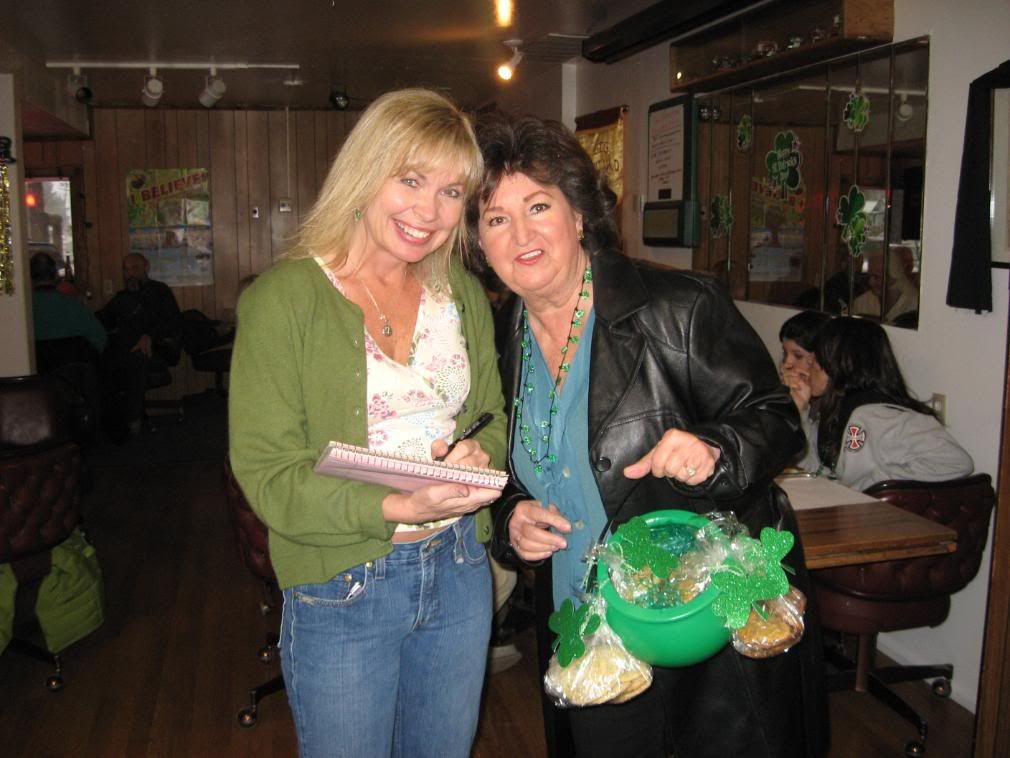 Above: Loni (Senior Regent of the WOTM) and Dee.
Here are a few snaps of the Moose Lodge 2085 celebrations which was also a fundraiser for the MS Walk. We had to rush down the hill and head back up in order to beat the storm–which we did. As we nestled into the warm lodge the snow began falling heavily.
Many of us feel a bit smug about it–some people were insisting that winter was over. Those of us who have lived here for a while know better–March traditionally has been one of the largest snowfall months here in the mountains of southern California. I tend to like spring snow because it is light, melts fast, and so very little shoveling is required AND the roads clear up quickly.
Anyway, we gathered with our neighbors for a fun social interlude.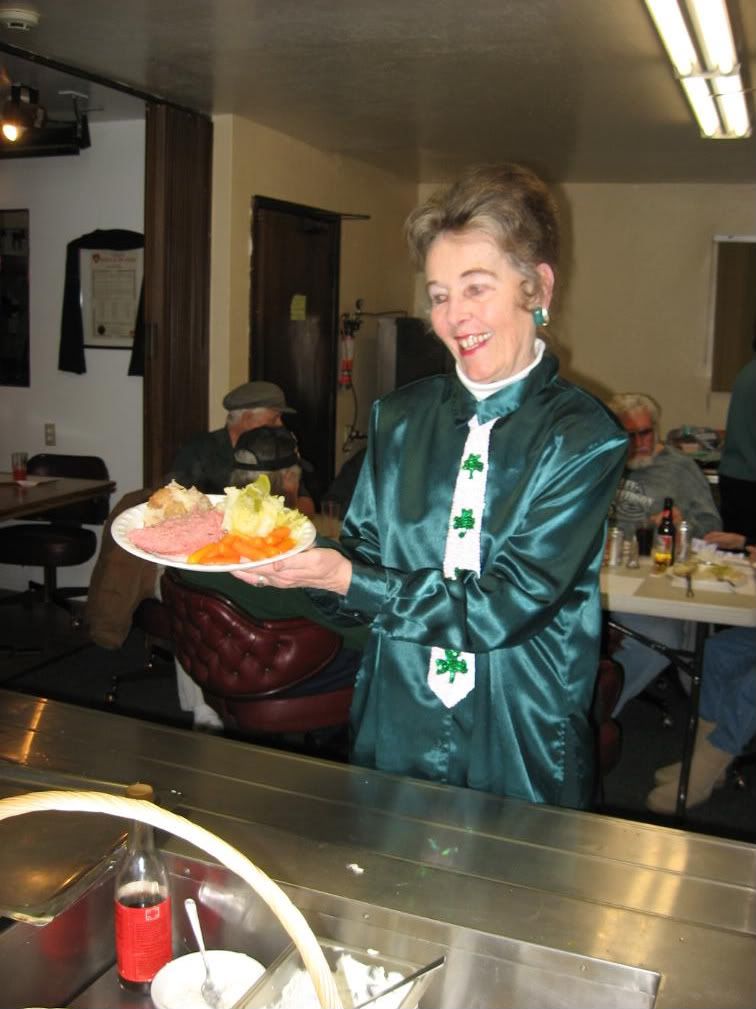 Above: Betty admires the hard work of the volunteers before eating.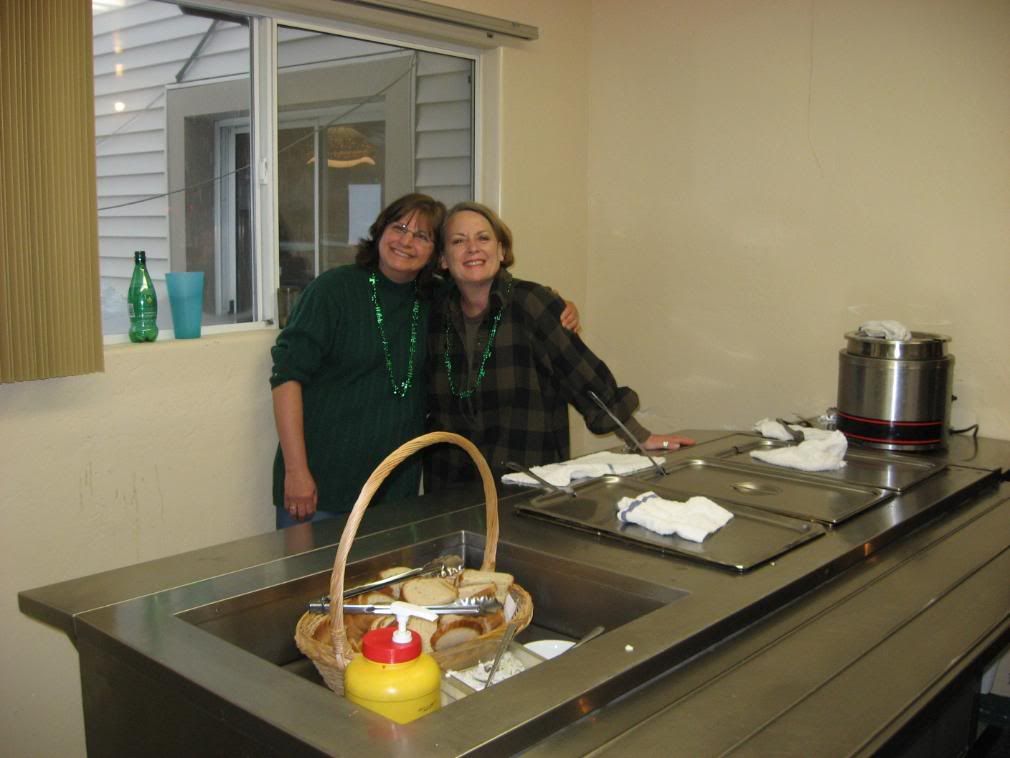 Above: Two of my favorite neighbors (Deb & Andi) pose for a photo–many of the neighbors volunteered to help at this fundraiser.
Above: Hard at work!
Above: Randi and Wayne behind the scenes and hard at work in the kitchen.
Above: Emily volunteers to take your money!
Above: Robert (administrator for the lodge) happily shows off his attire and dinner.
The only trauma was that many people got a big sugar buzz due to the amazing amount of baked goods–the nice thing about the bake sale is that everyone realizes that they bought too much and so then share all the goodies around the lodge.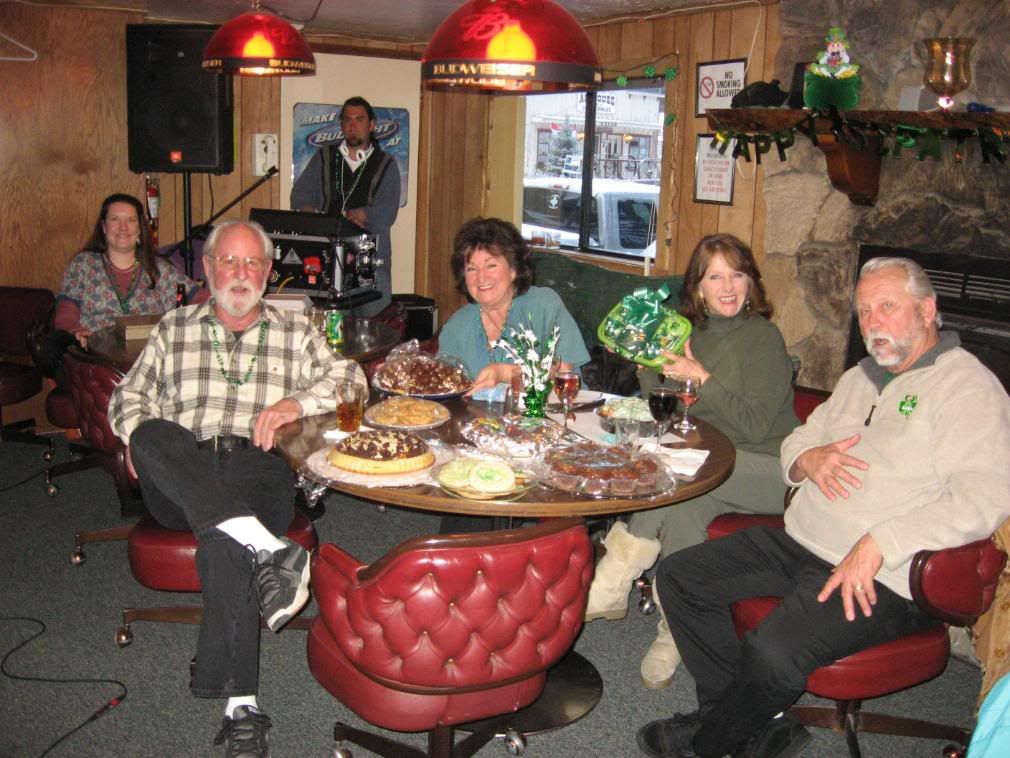 Above: Hmm, who bought all the baked goods? Rick, Dee, Kathy, and Dennis.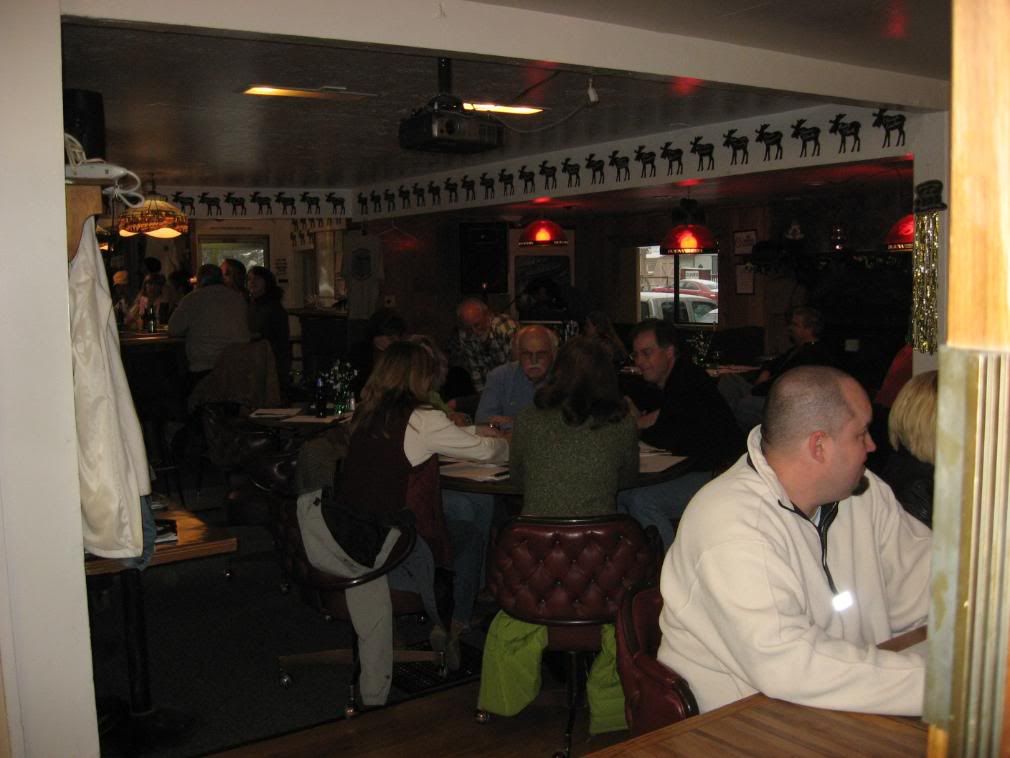 Above: Some of the crowd at the St Patrick's Day MS Walk Fundraiser.
Yesterday I spent most of the day working as I didn't expect to see HM but when he called and said he was on his way over, well I decided to make some Irish Soda Bread to go with the corned beef, cabbage, carrots, and onions bubbling in the crock pot. It was a yummy meal. Below is the recipe for the Irish Soda Bread. The dough was a bit sticky but it turned out very yummy.
Irish Soda Bread (adjusted for high altitude baking)
2 c. unsifted all-purpose flour
2 tbsp. sugar
3/4 tsp. baking powder
3/4 tsp. baking soda
1/2 tsp. salt
3 tbsp. butter, softened
1/2 c. golden raisins
1/2-1 tbsp caraway seed
1 c. buttermilk
1 tbsp. butter, melted

1. Preheat oven to 375 degrees. Using solid vegetable shortening, lightly grease the surface of a small baking sheet. Set aside until bread is shaped. Assemble all ingredients for Irish soda bread. (Make bread the same day you plan to serve it.)

2. Put flour, sugar, baking powder, baking soda and salt in a sifter; sift over a large bowl. Add softened butter and cut into flour mixture, using a pastry blender or fork until mixture looks like fine crumbs. Add raisins, caraway seed and mix thoroughly.

3. Pour buttermilk into flour mixture all at once. Gently toss mixture together with a fork until all dry ingredients are just moistened. Do not overmix. Using hands, gently gather flour mixture together and press firmly into a ball.

4. Put dough on a lightly floured pastry cloth or board. Knead gently with the palms of your hands until dough is smooth (about 1 minute). Shape into a smooth round ball and place on the prepared baking sheet.

5. Using hands, flatten dough into a circle that is about seven inches in diameter. (Dough will be about 1 1/2″ thick.) Press a large floured knife into center of loaf, halfway through dough. Repeat, at right angle, to divide loaf into quarters.

6. Bake bread for 30 to 40 minutes, or until top is golden brown and loaf sounds hollow when tapped on the bottom and sides with a wooden spoon. Remove to a wire rack to cool. Brush top with melted butter and later, dust with flour. Makes one loaf.
(You can do an additional altitude adjustment by reducing baking soda AND baking powder by 1/4 tsp if you wish.)
Finally, Happy Saint Patrick's Day from Fawnskin!
As usual I have to include a video link so you can get the history of St Patrick's Day.
As far as I know, America began celebrating St Patrick's Day in 1737. Take this Saint Patrick's quiz to see what you know–and check your answers.
Thank you for reading this post. You can now
Read Comments (2)
or
Leave A Trackback.
Read More
Related Reading: