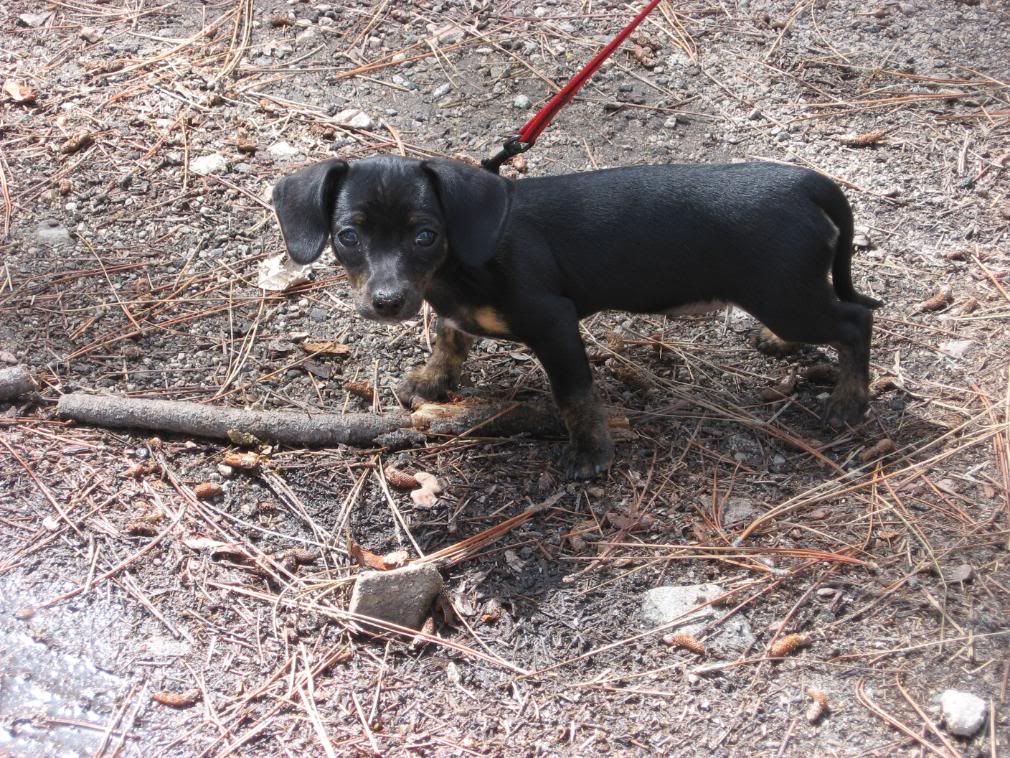 There is nothing like a cute puppy to make you smile first thing in the morning–if you are not the owner that is. Sophie is a new resident to Fawnskin and belongs to Mike. She is a "chiweenie" (another rant about designer dogs will be done elsewhere) and very small at ten weeks of age–and barely bigger than a pinecone!
Speaking of pinecones…
I ambled down to the Pinecone Art Boutique and noticed that the decorative pine boughs were gone. Since Sharon was no where to be found, I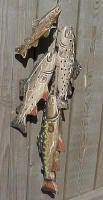 took a gander through the window. The place is not quite together but has a few booths (loosely used term) and features some cabin decor such as those painted wood fish.
Many of the wood burned signs that were being sold in front of another building on the North Shore are displayed along with holiday tree decorations, cards, candles, and an assortment of many other things I could not see. Perhaps this will evolve into a real local artists cove but for now it looks mainly like a collection of different craft items.
I know there are many different artists who live here in Fawnskin and who have been hankering for a little artist's mall. For now, I'll just keep my fingers crossed!
Still no word from JP about the NS Tavern but speaking of business and other community buzz…this week's NSIA Potluck included mention of establishing a Community College in the area–expanding from the limited classes now offered at the Big Bear High School.
Bringing any kind of academic facility would be a great thing but I am wondering if such an effort would attract students from only the mountain region or if it would provide unique credential programs to draw from down-the-hill (some people whine about driving up and down the hill as being a hardship).
My personal belief is that Big Bear has been too slow in changing the marketing efforts away from the ski resort and winter resort model into that of the four season resort.
Fortunately, there are many unique events offered as a draw but ask around–some merchants succeed with four season success–while others whine about the roller coaster ride.
Now being described as in the NY Times as the "least exclusive resort" in southern California is not exactly a badge of honor (although the headline conveys a more positive spin). However, the mention was priceless. But what I think this illustrates is how the identity of this community has not been conveyed clearly.
AND what exactly are the demographics of the types of visitors attracted to the valley? I've heard everything from "family friendly" resort to "poor man's resort" from the mouths of business owners.
And then we have (insert *shudder*) the addition of a lot of franchises that take away the pristine mountain community image and make the valley just about like any town down-the-hill.
Sure we need services and supplies but come on–how about better planning while accepting additions? Take the new Walgreens–still a sore subject with locals because they destroyed slaughtered tons of trees on a parcel adjacent to the main boulevard.
Why did they do this when there is an excessive amount of other properties available on the main boulevard that contain empty or non-maintained buildings in prime locations?
Last week I ambled down Big Bear Boulevard with a pal down to get to a local restaurant–and we both had to use care because the cinders (thrown onto roads to help with traction during snow fall and icy conditions) were so bad on the sidewalk that we slipped on them. Some local merchants don't seem to care about cleaning up the sidewalks in front of their businesses or in their driveways, while others do.
Did I mention that the cinders make the place look filthy and unkept?
BTW people, this is the first image people get on their way into this valley via the main drag.
So, what kinds of changes in the community do you want to see? Do you like the community college idea? What marketing ideas do you think would work to attract visitors year 'round? As a visitor–what are your impressions? Leave your comments below.
Thank you for reading this post. You can now
Read Comments (2)
or
Leave A Trackback.
Read More
Related Reading: