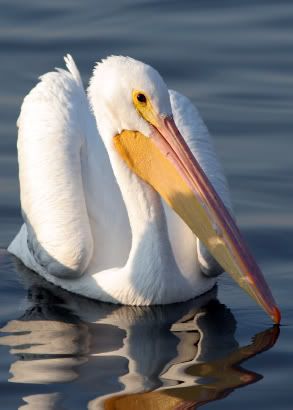 One of the hazards of living in a small town is that when you go out for a walk sometimes it takes ages to return because you stop and talk with all your neighbors. This certainly was the case last night when it took about 45 minutes to make it back to my place on a segment that usually only takes about five minutes to traverse!
Lots of people were out enjoying the warm, spring weather.
My neighbors told me they took the time to head over to Grout Creek to watch the trout. I enjoy how everyone takes a few minutes to enjoy life out here.
Last week I watched various service business vehicles stop for a short break to watch the trout. It is something I don't think you see much down in the city. Everyone is too busy rushing from place to place–most oblivious to what is going on around them.
Not so around here…
Bobby took a minute to come outside and share his plans for a trip now that he has a new GMC truck. He is having a blast and hopes to head up to Alaska for a stint.
As I was nearing home, Rick stopped by to welcome me back from Los Angeles–and then was off to a meeting.
Now don't get too comfortable to the weather as the official word is that the temperature will drop again–beginning tomorrow and leading into another storm during the weekend. Although things can change, this is not uncommon.
I remember when I moved up here–locals warned me about the Mother's Day storm.
Sure enough, on Mother's Day a storm hit–dumping snow. This is one of the reasons I delay any gardening efforts until it actually warms up and is later in the calendar year.
One year, I thought I had waited long enough before adding additional plants–and the joke was on me since just before the 4th of July I had to run out and cover my new plants. The temperature plummeted and it snowed.
Did you ever wonder why so many people have fake or silk plants? Know you know why.
At the moment everything around town has buds and is ready to go–I even have grass coming up on areas where the ground wasn't traumatized by those builders a couple years ago.
My neighbor got out his kayak but the water temperature is still really low (averaging about 41 degrees) so I am holding off.
Hypothermia is a big risk if you take a dump into the drink and the eagle habitat area remains off limits for a bit longer.
You can always get a glimpse of the lake temperature average and a weekly lake level report here.
I've been walking later in the day when it is warm. During the early am I've been having a blast watching the white pelicans. It never ceases to amaze me how one will return to the group–landing a few feet away and swimming up into the group without creating a disturbance.
Captain John should be returning from Hawaii (if he is not back already) and will be getting ready to open Fawn Harbor.
Summer will be here before we know it–in the meantime–layer!
Thank you for reading this post. You can now
Leave A Comment (0)
or
Leave A Trackback.
Read More
Related Reading: