Above: Ronnie gives Candy Hallstead of Century 21 a lift near the end of "dumpster day."
Yesterday was a beautiful day over here in Fawnskin. Although I did run out to Bear City in the late morning, most of my day was spent chatting with neighbors. I thought I would amble down to see who was turning up at the "dumpster day" efforts sponsored by Candy Hallstead of Century 21 down behind the infamous Fawn Lodge.
BTW: Candy let me know that Fawn Lodge has been officially registered as a California Historic Point of Interest
If you have never met Candy–she is a firecracker. Fun and always smiling–she has been dubbed the "Sweetest Real Estate Agent in Big Bear."
When I walked the North Shore every morning I'd often see her biking and we'd chat a moment or two. She is also a member of Moose Lodge 2085 and lives in one of the forestry cabins along the lake.
Needless to say I ended up spending several hours with her and her pal Kathryn McFadgen as they tirelessly greeted residents, helped them dump their trash, and forced them to enter the drawing for a $50 gift certificate from Riffenburgh Lumber. 🙂
There was a steady stream of participants that pulled in and out or waited patiently for others to finish when three or more arrived at the same time.
Even though they did not expect to be able to accept scrap metal, Gino of Big Bear Disposal generously added a bin just for such items–which was a good thing because people did bring scrap metal and when many neighbors mentioned that they had scrap the mantra was, "bring it on down!"
Locals showed up with their trucks and cars filled with debris and other odds and ends.
And, in true Fawnskin tradition, most everyone stuck around for a brief chat, a cold drink, and to catch up on any news.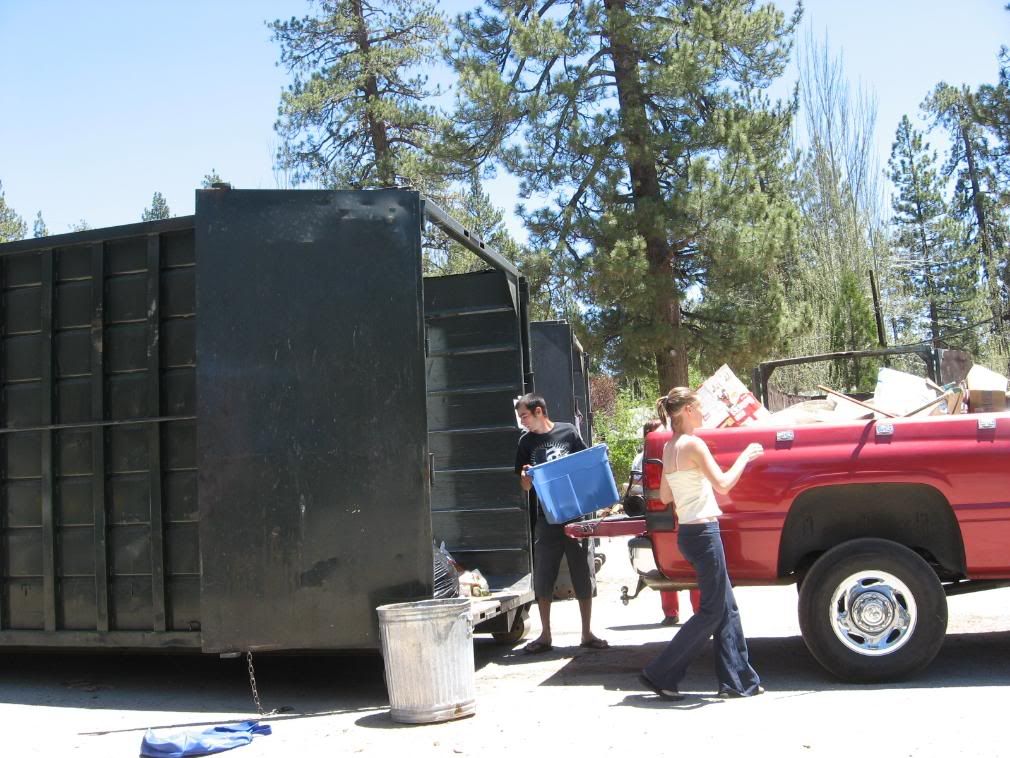 …or gossip as the case may be.
Ronnie was on hand to give a lift or bucket to anyone who needed help. Dave provided additional chairs and a cooler for the drinks. So, both Ronnie and Dave (from Fire Station 49) were given awards for their assistance–new pairs of work gloves.
All in all, it was a good time and a huge success. Both the trash dumpsters are full but scrap metal can be dropped off Sunday if you have any. The scrap metal dumpster is located behind Fawn Lodge furthest away from the street.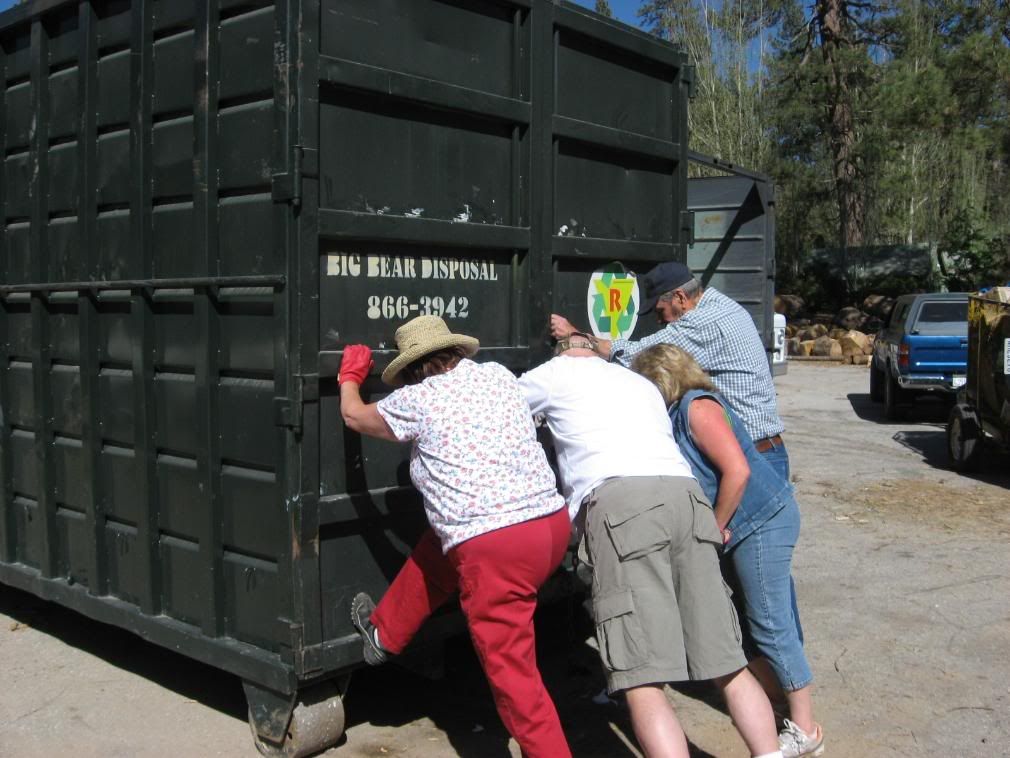 Special thanks to the owners of Fawn Lodge for giving their permission to use their parking lot and to all those who helped out and participated.
And BIG kudos to Candy Hallstead for taking the time to arrange and sponsor the 3rd Annual Dumpster Day to help us all beautify Fawnskin.
Thank you for reading this post. You can now
Leave A Comment (0)
or
Leave A Trackback.
Read More
Related Reading: