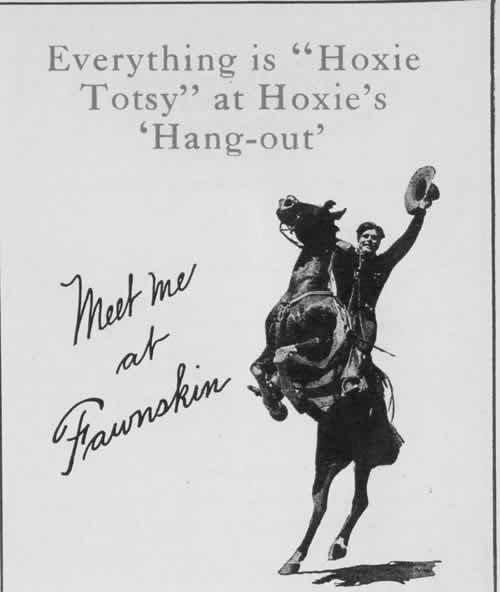 Above: Brochure image from the private collection of Eileen Downey.
Sometimes in historical research, you get a puzzle piece at a time. This was the case with this story, three unrelated events came together to form a picture of Fawnskin's past.
The first event occurred last year when I was watching the television show, History Detectives.
A Kentucky man was searching his grandfather's Ohio attic when he stumbled upon a reel of 35mm nitrate film in a canister marked "Dangerous Hour – Eddie Polo."

Could this snippet of film be an actual copy of an Eddie Polo silent film? Eddie Polo was a legendary stuntman in the 1920s silent film world, but very few of his films remain.
The history experts ran the film, Devil Dog Dawson, (filmed at Bartlett's Camp in the Big Bear Valley) and found out the Universal Studio western star was Jack Hoxie. View the Jack Hoxie clip now.
Above: Photo from the movie, The Highwaymen (Public Domain)
Coincidentally around the same time one of the Fawnskin shop owner's told me that one of her customers found Tom Mix's waffle recipe (another Universal Studio western actor) in one of the cabinets in their cabin.
The last piece of the puzzle came when a friend gave me an old brochure advertising Fawnskin.
What do all of these events have in common? They reveal that Jack Hoxie, a silent western star, was an early resident of Fawnskin.
The brochure indicated that Hoxie's cabin was at the first milepost from the Big Bear dam. So, with my husband at the wheel, we drove one mile from the dam and found ourselves at a beautiful forest lease cabin with a breath-taking lake view–and the location where Tom Mix's waffle recipe had been found.
Now Jack Hoxie did not just live in Fawnskin–he was an example of the Fawnskin hospitality that still exists to this day.
In fact, his message in the brochure invited people visiting Fawnskin to stop by his hangout. (Which was said to be filled with an interesting historical collection of Indian relics.) Hoxie left the latchkey out at all times for just such visitors.
Above: Headshot of Jack Hoxie
Jack Hoxie made over 121 western films most of them silent. He was a true cowboy and had been a star in the Wild West shows before becoming a Hollywood star.
His unique gun was a cross-draw rig, with the reversed holster on his left hip but this holster was not what made Jack special. What made him unique was that he believed that he had a responsibility to young fans to not smoke or drink liquor.
Jack Hoxie worked to keep his actions honest and highly value moral behavior.
So, who he played on the screen reflected who he was off the screen. Jack also donated a large amount of time to visiting children in hospitals.
When asked, "Why do you help others?" His reply was, "I have tried to consider other men's feelings as much as my own and to do good whenever and wherever I had the opportunity."
After Jack retired from acting he returned to the Wild West shows and even joined the Downie Brothers Circus.
How ironic that it is so close to my last name!
I was so touched this early Fawnskin character that I decorated my bedroom in a western style with Jack Hoxie artifacts.

Above: Jack Hoxie one of the early Fawnskin Folk
In alignment with Hoxie's tradition, many of today's Fawnskin Folk continue to invite neighbors and visitors over–and we hope that one day you too will stop by for a visit.
About the Contributor: Eileen Downey bought a home in Fawnskin as a retreat from the fast pace of the big city. Living here she has found inspiration, a renewed spirit, an endless amount of creativity and curiosity. Off the mountain, Eileen is an elementary teacher for children with autism but for the last three years, her passionate hobby has been to collect, read, and sort through the history of Fawnskin and its founding settlers. She hopes you will enjoy her series and be inspired by the first Fawnskin residents who called themselves "Fawnskin Folks."
If you have any additional information you would like to share, or have questions about the history of Fawnskin, please comment below.
Thank you for reading this post. You can now
Leave A Comment (0)
or
Leave A Trackback.
Read More
Related Reading: