It was a sad and disturbing sight to see that someone destroyed one of the deer in the Fawnskin Triangle this week. We discovered it two days ago.
The blooms surrounding the broken figure are cheerful and it makes me wonder who in the heck would be so nasty to destroy something that has been in place for many, many years and positioned in an area that has been so lovingly tended.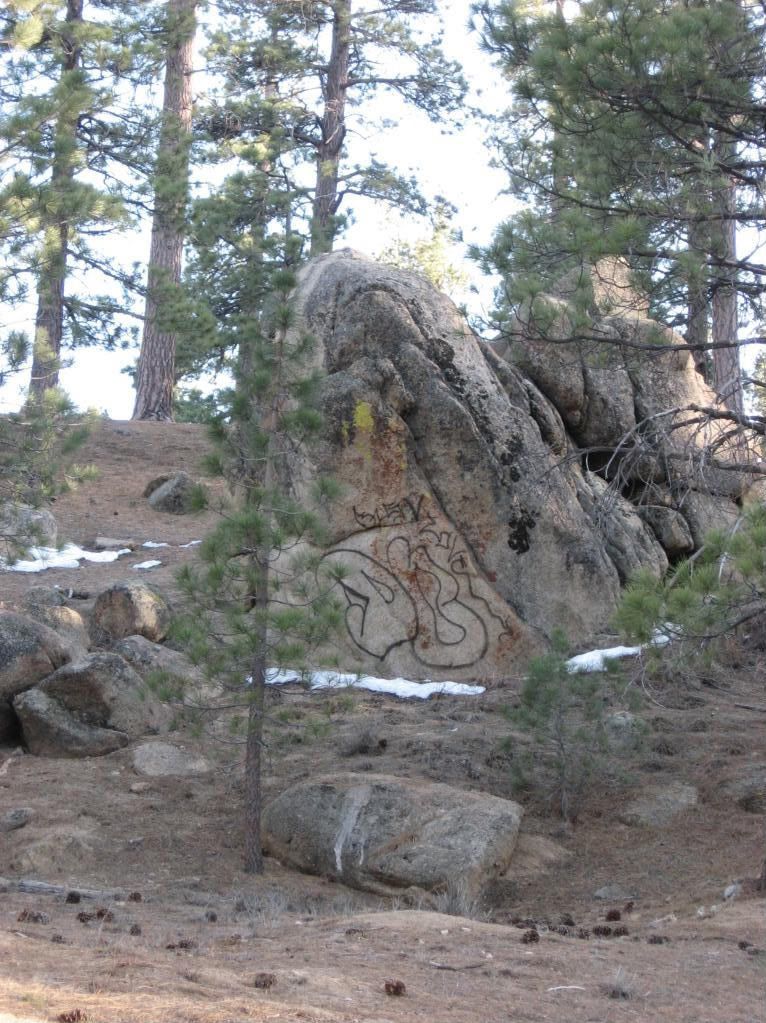 This destructive behavior has been rearing its head in the valley over the past month or two. Graffiti is another ugly addition to the valley and up the highway on the way to all of the mountain resorts here in the San Bernardino Mountains. We found it even in the adjacent forest to the West of Grout Creek.
You can glimpse the ugly marks throughout town and adjacent to the highway.
Not too long ago we were having a discussion about some misbehavior in the East end of the valley. Some time ago it seems that someone allowed their dogs to run loose wrecking havoc on other people's animals. After one vicious attack, the dogs were said to have been at the veterinary for treatment before the victims.
The fencing and dogs disappeared and a note was left on the door suggesting the irresponsible pet owner relocate.  Which he did.
Not too long ago someone told me about the dogs who killed the local beavers. The same guy allows his animals to chase wildlife today–despite warnings and tickets. So why can he still continue these activities without change?
I remember when graffiti did not exist and a time when people didn't leave their trash or mess behind for others to deal with.
What a sad state of affairs…and your opinion?
Thank you for reading this post. You can now
Read Comments (3)
or
Leave A Trackback.
Read More
Related Reading: