Above: Carla & Fergie Celebrate Take Your Dog to Work Day at Edelweiss Books in Big Bear.
First, Happy Solstice–summer is officially here!
Okay, back to the blog…
Yesterday I ventured into the big city *snicker* of Big Bear proper. My fun discovery was finding Carla at Edelweiss Books with Fergie. Friday was Take Your Dog to Work Day and the bookstore was celebrating–because they are always dog friendly.
Since I haven't seen Carla in a while, I stopped in to chat because I had a few minutes. It was good to see the place bustling with customers–it must have been the busiest store in the valley.
BTW: Someone started a nasty little rumor that this store was closing–it isn't and Carla has a lot of new "must see" items she found at Book Expo America. Stop by Edelweiss Books on Village Drive in Big Bear Lake to check them out.
Interlaken Saga
My neighbor told me I should have been over at Interlaken on Thursday–and I heard the same complaints from a couple of managers when I was there on Friday. Apparently there were no parking spaces.
However, I wisely avoided town and only ventured in for errands on Friday–entering via the back road and parked between Haus & Home and Vons. It made life easier–to say the least.
The good news is that most of the meridians seem to be flush with the parking lot's new surface. There is a new fire hydrant and I am waiting to see what else fills those spaces.
Only part of the lot was done and now that the weekend is here I am wondering if they are just going to wait to finish next week.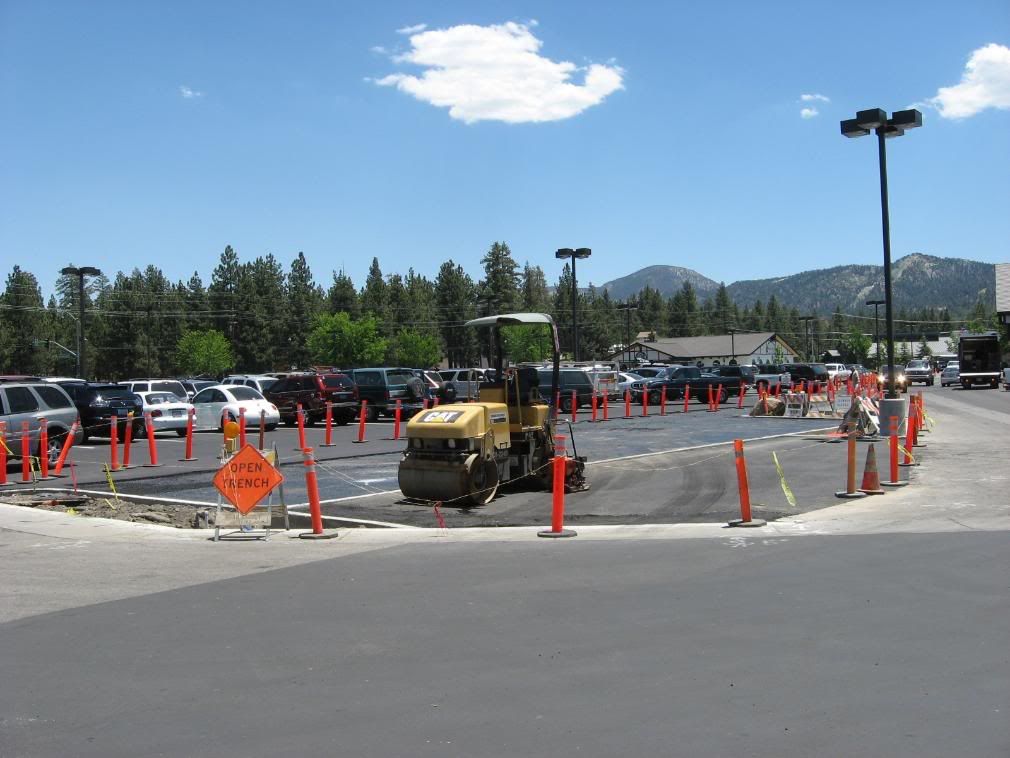 Above: Paving is moving along at the Interlaken center.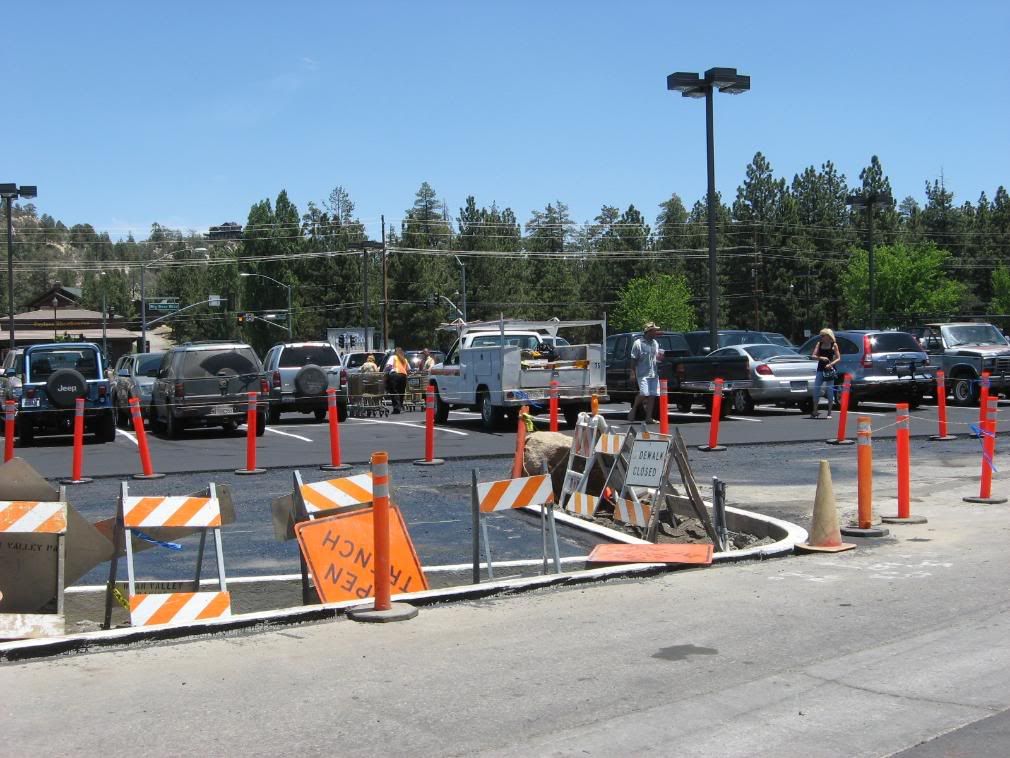 Business owners and workers are reporting that locals are consolidating their trips into town. How about car pooling?
Personally, I go into town once a week and it took me a month to get through a tank of gas–and I also bought a bike recently.
Speaking of gas–did you get your household bill yet? Yikes, it is double what it normally is for my home this time of year. I am wondering if something else is up…what about yours?
More Empty Business Space
During my errands I discovered more empty business spaces…three more to be exact. This brings the total to at least 27 that I have personally noted in the area from Village Drive down Pine Knot to Big Bear Boulevard at Stanfield.
Is it time for cheaper rentals for local businesses?
Beat the Heat
While the rest of Southern California is sweltering from triple digit heat–here in the mountains the high on my deck in the shade was in the mid-80s. The lake activity has increased–and so has the lake temperature–now in the 60s!
Guess we should expect to see a busy weekend with everyone escaping from the heat. After all, it isn't too far for Southern Californians and worth the relief–besides it doesn't take too much fuel to get here!
Speaking of Beat the Heat: The Righteous Ones Motorcycle Club celebrates the 4th Annual Beat the Heat at Moose Lodge 2085 today beginning at 10am. There will be a poker run, bikes, vendors, raffles, food, booze and the band Fullhouse will play.
Valley Murder
By now you probably heard about the murder that took place in the valley this week. Such an event is rare and a tragedy. The original altercation seems to have begun in the parking lot outside of Denny's earlier in the week. The homicide took place on Wednesday night June 18th just outside of the village area.
Three Big Bear teenagers are in custody for involvement in the altercation that led to the death of 20-year-old Michael Aaron Lundin. Chalen Wesley Winters, 18, is charged with murder and being held without bail. Two other 18-year-olds, Mark Anthony Potts, Christopher Michael Day, and 19-year-old David Alexander Ferguson are charged with assault with great bodily injury and are being held on $100,000 bail at the Big Bear Jail. resident 18-year-old Chalen Wesley Winters has been charged with the murder of Lundin, a 2006 Big Bear High School graduate.
Thank you for reading this post. You can now
Read Comments (2)
or
Leave A Trackback.
Read More
Related Reading: