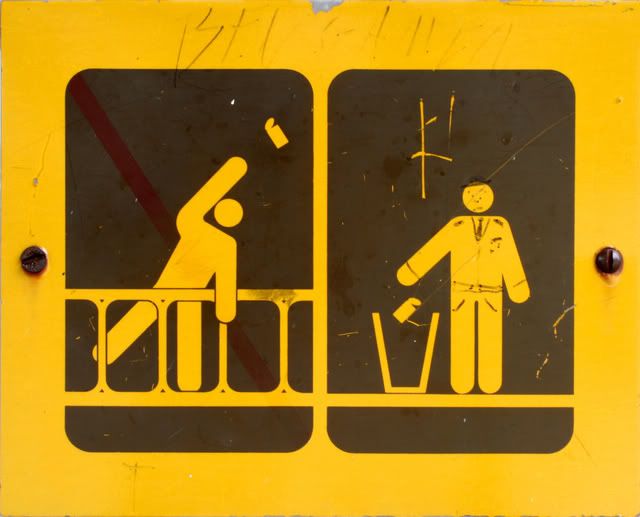 Trashy Visitor & Neighbor Rant
Not too long ago we took a short jaunt down to Running Springs where we caught up with some of the news. One of my favorite stories was that of a motorist driving along the highway who stopped to dump his trash off the side of the road into a wooded area.
Now if you don't live in the mountains, you might be surprised to learn that we mountain folk usually take care of one another–and the forest is part of that "one another."
So, an irate local followed the sucker in her car, which happened to stop in Arrowbear for fuel. She had snapped his plate and the make and model of his car and was going to turn him in. Littering can get you a hefty fine as dictated by the California Vehicle Code. Anyway, she told him as much–and the guy drove back and picked up his trash.
Score one for the mountain resident. Wish we caught more of these idiots.
One of our local readers (who wants to remain anonymous) shared this, "Ive not only noticed more trash and tagging in our little town but Ive also noticed alot more renters lately who are not only messy, but loud. We have heard daytime screaming from abusive couple fights from a certain rental property and it is kinda scarey."
Personally, I've noticed the noise and poor behavior in three rental properties but mostly I've noticed the increase in barking dogs. There is one whose owner lets him or her out between 3am and 6am and the barking reverberates throughout the bay. I'd call our Animal Control buddy if I could pinpoint who the owner is. (By the way the low cost rabies shot clinic is scheduled for June 24, 2008.)
Anyway, the problems the local complained about are not vacation renters (who come with their own subset of noisemaking issues and behaviors) but many of the new full-time renters who are loud and disorderly.
I agree that this behavior really takes away from the peace, serenity, and beauty of Fawnskin. The change is, I believe, because in the past most of Fawnskin has been homeowners or second homeowner occupied, with a few people who let their friends come up. Today that no longer holds true.
Valley wide residency is changing and you can see it in the bad behavior (check the San Bernardino County Sheriff's log) and the drastic increase in rental signs–never mind the "for sale" signs.
Finally, my favorite comment from a local concerning the tagging, trash, and rowdy behavior was, "They are like dirty sewer rats who have to desecrate on such a beautiful area."
Now I know we are spoiled around here and are behind the times in dealing with such matters but as the Running Springs local demonstrated, "Just say no" and use your personal power to help make change and end bad behavior.
In the past, chatting with neighbors about the issues or problems was a given. Today, you cannot always safely do so–remember you also can call the landlord, rental agency, the sheriff, or even make yourself happy and report them on Rotten Neighbor. Property rental companies that take no action can be reported to the Better Business Bureau, too.
Speaking of town issues, I think one of the CHP needs to move from the trap area they sit in currently down near the downtown strip. People are ignoring the 25mph signs and speeding through so fast–it is scary. Speeders could be a good revenue stream…
Parking Lot Rant
Okay, so what do you think about the Von's parking lot fiasco? Never mind fixing the dangerously designed entry off the boulevard and the cracks, rubble, and potholes–new planters are going in.
Grrreeeaaattt? What down-the-hill design firm suggested that for eye appeal?
How about repaving and marking the lot instead? (I know, I know, that is probably scheduled after the planters so it coincides with the July 4th holiday to really screw things up for the businesses there.)
These days doing business in that shopping center is like playing bumper cars–you have to really be on alert. First you have Haus & Home parking where they should not (I believe if they check the rules they are in for a surprise.), MARTA creating additional hazards by parking on the main thoroughfare–blocking views and creating congestion, and vehicles racing every which way at top speeds like they are on a road!
Now it isn't bad enough that things have been slow for merchants due to past construction and low visitor count–or that you have to use care to avoid parking lot conditions that rival our poor road conditions due to delayed maintenance–but now we can look forward to winter entertainment with the new planters. Should be great for the plow guys, too.
Business Rant
Now we are a couple of those locals that hit the village at least once a week or so. Things have been slow and we wondered just how many businesses were closing or how many buildings were empty along Big Bear Boulevard in Big Bear Lake from Stanfield and up onto Pine Knot and Village Drive. I counted something in the ball park of 24 (including four that are never open or that are closing).
Many buildings in the "resort" are an eyesore. Some have been vacant for years…we have the same problem here in Fawnskin. (More on the Fawn Lodge later this week.)
However, if you check the pricing on some of the buildings or the price of the business rentals they seem to be ignorant of that fact. One business has been here for over 25 years and is closing because the building sold and the new owner doesn't care. Who knows what is going to happen? Even the mall building on Village Drive is for sale–and so is the remaining Arcade.
On a better note, Plaza Coffee is open.The place has espresso and smoothies and is located in the Bella Donna building in Big Bear Lake off Pine Knot. Also, the name of the new Italian place up the street will be Saucy Mama…
So finally, I must be feeling better (or maybe it is worse?) to launch into a rant. Do you have something you want to rant about? Leave it below?
Thank you for reading this post. You can now
Leave A Comment (0)
or
Leave A Trackback.
Read More
Related Reading: