Above: Fawn Park has been closed for two years this weekend.
Ask about the Fawn Park around town and you'll see people wince and roll their eyes before they answer. One of the part-time residents said, "You mean Fawn Scam Park?"
Clearly the locals are sick of answering the question. Many who donated money to help get the park going are irked over the closure.
Today, the only people who really enter are Big Bear Disposal personnel who collect and dump trash at no charge to the park owners and the landscaping company that maintains the grass and foliage.
The waterfall is running despite the missing piece of the Twin Towers which was said to have been knocked off the top by the park owner who was displeased with the project.
There are always additions–like the bird house that towers over the place–but locals stay away.
The Fawn Park owners have continued to use the media to promote the park and despite the interviews stating that they "might" open it, the park has remained closed for two years as of this weekend.
Visitors have taken down the "Park Closed Today" signs to gain entry but the fact is that the park has been closed since the Fawnskin Festival & Doo Dah Parade weekend in 2006.
Frustrated locals cheered Mayor Gene's Float that made a public statement about the feelings surrounding Fawn Park.
Rather than go on, catch up on the issue by reading past commentary related to Fawn Park closure via the archives. You can search the site with "Fawn Park."
Mayor Gene's Doo Dah Parade poked fun at the Fawn Park closure but the two year closure is a serious underlying issue for those who donated funds to the park.
Above: 2008 Doo Dah Float with signs asking for the park to be open & other statements.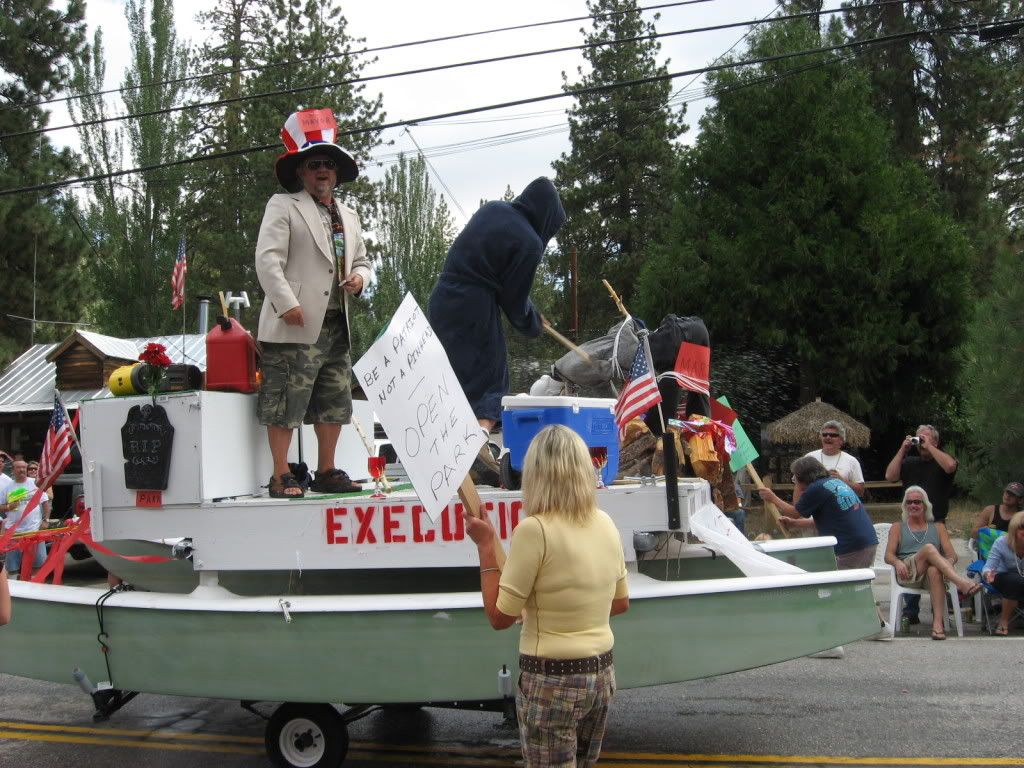 Above: Grim Reaper gets wild on the Doo Dah float.
Above: Rear view of the Doo Dah float.
Thank you for reading this post. You can now
Leave A Comment (0)
or
Leave A Trackback.
Read More
Related Reading: