Several times a year the mountain communities have awesome yard sales and this weekend was no exception. I scored a fountain at the Moose Lodge Yard Sale to help drown out the noise coming in from the bar in town but they had lots of great items and it is always a good time to catch up with the neighbors and other Moose Lodge members.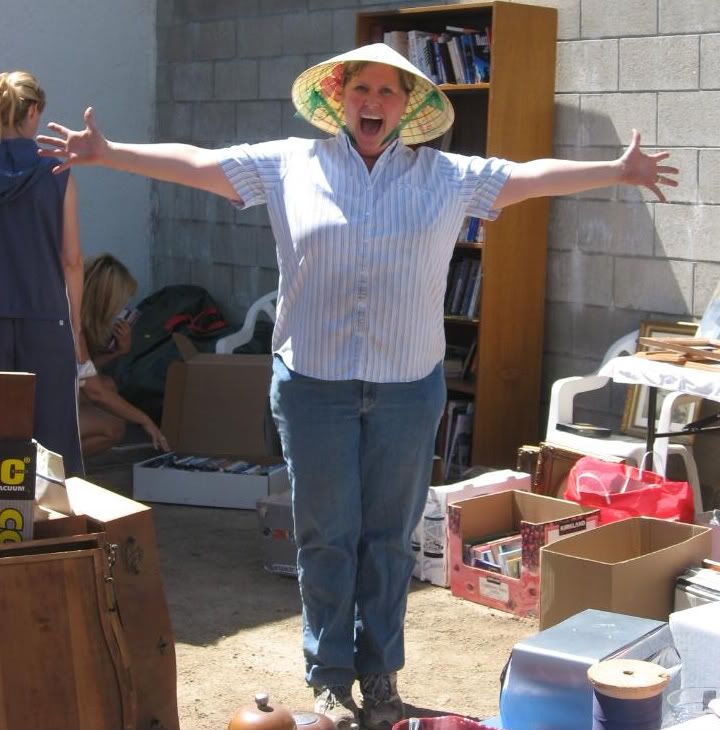 Above: Terri at the Bus Stop Yard Sale
Anyway, I decided I needed more quiet time and headed over to Running Springs where the community pooled their efforts and held several yard sales near each other. I just love the coffee house/restaurant and had a great time visiting the locals.
To say  it was hot for the area is an understatement. I stopped by a pal's home to visit and later HM and I headed down to the Moose Lodge for the BBQ.
The BBQ seemed slow in comparison to other years but it gave us the opportunity to catch up with those we know and those we are getting to know.
Many locals are not going to the Victorian Festival based on their experiences of the Pirate Faire–it will be interesting to see how it turns out.
Finally, neighbors up for the first time since the new restaurant and bar have opened were a bit shocked at the noise. One mentioned that he could not hear it from his house (our homes block the noise) and was surprised at how loud it was.
In fact, for your enjoyment–hear what some neighbors hear EVERY Friday and Saturday night. The house is not near the restaurant and bar but around the bend up on the hill.
We are all waiting to hear what those neighbors have to say who really live close to the place.
Funny thing, there was a sheriff down the block–he was focused on traffic violations not noise. I know that one neighbor called in a complaint twice–so my question is why is law enforcement not enforcing the noise ordinance?
Yes, yes–we know it is a holiday weekend, but folks, this has been going on EVERY weekend since the end of May. How would it affect you?
Thank you for reading this post. You can now
Read Comments (6)
or
Leave A Trackback.
Read More
Related Reading: