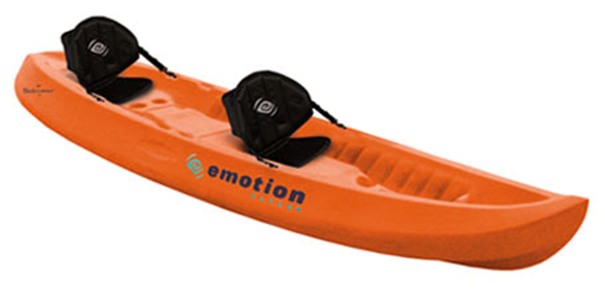 Above: Win a Tandemonium 2 ½ person kayak by Emotion Kayaks! (Great for ocean, lake or river, 2 paddles included, seats not included.)
Friends of Fawnskin has a couple of fundraising activities this month–the yard sale and a ticket drawing for a kayak.
To enter to win the kayak just buy a few tickets. Tickets $2 each or 3 for $5, 7 for $10, 15 for $20.
The drawing will be held Saturday, August 30th at the Annual Friends of Fawnskin Yard Sale held at the Fawnskin Triangle in town.
If you haven't been to the yard sale–it is worth a trip. For ticket sales or info call Buffy at (213) 413-2460 or (213) 820-4308…you do not need to be present to win!
Correspondent Rick sent in pictures and reports, "The annual Big Bear Valley Habitat For Humanity Golf Tournament for 2008 was a very successful event. Sponsored by Realty Executives there were 12 teams and 33 hole sponsors."
PS The NSIA monthly potluck is tonight at 6PM at Captain John's Fawn Harbor & Marina. If you are a Fawnskin resident or homeowner–head on over and bring a dish.
Thank you for reading this post. You can now
Leave A Comment (0)
or
Leave A Trackback.
Read More
Related Reading: