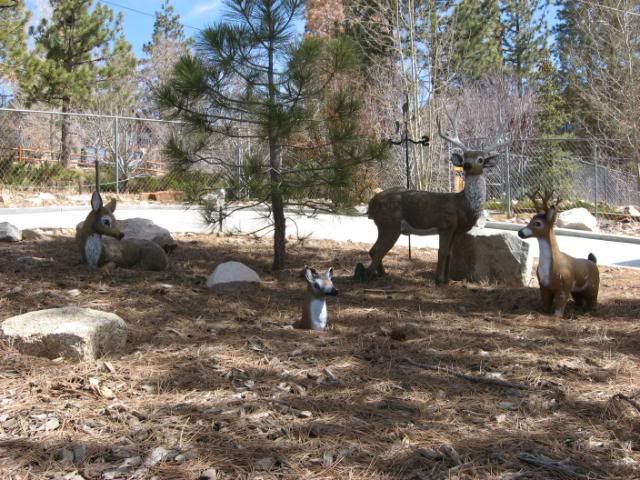 Above: Part of the yard art epidemic in Big Bear.
First, I want to welcome the Men with Pens Trio–they are visiting the Fawnskin Flyer today as it is on the schedule for "drive-by-shooting Sunday."
Now for the breaking news.
There is a yard art epidemic not only in Fawnskin but also throughout the Big Bear Valley.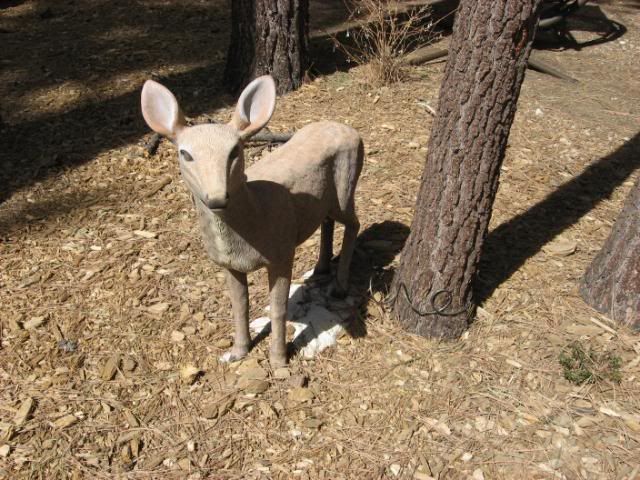 Above: A doe in the yard art epidemic.
Just before I first moved into the valley full-time, one of the neighbors invited me to go for a walk.
Above: Yard art buck in Fawnskin.
During the walk she suddenly said, "Look a deer!"
Above: Yard art deer family in Fawnskin.
Imagine my surprise when the "deer" turned out to be one of those yard statues.
Above: Young buck yard art.
There seems to be a yard art epidemic around the valley. In most cases, these stauettes are deer but there are a few others in the mix such as bunnies, raccoons, and moose.
Above: Yard art doe. 
Above: Yard art includes raccoons.
Above: Yard art can also include rabbits.
 Above: You can also find some fawn yard art.
Above: Another young buck in Fawnskin.
What is the world coming to? Feel free to add your own yard art discoveries below.
Thank you for reading this post. You can now
Read Comments (5)
or
Leave A Trackback.
Read More
Related Reading: