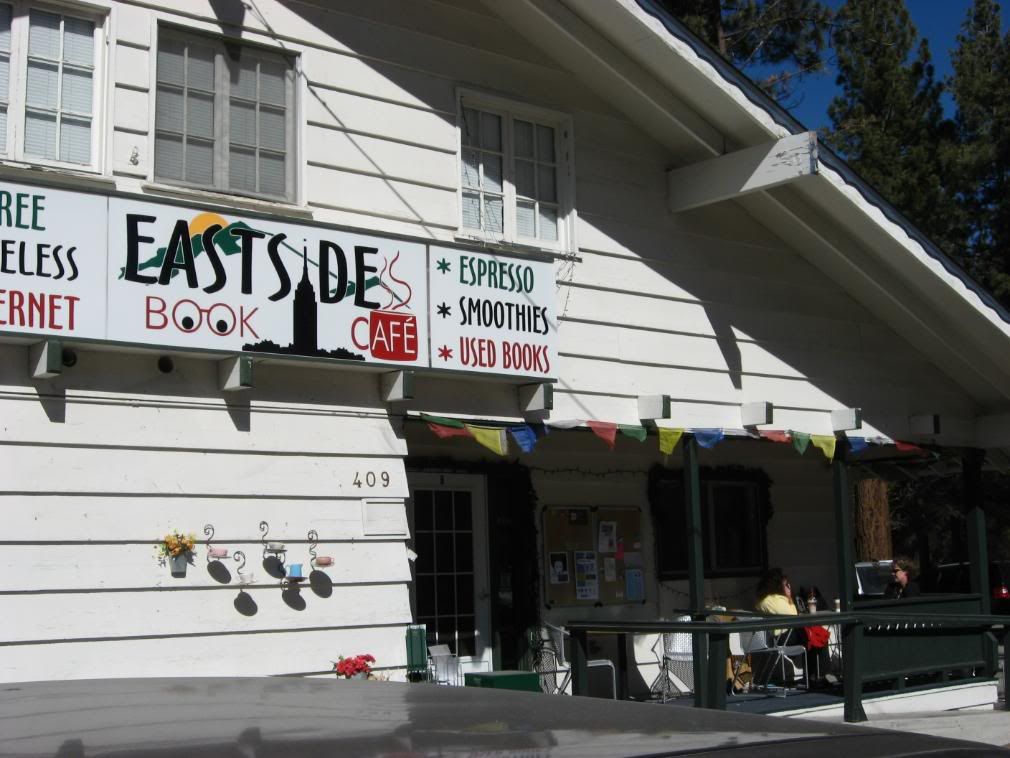 Above: EastSide Book Cafe in Big Bear City.
Tonight is the last First Friday in Fawnskin. Sponsored by the Fawnskin Chamber of Commerce, merchants and guest vendors will be open and welcoming visitors until 8pm.
After you can head over to the Big Bear Convention Center for local's night at Oktoberfest. It is $3 for adult locals and the gate funds go toward the Big Bear Historical Society.
In other news
EastSide Book Cafe will be closing its doors October 25, 2008. I suspected this was coming since the books went on sale for a buck for Labor Day weekend and remain on sale–so if you are looking for some deals you might drop by for the dollar book sale.
I find it interesting that many businesses are complaining about the economy while others are doing well with profits up 15% (and more) from last year.  Personally, I think that it is due to several factors such as customer service, product, location and type of business…but that is for another rant.
The Big Bear Valley Contractors Association has been working on a much needed code of ethics. This is something I was glad to hear about. I was surprised (and happy) to hear that they are planning to include guidelines for radio playing and dogs on the job site.
Personally, I moved up here for the quiet environment. My pal from the city came to visit and was shocked at the noise level because a few years ago it was quiet and now the loud radios of the contractors working over a block away disturbs the peace of the neighborhood.
Lately I've watch a lot of things on construction sites locally including loud radios, drunk workers, dogs running loose and tormenting neighbors and their dogs, messing on the street or other locations, and foul mouthed workers.
My what a great impression they make on the business whose sign is on the property!
Now I love animals but does anyone have a good reason to justify why it is okay for workers to bring their dogs on the job? All they do is let them run around and terrorize the neighborhood and what about on site hazards such as nails, broken glass, and excessive heat when they sit in the truck?
Who is ultimately liable for those dog issues anyway?
Beyond the dangers to the dogs–I certainly wouldn't want the liability as a property owner nor would I want to find that I had liability as the business owner whose worker brings the mutts onto the job site.
What do you think?
Thank you for reading this post. You can now
Read Comments (4)
or
Leave A Trackback.
Read More
Related Reading: