Above: Exterior shot of Lake Arrowhead's Vino 100
This last week we took a trip down to Lake Arrowhead to attend the monthly reception at Vino 100, a wine shop filled with assorted selections from around the world long with everything a wine connoisseur might want.
Some of you might remember the wine store that once inhabited the Bella Donna building here in Big Bear. I enjoyed the wine tastings and the option of getting privately labeled bottles for my best clients—plus it was walking distance from my home office.
Today the only remnant of the business is the amazing bar that is a bit out of place in Blonde's restaurant.
Above: Ron & Helene Gentili are assisted by Josh during the wine club reception at Vino 100.
So on our last jaunt to Lake Arrowhead we dropped into Vino 100 and perused the store briefly. I didn't have my camera then and intended to take it with me the next time I visited—but once again I had left it behind.
Fortunately, my pal Helene Gentili had hers. She had come directly from the Grand Opening at her new office in Calimesa and we the four of us dropped in together to enjoy the festivities.
Although Vino 100 is a franchise it has the feel of a very warm family run business. Once in, our first stop was to greet the Olsons–Cindy, Larry, and their son Josh.
Toward the back is a wine bar and fireplace. We chose to amble out onto the balcony outside where we had a nice view and could enjoy the cool air. The orange glow of the fireplace out on the balcony created an intimate and cozy environment. From there we could watch as members tasted and asked about the wines.
The wine club currently has about 150 members who meet for a reception once a month. Members can pick a Saturday reception or a Tuesday reception where they can get some pretty good discounts and tasty delectables that compliment the wines being tasted.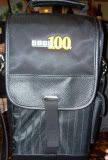 Membership is $40 members which gets a 20% discount on the wines and special discounts and deals during the receptions. New members also get a gorgeous wine bag when they sign up.
This month the featured wines were from Venezuela. The prices were unbelievably low so I wasn't surprised when I spied one of the members with a cloth bag that could hold up to six bottles.
As for me, I indulged in a fine vintage Pellegrino with a delicate cut of lime. Cindy told me they have people who come and don't drink alcohol so they provide non-alcoholic choices– which I appreciated and that also probably come in handy for those designated drivers.
Above: Part of the interior of Vino 100 in Lake Arrowhead.
Vino 100 members seemed to be busy catching up with their pals and many chatted and snacked as they pondered over what would be the favorite selection for the night.
Above: Some of the Black Bag Wine Club members in the wine bar area of Lake Arrowhead Vino 100.
Both Cindy and Larry worked hard to keep up with the customers as they moved to the checkout counter in droves.
This is another business that I am sure to visit over and over again. Vino 100 is very attractive, spacious, and filled with great gifts for any wine lover.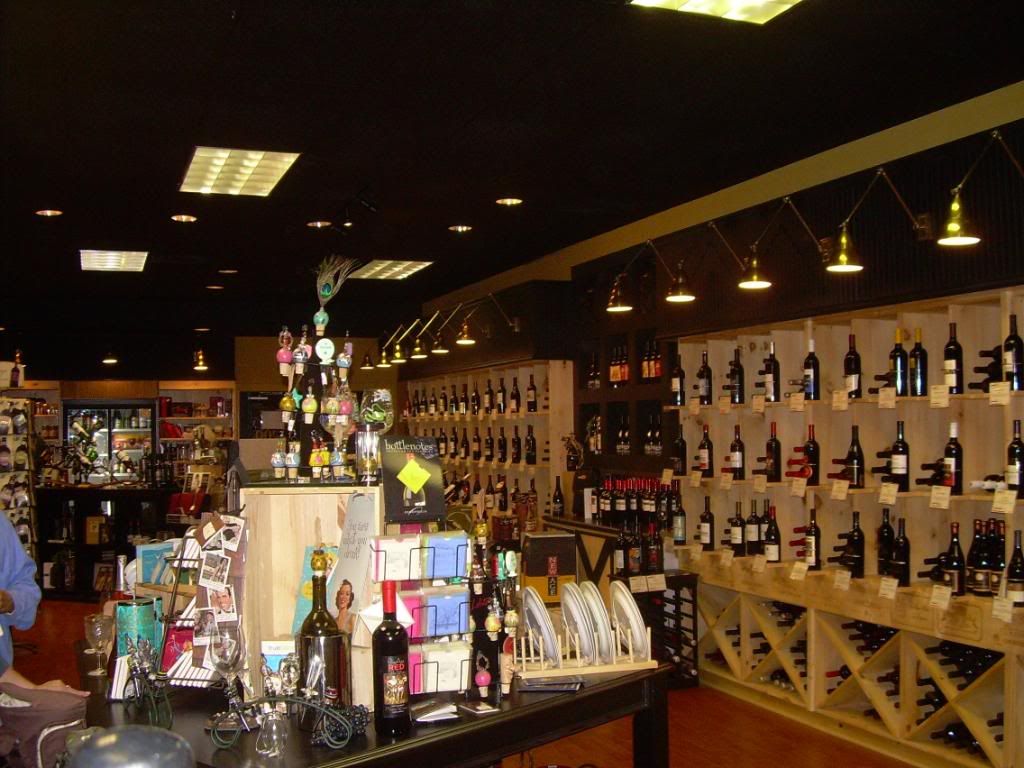 Above: Great selection of reasonably priced wines at Vino 100.
My favorite find? The H & K bottle holders. Although they are strictly decorative, I believe that some could be chilled so
they might also be used to keep a bottle of wine cool.
Another fun find were the wine coasters which look like small flip flops.
They are very decorative. I dismissed them at first but what caught my eye was the wine bag whose side pockets hold the cozies. This makes it an attractive hostess gift or a great wine tote for casual gatherings.
There were many other great gifts and gadgets which you can see in some of the pictures but you really should take a trip over to check the place out for yourself.
Now I have to say that I am not a fan of cigars. However, there is a nice selection of
them in this store for those of you who smoke them or have friends who love a good cigar.
Some of the cigar brands at the Vino 100 in Lake Arrowhead include Ashton, Montecristo, Padron, Romeo y Julieta, AVO and Macanudo.

In fact, adorning the wall is a photo of Governator Arnold Schwarzenegger at the store along with an official thank you letter complimenting Cindy and Larry on the fine cigar acquired from their Lake Arrowhead store.
I have to mention one of the fun fixtures in the store—a wine cork chair which has become a showcase piece. Placed near the entry, the chair is adorned with wine corks that were collected for the project over about eight months.
Although the chair is not for sale, the rumor is that the artist will sell if for $5,000 if someone is so inclined. It is a great conversation piece and triggers many comments so I doubt they really want to part with it.
So, if you are looking for a nice weekend mountain escape–include Vino100 on your list of things to do.
Drop by Lake Arrowhead Village and visit Cindy & Larry Olson at Vino100 and tell them GG from the Fawnskin Flyer sent you!
Thank you for reading this post. You can now
Read Comments (3)
or
Leave A Trackback.
Read More
Related Reading: