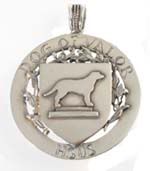 You probably already heard of the local assistance dog Pearl–who made it as a finalist for the Dog of Valor awards.
The Humane Society of the United States created the Dogs of Valor Awards to honor and celebrate dogs who have performed an extraordinary act of courage by heroically helping a person in need. Celebrity Judges voted for the dogs they felt most met the criteria.
Pearl's "extraordinary determination" to save McKee three years ago made her a finalist in the group's first Dogs of Valor contest which drew about 120 nominations from across the country.
Below is Pearl's submission for the Dogs of Valor contest which was also covered in the local news section of the Press Enterprise:
Pearl is a service dog who is trained to help her owner, Adrian McKee, with her mobility.
The 70-pound boxer-great dane mix also alerts Adrian to oncoming migraines and has developed a skill for "tasting" (licking) Adrian's skin and notifying her when her potassium levels are low or are dropping.
One day in their Big Bear City, California home, Adrian fainted and collapsed from potassium loss and was barely conscious.
Pearl used her nose to try to raise Adrian's head. She also licked Adrian's neck and tried to get her up again.
When that failed, Pearl went to the phone, knocked the receiver off the hook and stepped on one of the large emergency buttons her owner had casually shown her.
When there was no response, an ambulance and police car were dispatched to the home. When they arrived, Pearl opened the door as she had been trained, grabbed a ball in her mouth, and ran to the gate.
Because Pearl's appearance had frightened paramedics and police in the past, Adrian trained Pearl to carry a ball in her mouth in an effort to ensure visitors that she was friendly.
Paramedics followed Pearl back into the home to Adrian and took her to the Emergency Room where she was treated for dangerously low potassium levels.
Thanks to Pearl's quick thinking, help for her guardian came just in the nick of time.
Pearl was a rescued animal and since this is Adopt-A-Shelter-Dog Month why not adopt a dog?
Thank you for reading this post. You can now
Read Comments (2)
or
Leave A Trackback.
Read More
Related Reading: