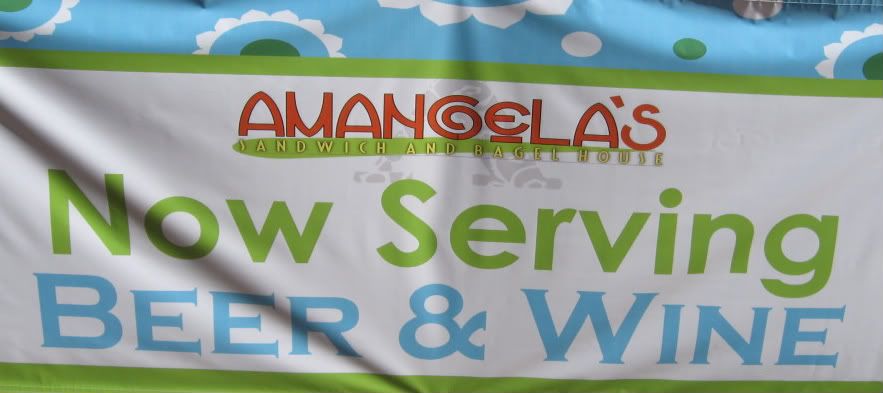 Above: Amangela's Annouces Their Beer & Wine License
Despite what people want to believe, I don't find the Big Bear Valley to be very business friendly. Now that I mentioned it, the county doesn't seem to be very helpful either.
We all know that many new business owners who have taken over operating establishments only to get hit with code enforcement and a variety of other technicalities.
Amanda and Angela have managed to do pretty well jumping through the hoops. I had to laugh when they were told that there never was a business in the building! I know of at least five since I moved into the valley!
BTW: You may have noticed that Amangela's now serves beer and wine.
The duo is working on locating a distributor that will allow micro brews and more selections. In the meantime, the deck has been gated to keep the alcohol drinking crowds confined to the patio.
Their winter hours went into effect so now you can find Amangela's open from 8am until 4pm –except for Thursday when they are closed.
Get the Burger & Other Business Nonsense

I heard that Eric over at Get the Burger had his rent increased and that it isn't going to work for him so he will be closing at the end of the month.
Bummer.
Get the Burger produces great product and many locals believe that it even rivals the In and Out brand so popular here in Southern California.
With all the empty commercial businesses I'd hope he would find one to meet his needs. But it doesn't look like it.
Now this got me thinking about the issue I keep hearing about–insane rents.
So, I have to ask,
Are Big Bear landlords ignorant of just how many commercial buildings in this area are empty?
Do they even know about the economic challenges some business are facing at the moment?
Sol Food Market recently moved to Big Bear Lake next to the Alpine Center because of rent.
Plus, I can't believe the prices they are charging for business rents in this area. You can go down the hill and get into a new or very well maintained facility with tons more traffic for the same money–or less.
I know one village business that had a rent of $4000 per month. Then there is the business owner that got into a village lease in an asbestos filled building. The tenant got into a triple net lease and so made the changes–all before being able to move and open which isn't exactly a great way to get started in a new location!
How about rentals in the Interlaken Center? There is a prime location that has remained empty for over a year and a half because they want insane amounts of money…$2.50 per square foot and triple net and now I hear that Haus & Home is closing to leave another empty space.
The current assessment of square footage according to some sources is more like $0.99 per square foot
Sheesh, what a difference.
So, what you think of all the business movements and closures? Do you think business rents up here are too high?
Thank you for reading this post. You can now
Read Comments (5)
or
Leave A Trackback.
Read More
Related Reading: