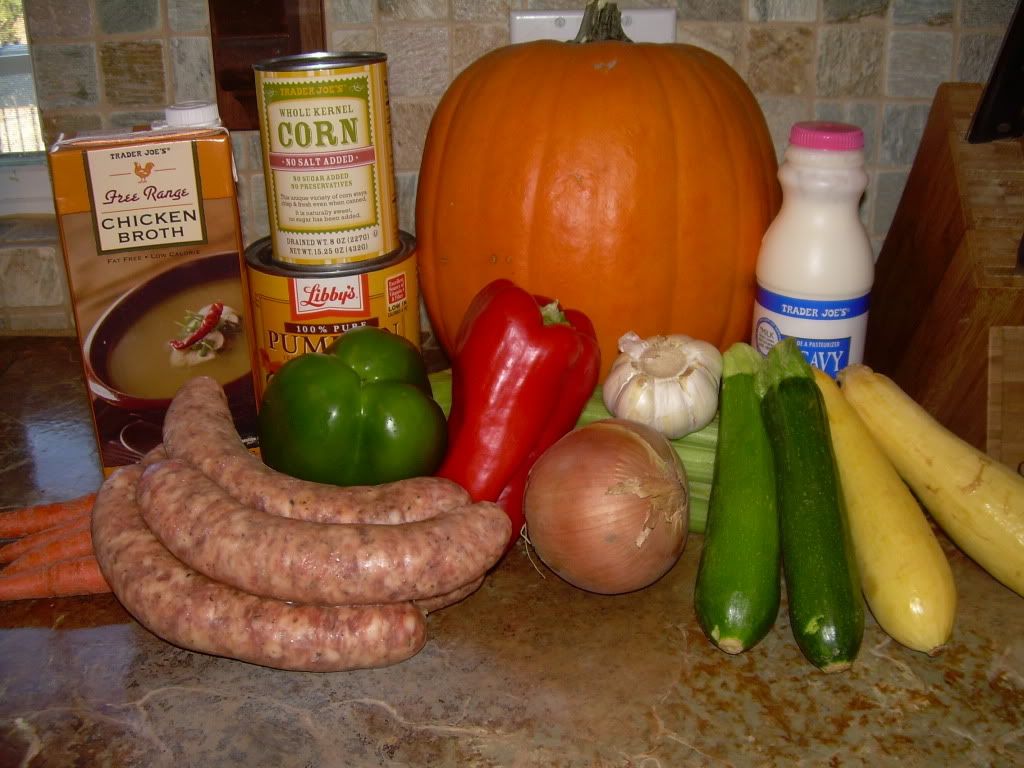 Pumpkin Soup Recipe by Helene Gentilli
1 red and green pepper chopped
4 medium carrots peeled and chopped
2-3 stalks of celery chopped
4 raw sausages removed from casing or sliced (knockwurst or sweet Italian) omit if Vegan
1 medium diced onion
1/2 cube of butter or 1/4 cup olive oil if vegetarian
32 ounce box of chicken broth or vegetable broth
6 cloves of garlic minced
2 yellow crookneck squash cubed small
2 zucchini squash cubed small
1 quart of 1/2 and half or 1 pint of cream for a richer soup or a 32oz box of soy, almond or rice milk
1 large can of pumpkin or four cups of cooked and mashed pumpkin
1 can of corn including the fluid
1 tsp nutmeg
1 tsp thyme
1 tsp sage (rubbed)
1 tablespoon each of salt and pepper
Saute the first six ingredients in the butter or olive oil until onions are transparent and peppers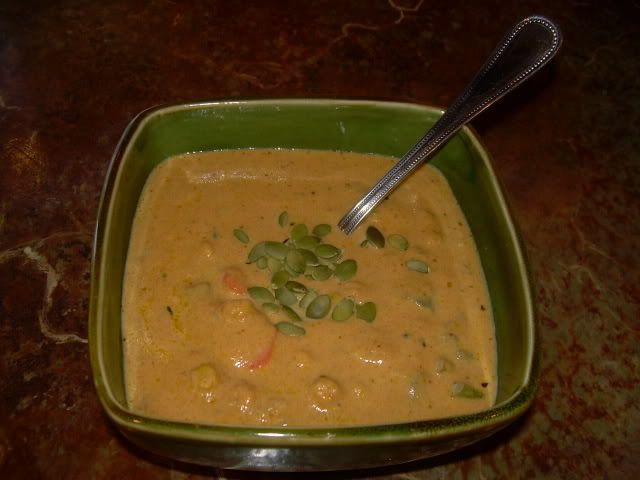 are soft and well as the meat if you chose to use it is cooked all the way through. Add broth and garlic as well as the water from the can of corn and all the spices and salt and cook until the carrots are tender 10-15 minutes.
Now add the squash and cook until the squash is just starting to get tender then add the pumpkin and either 1/2 and 1/2 milk or cream or 32 ounces of a a milk substitute.
Now simmer while stirring frequently until heated through and taste for extra spices and it is ready to serve!
This soup taste better the next day and freezes well for up to three months. It is thick and rich and even the vegan version tastes decadent.
Helene Gentilli teaches transitional cooking (teaching healthier choices) and is a Master Herbalist & Iridologist who resides in Running Springs. She is also the proprietor of Botanica West with offices in Arrowbear and Calimesa.
Thank you for reading this post. You can now
Leave A Comment (0)
or
Leave A Trackback.
Read More
Related Reading: