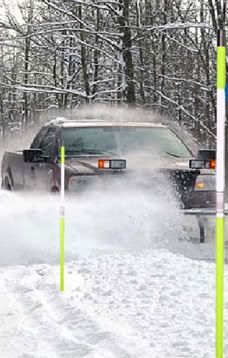 The City of Big Bear Lake is helping locals get ready for the winter snow fall by offering snow poles for purchase at the Big Bear Civic Center. The snow poles are positioned at the edge of your driveway or parking area and are available for $25 per pair or $12.50 per pole.
If you don't live in Big Bear Lake you can buy High-Visibility Double Sided Reflective Driveway Markers online.

Open to the public Monday through Friday from 8 a.m. to 5 p.m. the Big Bear Civic Center is located at 39707 Big Bear Boulevard.
Now if you live in Big Bear Lake the city now also provides berm reduction services to Big Bear Lake residents.
Here in Fawnskin some of us full-timers work to get the new drivers into the loop about not making our lives hell as a part-time (and fruitless–not to mention payless) job.
Need some winter tips from the powers that be?

Always park vehicles off the road or street right-of-way
The operators are going to have fun with those new neighbors who seem to park all over the place–on the street and in the neighbor's driveways.
Shovel snow in driveways to the right side (as you face the road)
In case you don't know, if you shovel the wrong way the next time the snow plow operator comes by he or she will just push that stuff right back where it was–plus it will be a lot harder.

Keep roads clear of all snow tools & devices used for shoveling
That is unless you have a great budget to buy more stuff and pay for any damages.
Place garbage cans behind property line & berm when setting out for pick-up
I bet the garbage guys hate this directive but most of the cans end up in the cleared driveways.
Mark driveway entrances with specially marked snow poles
I have to ask, Why?Many of the operators just ignore them and some even seem to play the "snow fill the areas between those poles" game.
Snow poles help snowplow operators identify a driveway entrance when performing berm reduction services
That must be nice to experience. I've never had that experience except for one winter when three of us full time residents were attempting to get the drivers to not berm us in when they had a ton of other places they could put the snow. My neighbor called every five minutes, cried, begged, and generally annoyed the yard until they sent the operator back out and he cleared us all out.
Keep small children inside when snow equipment is in your neighborhood
We don't have many small children around these parts but I'd think this is a no brainer.
Mark fences with 6′ x 2″ x 2″ stakes, painted red at the top
I've never seen this but I have seen those leaning fences. My neighbors have a nice green fence and it makes a great brace for those operators who are building snow walls.
Whenever possible, wait to clear driveways until snowplow has passed
This is a good idea unless you are looking for that winter time workout–in which case you should shovel before AND after to keep fit.
Do not let children build igloos or caves in the snow banks near streets
This goes with the no brainer comment above–unless you have evil children in the neighborhood…
Big Bear Lake's Snow Removal Hotline, at (909) 752-2830, offers general information on snow removal, berm reduction and current snow conditions. The hotline is accessible 24 hours a day and seven days a week.
Thank you for reading this post. You can now
Leave A Comment (0)
or
Leave A Trackback.
Read More
Related Reading: