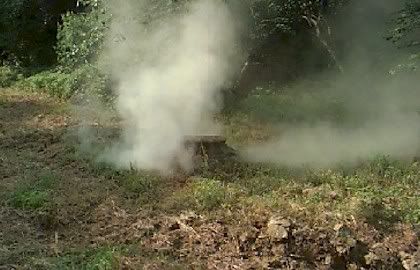 The San Bernardino County Special Districts Department of Water & Sanitation Division is going to be testing groundwater flows this month. Work crews will add smoke into the sewers from the manholes and public easements in Fawnskin from November 3 through November 21, 2008.
The effort checks the sewer system and to identify cracked pipes, leaky manhole, and improperly connected downspouts or foundation drains.
According to the department, the smoke is nontoxic and harmless. It won't leave any residuals and has a distinct odor. During the testing smoke may appear from roof drains, catch basins, yard drains connected to the sewer system, and through cracks in any pavement above the sewers.
Locals are asked to run water down all drains of floors, sinks, tubs, and showers as well as flushing toilets and other plumbing fixtures.
Notices will be places throughout town and on door hangers before the start of smoke testing. Inspection crews will be available to answer any questions but if you have any you can also call the Crestline Sanitation District Office at 909-338-1751.
Thank you for reading this post. You can now
Leave A Comment (0)
or
Leave A Trackback.
Read More
Related Reading: