The recent storm is a reminder that it is also time to stock up on firewood and the County of San Bernardino Department of Agriculture/Weights and Measures has some tips and enforces laws concerning firewood–plus they investigates complaints from consumers.
Many people have asked me about where to get firewood. I don't have many places to recommend but visitors can get a good deal from Pete's firewood stand here in Fawnskin.
There are a variety of firewood salesmen locally but I like to use Solano's firewood (a tree cutter) from down the hill who delivers locally.
Firewood is usually sold in bundles or in a measure known as a cord, a fraction of a cord, or by the cubic foot.
California law prohibits selling wood by the truckload, "face cord," pile, wheelbarrow, or other informal measurement. This is due to the fact that these methods make it nearly impossible for consumers to determine if they are getting the same amount of wood with each delivery.
One exception to the law states that quantities of less than one-eighth of a cord may be sold in containers that state the amount.
Manufactured products such as charcoal or starter logs may be sold by weight but bundles of firewood must be labeled in cubic feet.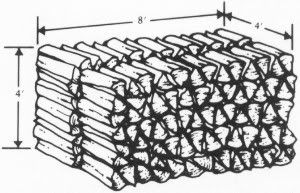 A cord of wood is defined as 128 cubic feet of wood when it is well-stowed and packed. An example of a cord is a stack of wood eight feet long, four feet wide, and four feet high. This is why stacking is a good idea.
Firewood dealers are required to provide receipts for amounts of one-eighth of a cord or greater that includes their name, address, and the same phone number that was used to order the wood, along with the quantity that was delivered.
When possible, pay by check rather than cash and write the amount of wood purchased on the check.
If for some reason the cord of wood does not measure up the Dept of Agriculture WM says a payment on the check can be stopped until the issue is resolved.
Did you know that the County of San Bernardino Department of Agriculture/Weights and Measures will inspect deliveries of wood to ensure residents are getting all of the wood they paid for?
The county recommends residents do the following:
* Avoid firewood dealers selling by the pickup load.
* Have the wood stacked, or stack it immediately after delivery and measure the quantity.
* Always get a written receipt.
* If you believe you didn't get all the wood you ordered, call the firewood dealer immediately.
* If they fail to correct the matter, call (909) 387-2140 or 1-800-734-9459 to file a complaint.
Finally the department asks that you remember to stack wood in a place where it won't be a fire hazard.
Thank you for reading this post. You can now
Read Comment (1)
or
Leave A Trackback.
Read More
Related Reading: