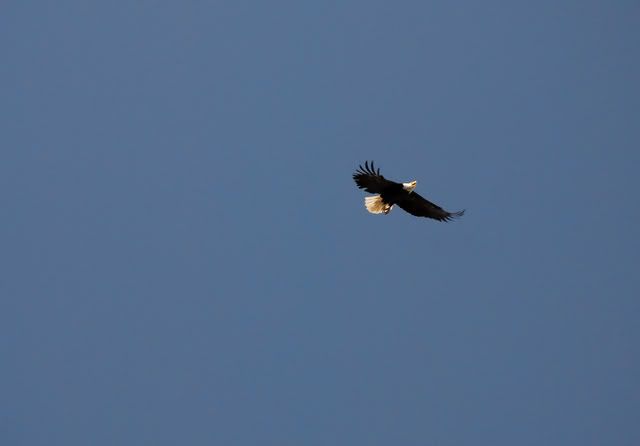 Above: Bald Eagle Photo by Penywise
Since I am still out of town I don't have much to say…however it is once again time for the U.S. Forest Service eagle count!
So, the USFS is looking for volunteers for the first bald eagle count of the season this weekend on Saturday, January 10th.
Counts are conducted at Big Bear Lake, Lake Arrowhead, Lake Silverwood and Lake Hemet.
Stationed at different antage points around the mountain lakes, volunteers will note and document eagle observations during a one-hour period (usually called a sampling).
If you want to get out, meet new people, and look for eagles you'll be glad to know that no experience is needed.
You will however need to bring binoculars along with a watch and a pen. Warm clothing and boots are suggested due to the weather conditions and since snow is still on the ground.
If you want to volunteer for the local count, volunteers for the Big Bear Lake area should meet at the Discovery Center here in Fawnskin on North Shore Drive (Highway 38) at 8 a.m.
For those of you reading on the other side of the mountain, volunteers for the Lake Arrowhead area should meet at the Arrowhead Ranger Station on Highway 18 in Skyforest at 8 a.m.
Contact (Fawnskin resident in charge) Robin Eliason at [email protected] or 909-382-2832 for more information.
Thank you for reading this post. You can now
Leave A Comment (0)
or
Leave A Trackback.
Post Info
This entry was posted on Thursday, January 8th, 2009 and is filed under
Uncategorized
.
You can follow any responses to this entry through the Comments Feed. Both comments and pings are currently closed.

Previous Post: Lucky Girl »
Next Post: Moonlight Snowshoe Event »
Read More
Related Reading: