So, the time has come for the $39 million replacement bridge construction to begin. The new bridge which will span the canyon ahead of the current Big Bear Bridge on State Route 18. FCI Constructors, Inc. will be the primary contractor.
The groundbreaking ceremony will be held at the Big Bear Lake Performing Arts Center auditorium (39707 Big Bear Boulevard in Big Bear Lake) on Thursday, March 5, at 11:00am.
The dam project is on Highway 18 and will replace the existing bridge with a new structure on the south side of the historic dam. It will also realign the roadway over the canyon downstream from the dam.
FCI plans to construct three 12-foot travel lanes (one westbound lane will have a right turn option), 10-foot shoulders, and a 5-foot American Disabilities Act (ADA) compliant sidewalk on one side of the bridge.
It will also realign and signalize the intersection of SR-18 and SR-38 (the road that runs east toward Fawnskin).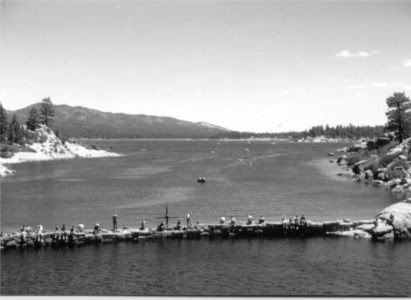 Caltrans believes that the project is needed to separate the highway from the dam so that seismic and operational improvements can be made and ensure year-round access to the Big Bear region.
Caltrans expects the project to be completed in Fall 2011.
The Big Bear Dam began construction in the summer of 1883 and was completed in December of 1884. At the time it was 60 feet high and 300 feet wide.
The original dam is still intact but that it is submerged beneath Big Bear Lake and the top of it can be seen when the lake level is down.
The multiple-arch dam was built by J.S. Eastwood and completed in 1912 and was 20 feet higher than the original dam.
In 1924, Caltrans constructed Highway 18 over the top of the buttresses.
Then the dam was retrofitted to meet earthquake standards required by the California Division of Safety of Dams (DSOD) in the 1980s.
So, if you are a party animal and want to get the scoop…make sure you mark your calendar for this event.
Thank you for reading this post. You can now
Read Comment (1)
or
Leave A Trackback.
Read More
Related Reading: