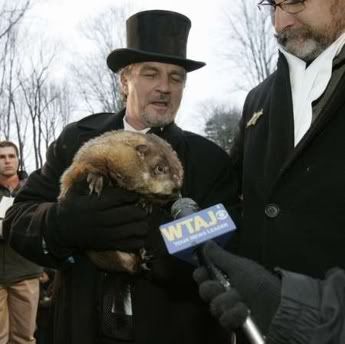 Above: Check out more of the great Ground Hog Day photos by Jason Cohn.
So, the Ground Hog Day prediction is that we are going to have a long winter.
Over here in Fawnskin it has been really sunny and unseasonably warm but the end of the week promises to bring some type of weather.
Punxsutawney Phil might be in the heat of things if he is wrong–plus there are those reports that his Inner Circle has been accused of keeping him supplied with a questionable elixir and organizing nubile female woodchuck company.
How will he deal with the growing scandals?
Punxsutawney Phil will probably attempt to dig his way out of the whole mess.
Groundhog Day occurs halfway between the winter solstice and spring equinox.
In the United States, wild and wacky groundhog "weathermen" stick their necks out to make weather predictions early in the year. Real animals, these groundhogs "forecast" the end of winter or beginning of spring.
In Punxsutawney, Groundhog Day is a big deal and has been celebrated on Gobbler's Knoll since 1887.
Punxsutawney Phil is known as "The Seer of Seers, Sage of Sages, Prognosticator of Prognosticators and Weather Prophet Extraordinary" and his notoriety has drawn crowds of over 30,000 to the little town with 6,000 residents.
So how does he predict the weather?
If he comes out of his hole after a long winter sleep and sees his shadow he regards it as an omen of six more weeks of bad weather and returns to his hole.
If the day is cloudy and shadowless he takes it as a sign of spring and stays above ground.
The groundhog tradition stems from beliefs associated with Candlemas Day and the days of early Christians in Europe, and for centuries the custom was to have the clergy bless candles and distribute them to the people.
Today's groundhog has to be adaptable so Phil has branched out into other activities besides weather prediction. He meets with president, talk show hosts, and also makes political statements.
For instance, during prohibition, Phil threatened to impose 60 weeks of winter if could not get a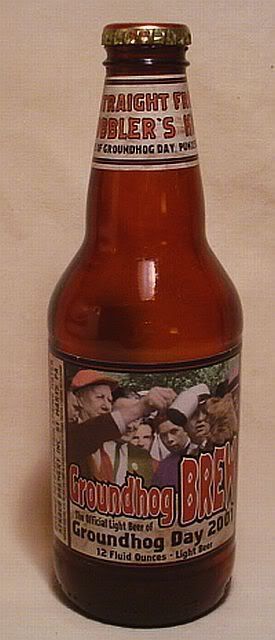 drink.
Punxsutawney itself is filled with tributes to their famous resident. Sculptures, artistic murals, and other tributes to the groundhog (slang for woodchuck) adorn the town.
Events leading up to the big day on February 2nd include groundhog festivals, a groundhog jog, a groundhog lasagna luncheon, the crowning of king and queen groundhog and Mr & Miss groundhog, a woodchuck whittle carving exhibition, a Phil Phind scavenger hunt, the Phil Phest, and more–you can even buy Groundhog Brew.
You can apply for a Groundhog day club membership and today you can also get a glimpse of the new high tech Ground Hog Weather prediction.
Hope he won't be out of a job…
Thank you for reading this post. You can now
Leave A Comment (0)
or
Leave A Trackback.
Read More
Related Reading: