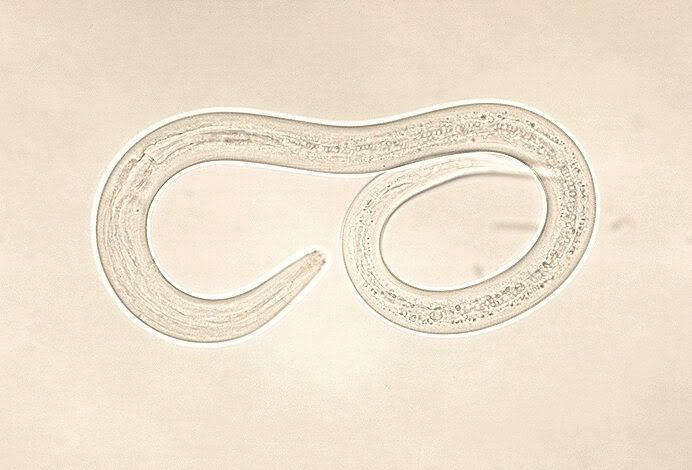 Above: Hookworms New MS Cure?
Okay, this fits into the stranger than fiction and since I just wrote about the MS Walk thought you might find it interesting–it is true and check out the other studies related to MS here:
Scientists from The University of Nottingham will study the potential health benefits of parasitic worms as part of a study investigating treatments for people with the autoimmune condition multiple sclerosis (MS).
It is thought that hookworms may play a role in damping down the immune system, which is overactive in people with MS, the most disabling neurological condition in young adults.
The £400,000, three-year project funded by the MS Society, aims to determine whether infection with a small and harmless number of the worms can lead to an improvement on the severity of MS over a 12 month period.
If the trial is successful, the worms have the potential to provide a simple, cheap, natural and controllable treatment for MS.
The WIRMS (Worms for Immune Regulation in MS) study is led by Professor Cris Constantinescu and Professor David Pritchard and is a randomised, placebo controlled, phase 2 study in people with relapsing remitting MS and will be carried out at multiple centres up and down the country.
The 25 worms are microscopic and are introduced painlessly through a patch in the arm. They are then flushed out after nine months.
Professor Constantinescu, said: "People are really interested in this form of potential therapy because it's a natural treatment. It's been tested for safety and we now need to study the potential benefits and any side effects."
Jayne Spink, Director of Research at the MS Society said: "It sounds like science fiction, but it has been shown in a previous small study that people with MS who also had gut parasite infections had fewer relapses.
"Over time, parasitic worms have evolved to be able to survive an immune system attack and have been linked to a reduction in the severity of the symptoms of MS, which can be debilitating.
"If the theories can be shown to be accurate, using hookworms as a future treatment option may prove to be science fact."
MS affects more than 85,000 people in the UK and several million worldwide. Symptoms range from loss of sight and mobility, fatigue, depression and cognitive problems that often come on as attack – or relapses. There is no cure and few effective treatments.
Dorothy Sutton, 58, from Awsworth, has lived with MS for 32 years and is a Helpline volunteer for the MS Society. She said that although the treatment sounded unusual, anything that could potentially to help alleviate the symptoms of MS is a positive step.
"We have to explore every avenue of research to find treatments for MS. As long as it's safe and effective in helping the horrible symptoms, I don't think people mind where it comes from."
The Division of Clinical Neurology at The University of Nottingham's Medical School is a strong research-led unit which draws heavily on its close relationship with people with MS to inform its work.
Led by Professor Cris Constantinescu, the department features two academic and one NHS Neurology Consultants that are affiliated with the Neuroscience Directorate of Nottingham University Hospitals (NUH) NHS Trusts.
Patients taking part will be given 25 worms — a nine month treatment — then medicine to kill off the worm, which then pass harmlessly through the body. This gives total eradication (an MRI scan at 12 months confirms this).
The worms are microscopic and given painlessly through a patch in the arm.
The trial is a multi-centre study being carried out in Nottingham, Derby, Leicester, Stoke, Sheffield and total intended recruitment is 72 patients, 36 hookworm and 36 placebo.
A final result of the trial will be available in 2011/2012
Check out these nice hookworm photos…yeah, yeah, I am always thinking of your amusement.
Thank you for reading this post. You can now
Leave A Comment (0)
or
Leave A Trackback.
Read More
Related Reading: