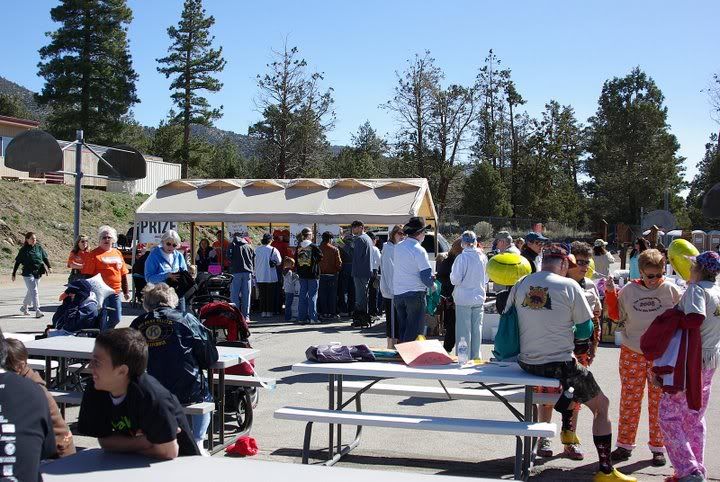 Above: MS Walk Big Bear 2008 Photo by Rick Fromm
Once again things are gearing up for the annual MS Walk. This weekend the event will MS Walk kickoff party at the Big Bear Convention Center on Saturday, March 7, 2009 beginning at 4:00pm.
The theme this year is "Staying Alive with Walk MS Five."
Yikes! Reminds me of those disco years.
There will be a raffle, extra perks for those who form teams at the kickoff, with music and activities for adults and kids.
Admission to the MS Walk kickoff  is free but all proceeds collected during the evening will benefit the MS Walk.
The Big Bear Convention Center is located at 4290 Big Bear Boulevard in Big Bear Lake, California. Phone (909) 585-3000.
You can join a MS Walk team or set up a team online at the National MS Society webpage.
Big Bear has the distinction of being one of the only fundraising walks that includes and encourages dogs to participate as well…so sign up that pooch and collect a lot more donations.
The Big Bear MS Walk will take place on April 18, 2009.
Registration begins at 9:00am and begins at the North Shore Elementary School located at 765 N Stanfield Cutoff at North Shore Drive.
Opening ceremonies start at 10:30am and the MS Walk is scheduled for 11:00am.
Spaghetti dinner and party at Moose Lodge 2085 after the walk for members and their guests…don't miss it.
Read about last year's MS Walk and click through for some pictures.
Thank you for reading this post. You can now
Leave A Comment (0)
or
Leave A Trackback.
Read More
Related Reading: