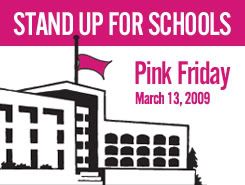 The following is from the California Teachers Association:
California's teachers are pushing back against nearly 18,000 pink slips coming their way by launching statewide radio spots, freeway billboards and Internet blog ads asking the public to join the California Teachers Association's "Pink Friday" Day of Action March 13, 2009 to protest mass layoffs and school cuts.
"We are pushing back against this attack on public education because our students will feel these cuts for many, many years," said David A. Sanchez, president of the 340,000-member CTA. "The potential lay off of so many educators will hurt our communities and California's future."
March 13 is the state's deadline to issue preliminary pink slips to educators, and school districts must make final decisions by May 15, 2009.
The estimated number of CTA members facing pink slips is now 17,800 – compared to 10,000 issued to CTA members last year by mid-March. This chaos is fallout from the more than $11 billion in school cuts approved in the new state budget.
The state budget recently signed by the governor cuts education by a magnitude unlike any California has seen in state history, slashing $11.6 billion from K-12 public schools alone, cutting $286 million from community colleges and cutting 10 percent across the board to CSU.
For K-12 schools that's the equivalent of:
Cutting $49,153 per classroom, or
Laying off 165,714 teachers, or
Laying off 290,000 custodians, bus drivers and other classified employees, or
Closing California schools for 40 days, or
Increasing class sizes by 55%.
For many years now California schools have been suffering a slow "death by a thousand cuts." Even before the last round of cuts, California schools had sunk to 47th in the nation in per-pupil funding.
The $3.5 billion in cuts last year led to larger class sizes, more than 10,000 layoffs of teachers and education support staff, and the further elimination of vital parts of the curriculum, programs like art, music, and career technical education.
Some schools have even closed their libraries. The cuts to higher education and the enrollment fee increase mean fewer students can afford to go on to college.
The current budget battle is not over as there will be a special election on May 19, 2009, that will impact the future of California education.
Perhaps the most crucial measure voters will decide is Proposition 1B—the repayment of more than $9 billion owed to schools and colleges under the minimum school funding law.
On Friday, March 13, 2009 the CTA is asking everyone to join educators, parents and students and Stand Up for Public Schools by wearing pink.
It's called Pink Friday because of the thousands of layoff notices or "pink slips" that are being issued to teachers by the March 15, 2009 statutory deadline. So far, the number of layoff notices sent to educators has already topped 16,000.
Pink Friday is an opportunity to make all Californians understand the impact of these cuts, and how important it is for this state to begin supporting its public schools and colleges.
Teachers, parents, and community supporters are mobilizing for the March 13, 2009 Day of Action and you can learn more by visiting the new CTA social networking website.
Local protest events are listed there…any local teachers want to let us know what they have planned or is Big Bear going to remain silent?
Thank you for reading this post. You can now
Read Comments (6)
or
Leave A Trackback.
Read More
Related Reading: