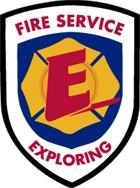 Need your vehicle washed?
If so, plan on dropping by the fundraising event for the Fire Explorers on Saturday, May 30th. The car wash will be held from 9am-3pm at Big Bear City Fire Department.
Established in association with the Boy Scouts of America, the Big Bear City Fire Department developed Explorer Post #262 in 1990.
Throughout those 19 years a good number of the Explorers have moved on to careers in the Fire Service.
The Big Bear City Fire Explorer Post is a youth oriented program directed at helping young adults who have an interest in the fire service.
Fire explorers learn firefighting skills including hose lay evolutions, ladder techniques, salvage operations, wildland fire fighting procedures, proper use of fire fighting tools and equipment, breathing apparatus, basic first aid, patient vital sign assessment and other related subjects.
After explorers' meet certain training requirements, they have the opportunity to apply skills they have learned through the fire departments' Ride Along Program where an explorer can work side by side with firefighters, respond to actual fires and emergencies, and get hands on "real world" experience.
Explorers learn how hard work, discipline, and a structured work environment in the fire service promotes safety and teamwork toward successfully completing a common objective while also developing a sense of pride in serving the community.
New safety equipment is needed to insure the continued success of the program and your donations will assist keeping these youngsters safe and assist in efforts to teach them about Fire Safety.
Thank you for reading this post. You can now
Leave A Comment (0)
or
Leave A Trackback.
Read More
Related Reading: