Above: Julie Camp and her daughter Emily from Corona had a great day on the lake when Julie caught her biggest fish ever–a Big Bear Rainbow that weighed in at 6.59 lbs. Emily caught a nice pounder. In case you are wondering, the gals were drift fishing off Windy Point when the fish inhaled their PowerBait.
Big Bear Fishing Report by Alan Sharp

Rainbow Trout and Channel Cat fishing remained excellent this past week. Water temperatures dropped, oxygen remained plentiful and the fish are just loving it.
The average surface lake temperature is 59 degrees F.
Catches of 4 to 8 pound trout have been reported from down at the dam on PowerBait and nightcrawlers.
Catfish from 8 to14 pounds are hitting the scales too.
Trollers are not doing quite as well as the bait anglers. High plankton levels have kept the trout full and less likely to chase a lure.
Fawnskin resident, Curt Dills of Fish Big Bear Charter Service is reporting hitting limits of quality trout at 1.5 to 2 colors of leadcore with Needlefish and Dick Nite Spoons.
Small and Largemouth Bass that were beginning to nest all around the lake have been beaten down by high winds and murky water and the Crappie are also feeling the effects of the recent nasty weather.
Wondering about the 50K Trout Derby? A total of ten fish were tagged–nobody caught the one worth the 50k. Others redeemed for cash prizes and adventure packages.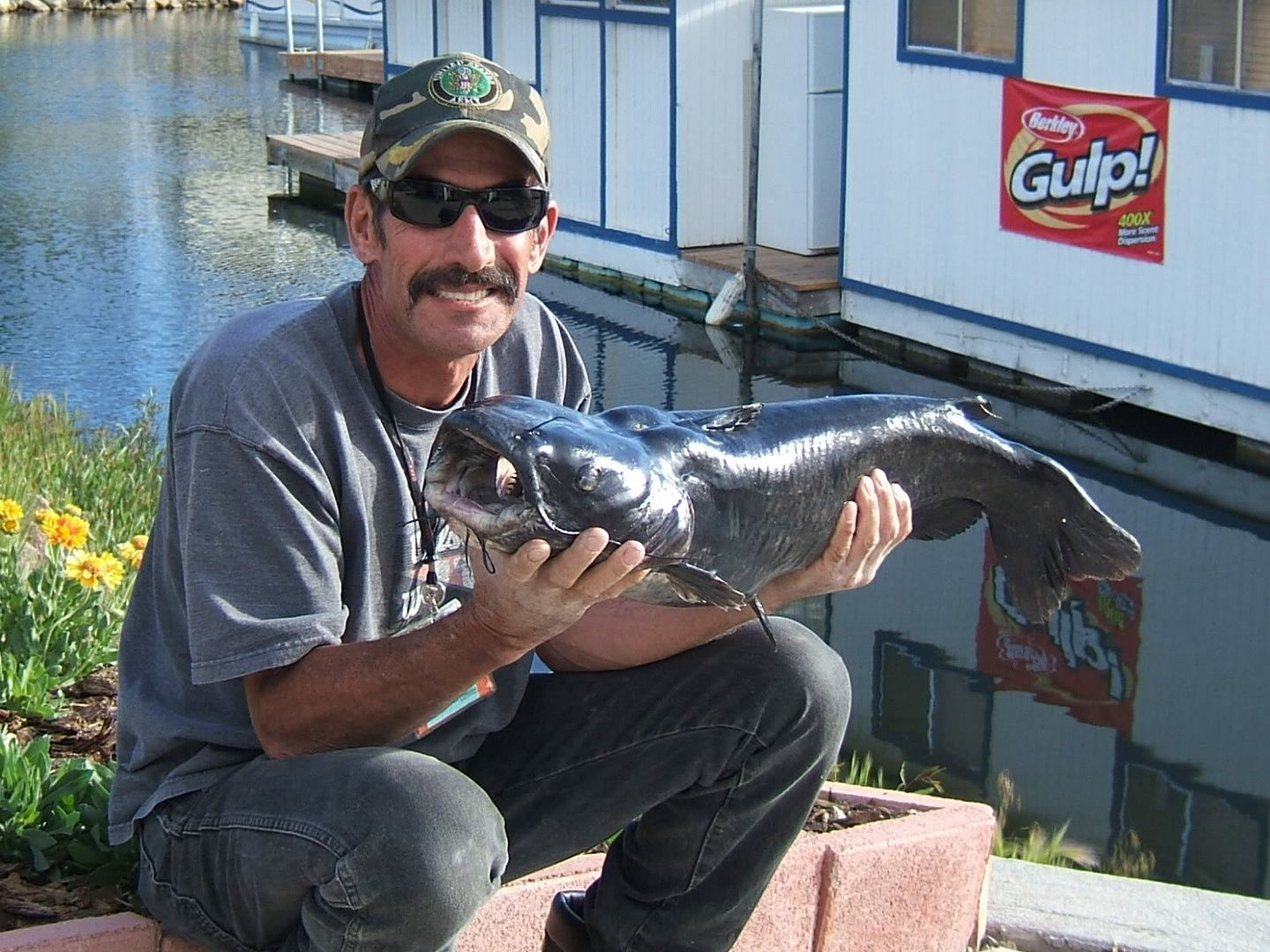 Above: Big Bear local Tom Goetz landed a 14.52 lb.catfish in the middle of the afternoon,while fishing off of Foster Pt. The hefty catfish took a nightcrawler fished on 6 lb. test.
Thank you for reading this post. You can now
Leave A Comment (0)
or
Leave A Trackback.
Read More
Related Reading: