Above: 1021 Bruin Trail previously the property of builder Godfrey Edwards
The Los Angeles Memorial Coliseum is a well known structure in Los Angeles. This state and national landmark was constructed in 1923 by the building partnership of Edwards, Wildey and Dixon.
The construction firm was considered for many Los Angeles projects because the president, Godfrey Edwards, was known to create art with building materials.
When he built the Fine Arts Building, another Los Angeles landmark, he commissioned a sculpture, Burt William Johnson, to create statues on the side of the building.
Above: The fireproof building on Grand Avenue in Los Angeles photo courtesy of and copyright by YouAre Here.Com (and available for purchase).

Godfrey Edwards  also used steel beams instead of wood to build the Edwards, Wildey and Dixon building . Now known as the Milano Lofts, this early fireproof building  is located in downtown Los Angeles.
Other structures constructed under his guiding hand the Shrine Civic Auditorium, the Transportation Building, and the Financial Center Building.
Edwards is known for constructing monuments instead of buildings and most of his structures have been given historical status because of their unique facades.
Edwards, Wildey and Dixon, were also the home developers of Eagle Rock and parts of Glendale. One of their largest development projects was Sunshine Ranch (also called "The City of Destiny") which you know as Granada Hills.
In 1927, Godfrey came up with the unique advertising idea to promote the new development as a great place to raise rabbits and even provided special barns for the rabbitries.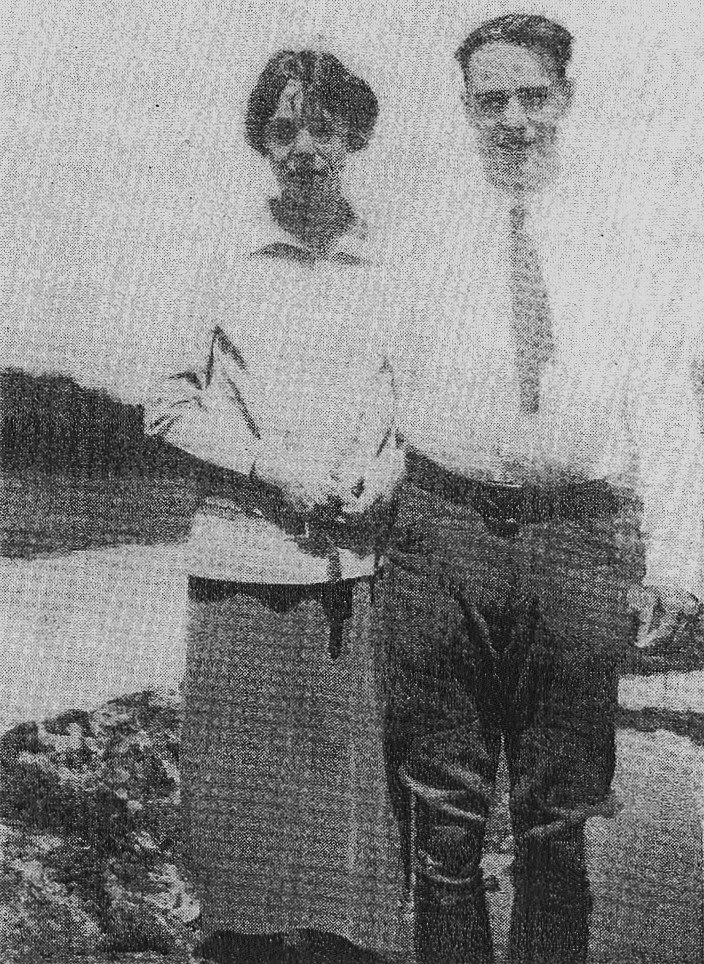 While he built many large projects none were as important to him as his family. Godfrey and Olive Edwards adopted five children and with such a large family and business responsibilities, Godfrey searched for a place for his next project a much needed vacation home.
He selected Fawnskin because the natural surroundings provided inspiration for his work and fun activities for his family.
Godfrey Edwards purchased Bruin Trail lot from one of Clinton Miller's wealthy friends, W. J. Doran, vice-president of the American National Bank.
In 1922, he had the large distinctly different cabin built on a hill at 1021 Bruin Trail. That lodge still overlooks the lake and became one of the finest in the valley.
This cabin also became his family's favorite spot.
In fact, Fawnskin was the honeymoon destination for his son and daughter-in-law, Mr. and Mrs. John T. Edwards, in 1925.
Godfrey Edwards a man of many talents, world famous builder, father and incurable optimist who loved to spend time in Fawnskin at 1021 Bruin Trail.
About the Contributor: Eileen Downey bought a home in Fawnskin as a retreat from the fast pace of the big city. Living here she has found inspiration, a renewed spirit, an endless amount of creativity and curiosity. Off the mountain, Eileen is an elementary teacher for children with autism but for the last three years, her passionate hobby has been to collect, read, and sort through the history of Fawnskin and its founding settlers. She hopes you will enjoy her series and be inspired by the first Fawnskin residents who called themselves "Fawnskin Folks."
Authors Note: Here is a challenge for you. Another cabin in Fawnskin was built by the developer Clinton Miller for his family. Here's a hint the street name contains an "o" and "e." The cabin is still standing today and much loved and used. Take a guess and blog the address and please keep sending the addresses of other cabins, I will write about those cabins in the weeks to come.
Thank you for reading this post. You can now
Read Comments (2)
or
Leave A Trackback.
Read More
Related Reading: