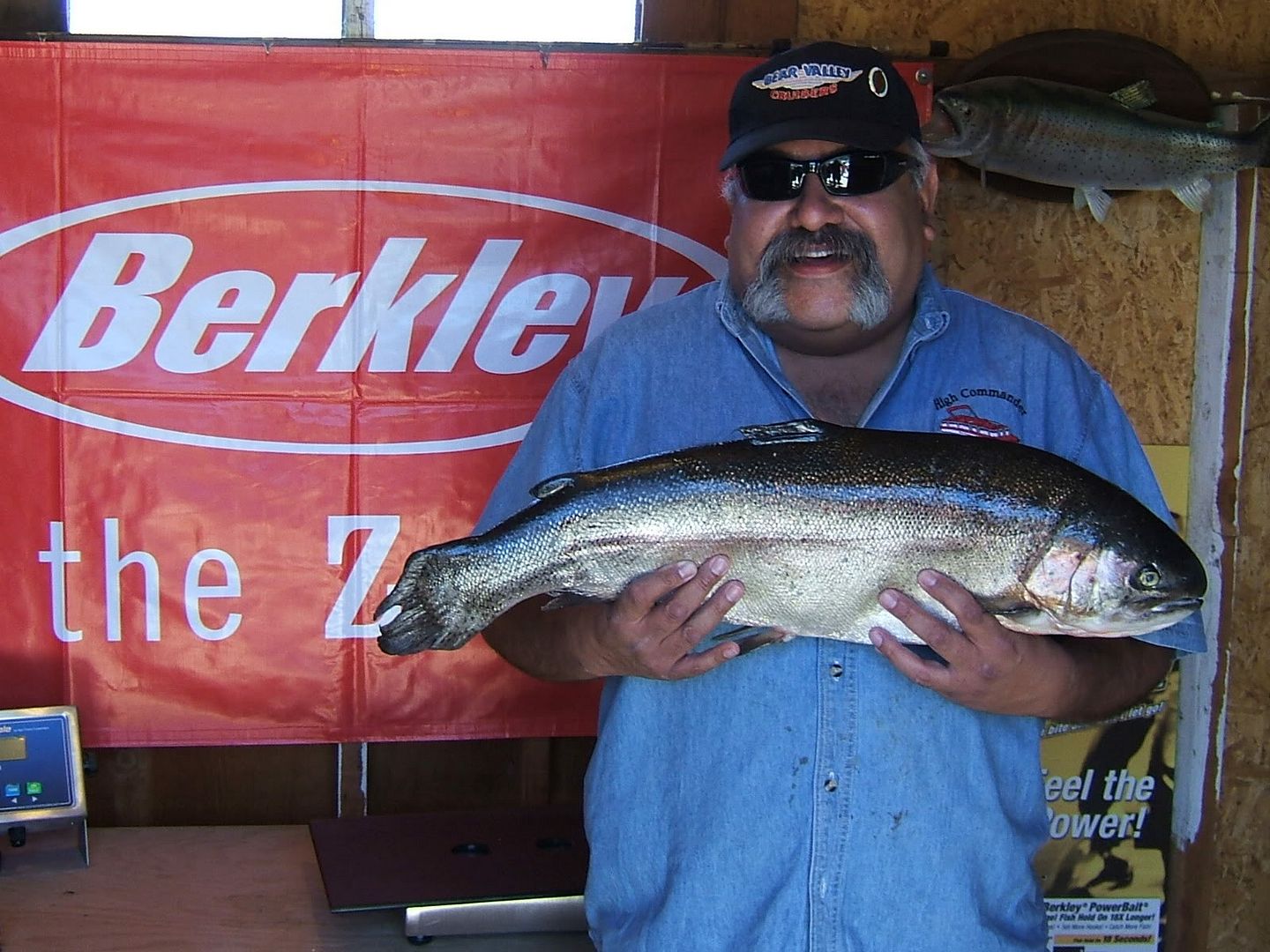 Javier Sanchez of Big Bear City landed a 13.08 pound trout fishing with Salmon Peach PowerBait along the North Shore east of the dam. This a personal best for Javier.
Big Bear Fishing by Alan Sharp
Dave Essex another local from Fawnskin scored a nice limit fishing off of Windy Point with the same bait as Javier….Salmon Peach PowerBait.
Trout fishing remained good this past week on Big Bear Lake. Anglers fishing for Trout are scoring nice holdovers above two pounds from Windy Point west to the dam. Drift fishing with PowerBait and nightcrawlers at 15 to 25 feet or shore fishing with a slip bobber has worked well. Trollers with leadcore form 1 to 3 colors also have had success with Dick Nite Spoons and Rapalas.
Water temperatures jumped four degrees from east to west as the summer sizzle continues. Oxygen levels have gone down to less than 5 parts per million (minimal level for trout) below 36 feet at the dam, 33 feet at Papoose Bay and 20 feet at the west ramp, with clarity at 10 feet the trout will be found between these levels.
Trolling with leadcore line or bait fishing with a slip bobber is a must now, if you want to catch fish. The except right now, is that a nice hatch of insects has brought the trout up in the afternoon and the fish are hitting CD Rapalas that are flat liens.
Fishing for other species on the lake is fair. Catfish are being caught all over the lake on mackerel and Gulp Dough. While panfish and smallmouth bass are showing along docks and rocks on spinners and minijigs.
Thank you for reading this post. You can now
Leave A Comment (0)
or
Leave A Trackback.
Read More
Related Reading: