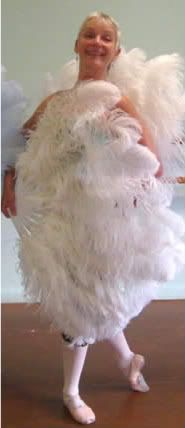 Local Kathy Winch has made the news since it has been reported that she has a new career as a burlesque star.
Many of the locals here in Fawnskin talk about how gambling and a burlesque show (or similar establishment) would certainly help the economy and commerce of our little town.
Thanks to KBHR for covering Kathy (LOL–and for the image).
Read more about Fandance is at the Big Bear Lake Performing Arts Center here.
The event takes place on Friday and Saturday, August 7-8, 2009 over in Big Bear Lake.
Tickets are priced at $20 and $25, and proceeds go to the Bear Valley Hospital Foundation.
In other not-news, the poor taste award goes out to Fawn Park. Not only is there a new covered awning, but the covered wagon is back along with a bear movie prop of some sort.
Finally, use caution when out and about if you live near the national forest. Another neighbor reported a dark phased Pacific Rattlesnake under the wood pile off Brookside.
This is not the same Faris rattlesnake (but maybe a relative) since Animal Control killed the last one instead of relocating it.
Check out this nice rattlesnake photo at Mt Baldy, and I never see snakes when I've been hiking but this guy seems to always find rattlesnakes on the trail, and this summary of the Southern Pacific Rattlesnake (Crotalus oreganus heller) is to shut up those locals who argue that the rattlesnakes are not so dark.
Thank you for reading this post. You can now
Leave A Comment (0)
or
Leave A Trackback.
Post Info
This entry was posted on Friday, July 31st, 2009 and is filed under
Mountain Lake Resort
.
You can follow any responses to this entry through the Comments Feed. Both comments and pings are currently closed.

Previous Post: Dam! »
Next Post: Next Post »
Read More
Related Reading: