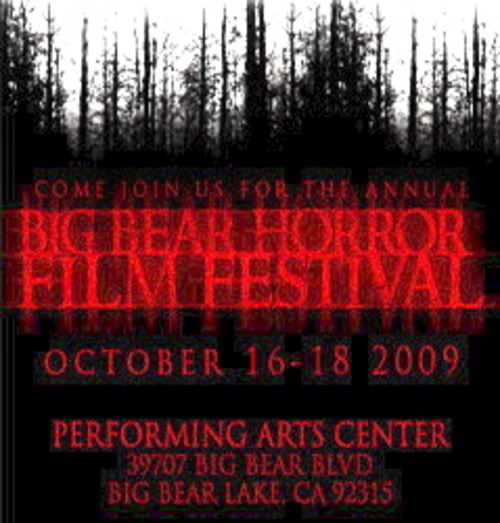 This weekend Big Bear will again be the hosting location for a film festival. The Big Bear Horror Film Festival will take place from October 16-18, 2009 with screening at the Performing Arts Center (39707 Big Bear Boulevard in Big Bear Lake).
On Saturday, October 17, 2009 there will be a banquet at Nottingham's Restaurant in the Sherwood Room (corner of Bartlett & Lakeview Drive in Big Bear Lake) as part of the fund-raising effort for the Crestline Creative Arts Foundation–the official charity of the 2009 Big Bear Horror Film Festival.
CCAF Founders, Reggie Bannister and Gigi Bannister work with mountain youth who are able to attend free film camps and receive training from industry mentors (directors, writers, cinematographers, etc.) while they also work on professional film projects.
The CCAF Benefit Raffle during the banquet includes:
Collectibles from Phantasm I, II, III and IV,
collectible memorabilia from movies that are signed by the cast and crew,
limited edition collectibles including the  "Leatherface" mask from Texas Chainsaw Massacre: The Beginning (2006) along with a tin plate and poster signed by Andrew Bryniarski,
autographed collectibles from Revamped (2007),
autographed collectibles from 2001 Maniacs (2005),
autographed collectibles from Night of the Living Dead (1968),
autographed collectibles from Song of the Dead (2005) and many more items.
Additional highlights for this film festival include a special screening of CCAF short film, Charlie: The Creature of Lake Gregory and a masquerade contest.
The Big Bear Horror Film Festival will mark the 30th Anniversary Reunion of the legendary psycho-thriller, Phantasm.
So notable guests will include Don Coscarelli (producer/writer/director), Angus Scrimm (The Tall Man), Reggie Bannister (Reggie), Gigi Fast Elk (Special Effects Artist/Actor), Kerry O'Quinn (Fangoria Magazine founder), Mary Lambert (director of Pet Sematary I, II), Elizabeth Stanley (producer of Dark Path Chronicles), Tim Sullivan (2001 Maniacs), and his cast members.
Reservations are required and seating is limited. Access includes dinner, raffle, entertainment and masquerade for the night. All donations to CCAF are tax-deductible.
Banquet tickets are $30 per person call (909)338-3602 for tickets. For more information call Michael Coulombe (323)-604-9874.
Thank you for reading this post. You can now
Leave A Comment (0)
or
Leave A Trackback.
Read More
Related Reading: