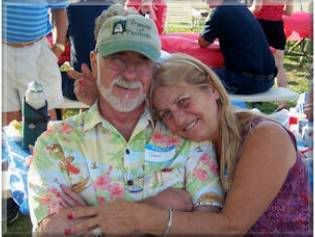 Honorary Mayor Candidates here in Fawnskin are crooked folks because everyone buys their votes!
Remember you can vote for all the candidates if you are unsure of your favorite since all money goes to the community.
However, most seem to pick a favorite candidate and send all the money there. 😉
As each candidate team submits their bios and campaign information I'll post it so here is the first from Dan & Jana Fowlks aka Team Fowlks.
Dan & Jana have owned their second home in Fawnskin for about 10 years and come up every other weekend.
They belong to the Fawnskin Chamber of Commerce (both as individuals and business owners), sit on the Advisory Committee for Friends of Fawnskin, and are active members of the North Shore Improvement Association.
The couple owns and operates a company called Reliable Hardware Company and encourage supporters to visit their website to buy something so they can fulfill their campaign promise.
Jana is a 4th grade math teacher for the Los Angeles Unified School District (LAUSD) and tutors math students on campus after regular school hours.
Both appreciate and respect the atmosphere in Fawnskin especially the beautiful, serene setting and the wonderful, caring people.
Their campaign promise is simple, for every $1 their campaign receives (up to $2000) they will personally donate $0.50 to Big Bear Habitat for Humanity and $0.50 to Friends of Fawnskin.
To vote, make your checks payable to North Shore Improvement Association (NSIA) and mail to P.O Box 194, Fawnskin, CA 92333.
Locals or visitors can also make a cash contribution in any of the various businesses throughout Fawnskin.
Be sure and write "Fowlks" in the memo area so all three organizations receive the benefit of your "vote."
Thank you for reading this post. You can now
Read Comment (1)
or
Leave A Trackback.
Read More
Related Reading: