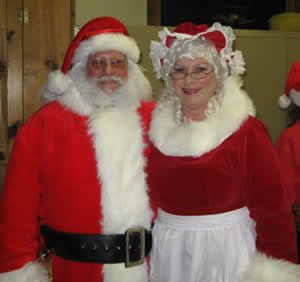 Robert and Cheryl Carter are full-time Fawnskin residents and very active members of Moose Lodge 2085.
For the past several years they have become known as Santa & Mrs. Claus in the long standing tradition of distributing cheer through the valley during the holidays.
They also make sure that the annual tree lighting event has that extra special touch–complete with their own elves.
The holiday season is a busy one since the Claus duo spearheads service appearances on behalf of the Women of the Moose 359 (and other generous members who donate) so others in the community can have a happy holiday season.
In addition to gift giving to those children of Fawnskin, five valley families in need are selected to receive holiday gifts and meal certificates so they all can enjoy a full holiday dinner.
The elderly residents at the skilled nursing facility of Bear Valley Hospital also get visits and goody bags of useful and entertaining items.
But perhaps the highlight is the ride in the Fire Station 49 fire truck, complete with sirens and lights announcing their arrived to the annual tree lighting ceremony celebrated by the whole town.
The duo first came to the mountain in 1998 and soon discovered that their weekend adventures were turning into five day and week long adventures.
To adapt, they set up an office and cut back on down the hill obligations. They finally learned just what the best area of the valley was and purchasing a Fawnskin cabin in 2003.
Like many of the locals, they also immediately became involved in Moose Lodge 2085 and found that the organization really was something they loved.
Today Robert is the dispatcher for the family owned trucking company while Cheryl provides hairdressing services for Fawnskin.
They two lovebirds met in high school have have been married for 41 years and enjoy two "kids," Jennifer (40) and Jared (36).
Along with their three grandchildren, Cody (18), Taylor (13), Leo (4), they are anticipating good news about another grandson expected to arrive around December 24th!
As a pet loving household, they share their home with two dogs and two cats.
When asked about their favorite aspects of living on the mountain–it has to be the Moose Lodge activities (where Robert now serves as Administrator) but they enjoy fishing, boating, and heading to the Boat House to meet with friends during the warmer weather months.
The Team Carter fundraiser will be held on November 28, 2009 from 8am until Noon at Moose Lodge 2085.
The $6 breakfast will feature stuffed french toast (cream cheese) topped with blue berries and whipped cream OR pancakes and a choice of plain, blueberry topping, or banana topping. Both breakfasts will also include a side of sausage or bacon.
Please join Santa & Mrs. Claus and their elves for a fun time and a fabulous breakfast.
If you would like to make a direct donation, please send your checks to PO Box 156, Fawnskin, CA 92333. Make them out to NSIA and note "Team Claus" in the memo.
Of course you can always stop by any of the Fawnskin businesses and drop a few quarters in the voting boxes!
Thank you for reading this post. You can now
Leave A Comment (0)
or
Leave A Trackback.
Read More
Related Reading: