Above: Shadow (at the creek bridge)  loves her jingle bell collar and prances when it is on!
Shadow and I had our first long walk today.
I am slowly getting back up to speed but get out of breath and have to take it slow. It was nice to actually have a long walk for a change.
Being down the hill for three months means that I have to re-adjust back to the high altitude plus, since I am only just able to get out and walk again, it takes some work to get back into the swing of things.
We had lots of adventures today on the road and it was very satisfying–although tiring.
First we ran into Shadow's family. These are the dogs who are on Chickasaw and Mohawk.
Dog Man and the clan were helping a neighbor who had just arrived up and needed some shoveling done.
Shera is a beautiful brindle–but Shadow's loud mouthed sister that tends to scare everyone.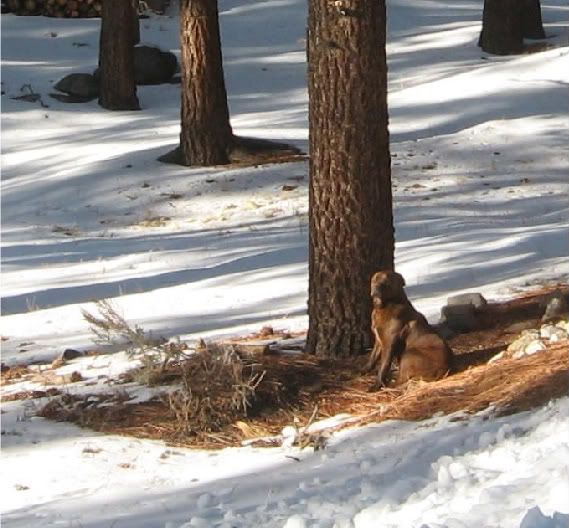 Above: Shera in a quiet moment soaking up the last sunshine of the day.
For a long time Shera was afraid of me because she always got scolded for her misbehavior. She will come to me now but remains is a bit unsure since few people tend to discipline her–and so I am an anomaly that disconcerts her.
Most people will be surprised to hear that she does not belong to dog man.
Even so, she is always at his house.
Some of you will remember loud mouthed Austin, the red merle Australian shepherd that used to hang out there before Shera.
Hmm, why is it that all the non-resident dogs tend to be so boisterous?
In case you are interested in this Fawnskin dog genealogy…
Snickers, the shorter, stockier brindle dog, is Shadow's mom.
Buddy, the big red dog, is her dad and is a second generation Fawnskin mutt.
Callah, the furry yellow dog, is Shadow's unrelated aunt.

Above: Dog Man and his pack (at the neighbor's house) that includes Snickers, Buddy, Shera, and Callah. Shadow is already behind the bush with Callah as Buddy and Shera amble away from greeting me to join in the festivities.

Anyway, Shadow is always excited to see them and so I took her off leash so she could go say hello.
I was happy to see Ed (aka Dog Man) looking so good and to hear that he is working.
Down the road we ran into a new pup, Nanook–who is seriously lacking in manners.
Nanook belongs to new neighbors Larry and Memory and their son over on the corner of Rim of the World and Mohawk…be sure to say hello to them.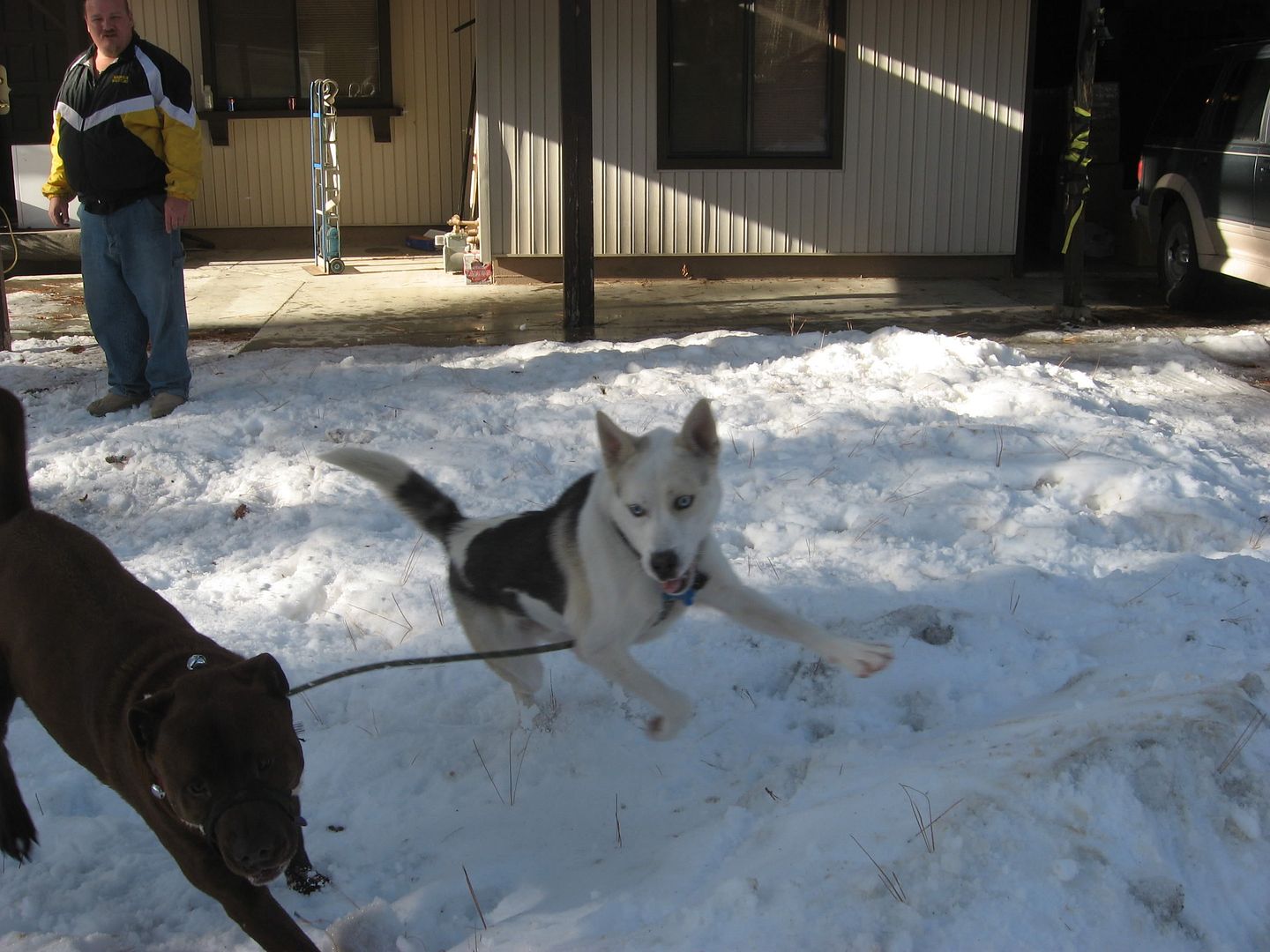 Above: Nanook the active!
Once Shadow discovered Nanook was restrained, and that she could get away from his rambunctiousness, she played a bit.
Today we tackled Rim of the World to hike down to an upper portion of Grout Creek.
Happily, we were the first to traverse the area–but the snow is a bit too deep to tackle hiking over to the trail yet.
Shadow ran and ran and ran (watch for the video soon)…and I laughed and laughed and laughed–something I am doing a lot of lately.
Funny, I had not realized how little I had been smiling or laughing since facing the health issues. I just realized that this week, the shift came when I started having energy again.
Anyway, I made Shadow quit her laps and we headed back into town before things began to ice up.
And what did we see?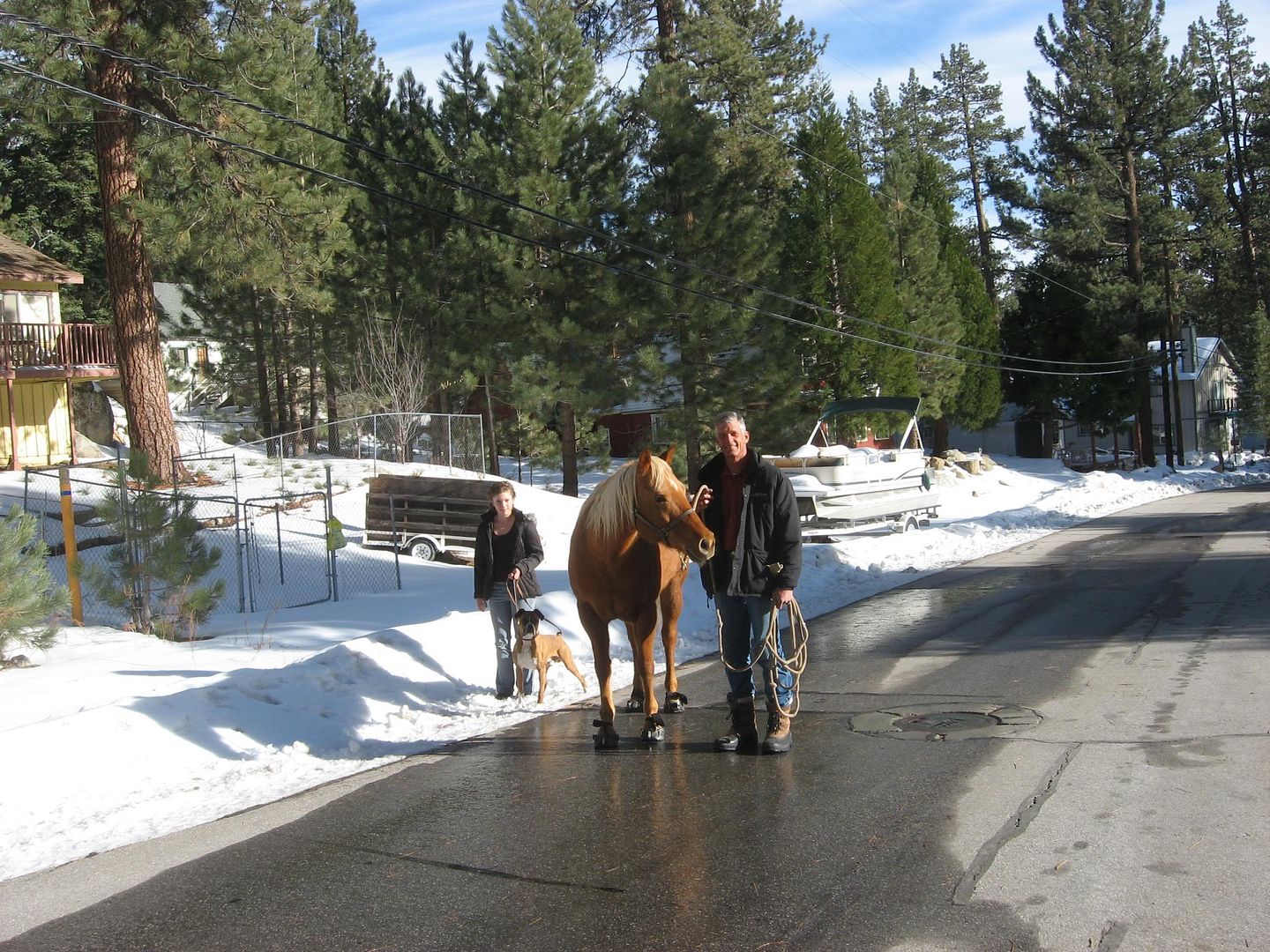 Above: The George family on a stroll. Where else might you see this sight?

The George family (sans mom who is down the hill working) on a stroll.
Notice the nice boots on the horse.
Shadow didn't pay much attention to them (she wanted to sniff more instead) but she did give them a glance or two during the chat.
I wondered if she just thought the horse was a big dog–she didn't show much interest.
Now Shadow tends to be a little unsure of some of the dogs she runs into–like Waylon whose sheer size is a bit disconcerting–but who is a gentle giant.
Above: Waylon (with his dad) is a bit unsure during his approach to both Shadow and Nanook.
I keep having to remind her that nothing will happen to her as long as she is with me but she tends to forget that–or perhaps it is just because we have not been ambling together for so long.
It will be a while before I get another animal so I am sure glad that Shadow's mom lets me take her with me.
Once home, we both had water and Shadow hit the floor. Her eyes were at half mast.
Me, I ambled home and was happy that the crockpot of chili verde was almost done.
For good measure, I sent some over to Shadow's house…maybe they will let me walk her again tomorrow!
So, that is your breaking non-news for the day…just wait until you see the video.
Thank you for reading this post. You can now
Leave A Comment (0)
or
Leave A Trackback.
Read More
Related Reading: